This article first appeared in The Edge Financial Daily, on November 5, 2018.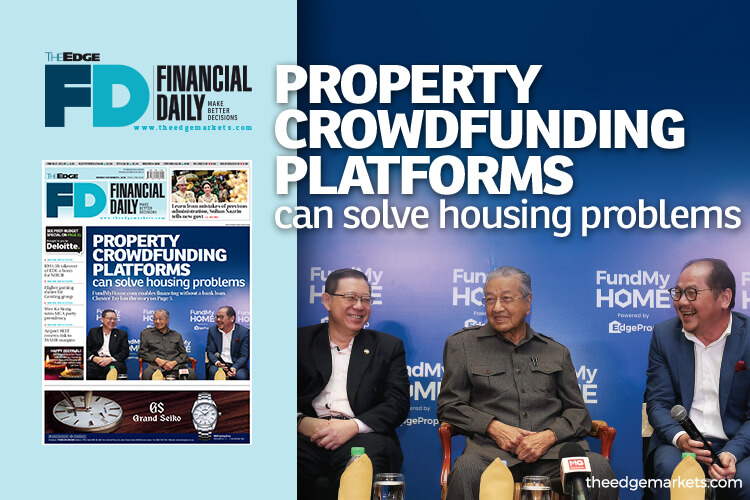 SEMENYIH: Prime Minister Tun Dr Mahathir Mohamad is confident the private sector-driven property crowdfunding platforms announced in Budget 2019 would facilitate homeownership in Malaysia.
He said the government is supportive of innovative financing schemes such as FundMyHome.com, which is expected to eventually become an online property crowdfunding platform after the Securities Commission Malaysia has released the regulatory framework for peer-to-peer (P2P) financing.
The premier also believes that property crowdfunding platforms can help the Pakatan Harapan government meet its promise of delivering one million units of affordable houses within a 10-year period as stated in its recent election manifesto.
Such property crowdfunding schemes would be the first in the world and would enable more people to own a house with minimum payment, which can be settled using their savings, loans or the Employees Provident Fund withdrawal, he said.
Dr Mahathir noted that most of the affordable homes will be driven by the private sector.
"We promised to deliver one million affordable homes in 10 years, but that doesn't mean the government has to build them. The private sector will supply most of them [and] there will be some built by the government. But the most important thing is they will be affordable," he told reporters after launching the FundMyHome.com portal yesterday.
"When we (Pakatan) took over the government, we promised to build one million affordable homes over the 10-year period. This is not a small figure, but it is our promise and we want to fulfill what we have promised," he said.
"It is easy to make promises, especially when we were having an election. We made all kinds of promises as long as we get support, but it is not easy when we want to fulfil them," he added.
"When [The Edge Media Group chairman Datuk] Tong [Kooi Ong] came and met me, we talked about many things, one of which was this (FundMyHome.com). I told him he has to prove to the government that it works, I want to see the house and the buyer. He has proven it to Finance Minister [Lim Guan Eng] to the extent that the minister actually mentioned it (P2P) in his Budget 2019," the premier added.
FundMyHome is the brainchild of Tong, who developed the platform through EdgeProp.