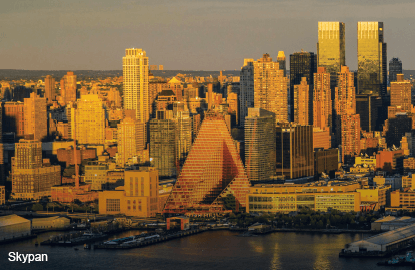 A pyramid-like structure located in West 57th Street in New York is a striking addition to the Manhattan skyline. Known as Via, it sits between the 11th and 12th Avenues along the Hudson River, and is a housing project by The Durst Organization and designed by Danish architecture firm Bjarke Ingels Group (BIG). Formerly known as West 57th, the 33-storey building is in the final stage of construction.
Bjarke Ingels, founding partner of BIG, says Via is a cross between a European perimeter block and a traditional Manhattan high-rise. He adds that its unique shape combines the advantages of both.
"[It combines] the compactness and efficiency of a courtyard building — providing density, a sense of intimacy and security — with the airiness and expansive views of a skyscraper."
Due to be completed next year, Via is a mixed-use development that will offer retail, commercial and residential components. About 80,000 sq m has been set aside for around 700 residential units, some of which will be affordable housing. Three corners of the building have been kept low while the north-east apex is 467ft high. The courtyard, which can be seen from the street, has views of the Hudson River, and the design allows natural light into the building. Furthermore, the tower block does not obstruct the river view of Helena Tower, which sits adjacent to Via.
Inspired by the classic Copenhagen urban oasis, the courtyard allows the greenery of Hudson River Park to extend into the development. Around the courtyard are amenities and facilities such as basketball courts, swimming pool and ballroom.
Though not quite a pyramid, Via looks like one from the West Side Highway while from West 58th Street, it resembles a dramatic glass spire. Ingels says the building is shaped like a hyperbolic paraboloid.
To take advantage of the gorgeous view, every apartment in Via will have a bay window and balconies that will encourage interaction between residents and passers-by.
Ingels believes that good design is design informed by specific information such as the location, climate, building regulations and social environment.
"What you want to make out of [the information] plays an important part. [Good design] isn't specific to certain programmes or buildings, residential projects or office towers — it's universal. A design decision should not be made out of the blue or based on stylistic obsession, but on the basis of knowledge and observation," he explains. "Whenever we do a project, we spend a lot of time trying to understand what kind of place it is — what is the culture, what do the neighbours look like, what happens here … we look at what is the normal way of doing things."
According to Ingels, Bernard Rudofsky's exhibition, Architecture Without Architects: A Short Introduction to Non-Pedigreed Architecture, at the Museum of Modern Art in 1964 explored how people across the world had found ways to use locally available materials and techniques to respond to local landscape and climate. Drawing a parallel between the exhibition and the current environment, Ingels says one should rediscover the richness that comes from adapting to one's surroundings.
"In that sense, we're always looking at a key set of parameters — sometimes climate or culture are the most crucial criteria. At other times, it is the material, function, context, landscape, neighbours, solar orientation, budget, identity, visual impact, noise-scape and so on. These are the considerations that we have to take into account when we design in all locations and cultures," he explains.
With Via, BIG — which has offices in Copenhagen and New York — has created a distinctive building and certainly another signature design.
"[At BIG], we see architecture as an evolutionary process. Each time a building is designed, it creates new possibilities for life and sets a new precedent," says Ingels.
"We have largely followed the same paths as our colleagues through the generations, attempting to inject unexpected innovations into commissions or discover unexplored possibilities in competition briefs," he says. "But no matter how clever we try to be, we always respond to someone else's questions. I think it would be very beneficial to our profession, and our cities, if we as architects could become more proactive in injecting our ideas, knowledge and expertise into the processes that precede design work. We could be better at pointing out untapped possibilities."
When asked what inspires him, Ingels says it is everyday life. "If you look carefully at life itself, you can make the most intricate sculptural structures that will intensify and orchestrate life, rather than [those] shaped by some external inspiration."
Injecting architectural innovation into social housing "Affordable housing projects are something I definitely enjoy working on, and they are actually something that we're taking to New York with Via," says Ingels.
According to him, social housing or collective housing, which make up a large part of the world's cities, is a category that is deprived of innovation and architecture. Rather than concentrating on opera houses and art museums, he believes architecture should play an important part in injecting true innovation and inventing new typologies within something that constitutes a major part of the urban tissue.
BIG has completed three mid-market, affordable mixed-use apartments in Copenhagen — VM Houses, The Mountain and 8 House.
The group also won the design competition for Battersea Power Station Malaysia Square, a public square in the heart of the Battersea Power Station development, which is owned by the Malaysian consortium of S P Setia Bhd, Sime Darby Property Bhd and the Employees Provident Fund.
"Malaysia Square is essentially a part of Asia in the heart of London and it has been a great pleasure working with our Malaysian client on this project. We are very excited about future opportunities in the region," Ingels enthuses.
This article first appeared in Property, digitaledge Weekly, on August 10 - 16, 2015.