This article first appeared in Capital, The Edge Malaysia Weekly, on April 24, 2017 - April 30, 2017.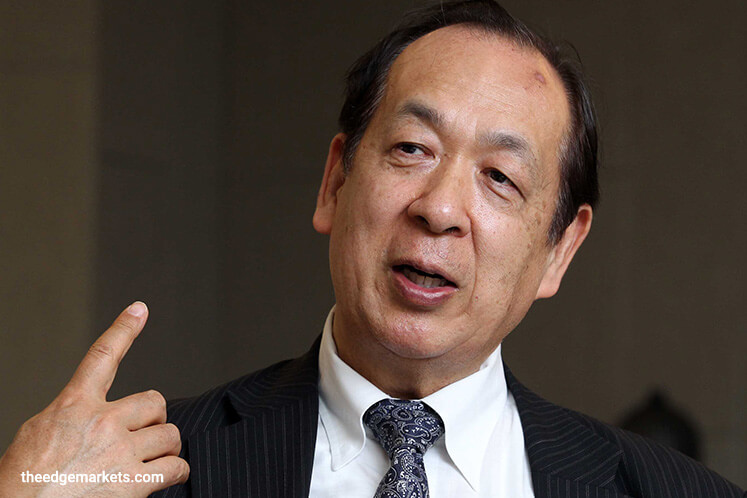 WHEN conglomerate Sime ­Darby Bhd, rubber glove ­manufacturer Top Glove Corp Bhd and ­condom maker Karex Bhd were featured at an investment seminar organised by Bursa Malaysia in Japan last year, one Japanese was particularly impressed with the size and quality of these listed firms.
Yoshitaka Harada, managing director of Musashi Securities Co Ltd, admits that before he attended the seminar, he did not know that Karex is the largest condom manufacturer in the world, while Top Glove is the world's biggest rubber gloves producer.
"Last July, Bursa Malaysia brought Sime Darby, Karex and Top Glove for an Investor Relations (IR) presentation to Japanese retail investors. It is pretty rare for Malaysian companies to do IR in Japan," he tells The Edge.
Musashi Securities is a mid-cap securities firm in Saitama City, near Tokyo.
According to Harada, Malaysian listed companies have not gone to the Japanese market in a big way, but the pioneer three companies promoted by Bursa have piqued the interest of investors there.
"After that seminar, our retail investors came to us and said they want to buy into these Malaysian companies. But the problem is, we didn't have any broker in Malaysia," he says.
Musashi Securities then reached out to a few local brokerage firms for potential partnership, before deciding that Mercury Securities Sdn Bhd is a good fit.
"Mercury Securities, being our local partner, will provide us a lot of information and research material about Malaysian companies. With that, we hope to promote more Malaysian stocks to our Japanese retail investors," Harada says.
Last month, Musashi Securities, Japanese Securities Journal Research and Mercury Securities organised an investment seminar in Kuala Lumpur.
Four Japanese listed companies — S-Pool Inc, Avant Corp, Intelligence Wave Inc and Yumeshin Holdings Co Ltd — with a market capitalisation of ¥4.2 billion (RM170 million), ¥9.1 billion, ­¥13.9 billion and ¥60.6 billion respectively, were featured at the seminar, which saw the attendance of prominent fund managers, including Phua Lee Kerk of Phillip Mutual's and Choo Swee Kee of TA Investment Management.
Yumeshin and S-Pool are manpower service providers, while Avant and Intelligence Wave are application software companies.
Musashi Securities launched a ­shariah-related fund three years ago, the first of its kind in Japan.
With assets under management of about US$30 million (RM132 million), Harada says most of it has been invested in Malaysia, because this is the market where it can find the most shariah-compliant stocks.
"I came to Malaysia for the first time about 10 years ago. But in the last couple of years, I came here very often. I think the Malaysian economy has been growing steadily, unlike China, whose growth is the envy of many countries, but is facing challenges to sustain its remarkable growth story," he says.
He believes that as the Asean economy grows, supported by an increase in population and the middle class, the Malaysian stock ­market will draw foreign investors' attention as a good number of shariah-compliant companies are listed here.
"There are two things we like about the Malaysian stock market. The growth potential of the hybrid Islamic economy and Chinese economy as well as the strong leadership of Asean countries. Your economy is a mixture of Chinese and Islamic economies. It is diversified, which is very attractive to Japanese investors like us," he says.
Harada points out that the weakness of the ringgit is good for export-oriented companies, and he believes most of them are making good profits now.
"Over the years, we like the growth story of Malaysia and we still believe in that story," he says.
Moving forward, Harada says, Musashi ­Securities will focus on promoting ­companies with growth potential in the near term, ­reasonable dividend yield and excellent governance records.
"Japanese investors focus not only on the price-earnings ratio but also the potential to grow. We will recommend high growth stocks," he says.
He adds that although Japanese retail ­investors have already invested in Malaysian stocks via mutual funds, they do not actually have an opportunity to directly invest in the individual companies because there is a lack of information.
Therefore, Musashi Securities now aims to educate Japanese investors, be it high-net-worth individuals or retail investors, via seminars or face-to-face sales promotion with the help of Mercury Securities.
Harada believes that in the near future, Japanese companies will accelerate their investments and mergers and acquisitions ­activities in Malaysia, and Musashi ­Securities hopes to participate as an active business ­partner. "For Japanese multinational ­companies planning plan to expand their business in ­Malaysia, we will provide them with opportunities such as M&A and business partners."
Yoshitaka says some Japanese firms have been trying to expand their businesses into this region, but they have to invest in certain local companies to achieve it.
For instance, Tokyo-based Nippon ­Yusen ­Kabushiki Kaisha (NYK Line), one of the ­oldest and largest shipping companies in the world, controls 65% of Malaysian logistics firm ­TASCO Bhd.
"We believe such inbound investment ­activities by Japanese companies will keep on going in the coming years," he says.
Malaysian companies are also looking for business partners in Japan, and Musashi ­Securities wants to play a significant role in identifying and eventually matching the ­parties,  with each achieving its respective investment objectives.
"Japanese companies are very strong in technology, which could be something Malaysian companies are looking for. At the same time, when Japanese companies expand their presence into this part of the world, they will need to have local knowledge and skills, which Malaysian companies can provide," Harada  says.