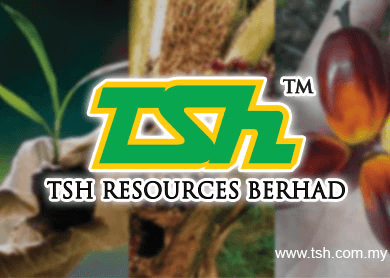 TSH Resources Bhd 
(May 7, RM2.25) 
Maintain hold with a higher target price (TP) of RM2.38: We recently met up with TSH Resources' management and returned with an upbeat and optimistic view on TSH's future earnings, banking on its operational efficiencies and promising long-term earnings growth potential.
These are supported by: (i) double-digit growth in fresh fruit bunch (FFB) production for financial year 2014 ended December (FY14); (ii) young age profile of seven years which provides visible revenue and earnings growth catalyst; (iii) greater unplanted land bank size of 67,853ha as at December 2014 that will sustain the company's growth and expansion for the next 10 to 14 years; and (iv) superior FFB yield and high percentage of immature and young matured trees (69% of planted land).
TSH's business model of becoming an upstream player may bode well, given that the company is focusing on expanding its land bank in Indonesia and Sabah. The most recent acquisitions were in Sabah and Kalimantan that have increased its plantation land bank by 5,000ha and 9,000ha, respectively. 
In the light of unexciting investor sentiment coupled with almost negligible new catalysts that may lift the crude palm oil (CPO) price in the near term, we foresee that the time is right for new acquisitions should the opportunity arise. 
TSH's total land bank as at Dec 31, 2014 stood at 109,154ha, and is expected to double in the next three to five years. TSH has the highest immature to young mature tree land among its peers (stock under coverage), with mature tree (8 to 15 years) land making up 14%, and the remaining old mature tree (6 to 16 years) land of 16%, seen as a major catalyst for production growth moving forward. 
According to management, TSH has been able to expand its FFB production at a five-year compound annual growth rate (CAGR) of 23% (2009 to 2014), mainly driven by FFB production growth in Indonesia with Sabah showing relatively constant performance. We project TSH's FFB production to grow at a three-year CAGR of 20% for the FY13 to FY15 period. With that, we foresee growth momentum to continue, stemming from its development project in Indonesia. 
The company has a younger age profile in Indonesian estates (five years), and seven years on average for all other estates (Malaysia and Indonesia), which will provide visible revenue and earnings growth catalysts moving forward. Land in Indonesia is mostly first-generation cultivation land that is more fertile for oil palm planting and hence, will end up with higher FFB yield and oil extraction rate (OER).  
We believe TSH's high percentage of plantation reserve land totalling 67,853ha can sustain yearly planting for at least another 10 to 14 years, assuming a 3,000 to 4,000ha new and replanting programme per year, hence providing sustainable growth moving forward. Management guided that so far it had planted about 521ha of new trees in the first quarter (1Q) of FY15.
TSH can also be categorised as an efficient plantation company, given its CPO production costs (on average over the past five years of RM884 per tonne for Sabah) and RM1,225 per tonne for Indonesia) are efficient when compared to the industry's RM1,500 per tonne for Sabah and RM2,000 per tonne for Indonesia.
We are still positive on the long-term outlook of the sector in line with TSH's management, given that palm oil and palm kernel oil are the world's largest consumable edible oils. However, due to the delayed impact of adverse weather conditions in Malaysia and Indonesia last year, coupled with the effects of tree stress, we expect FFB production growth and yield to be temporarily supressed this year before picking up again in FY16 as more areas turn mature.
Our new earnings forecast for FY15 and FY16 of RM136 million and RM162 million respectively, are underpinned mainly by: (i) CPO price assumptions of RM2,300 per tonne for 2015 and RM2,400 per tonne for 2016; (ii) steady FFB yield performance; and (iii) resilient OER capability. 
We  believe that higher FFB production and a better CPO extraction rate may moderate the impact of lower palm oil product prices and hence cushion TSH's earnings. As an upstream plantation player, earnings will correlate with CPO price movements. This means that every RM100 per tonne change in the CPO price would result in circa 4% to 5% change in THS's 2015 projected earnings. 
We have rolled forward our valuation to FY16 based on 20 times price-earnings ratio over calendar year 2016 earnings per share of 11.9 sen and thus, deriving a new TP of RM2.38 compared with RM2.08 previously. The stock is a "hold". — M&A Securities Sdn Bhd, May 7
This article first appeared in The Edge Financial Daily, on May 8, 2015.