This article first appeared in City & Country, The Edge Malaysia Weekly, on December 21, 2020 - December 27, 2020.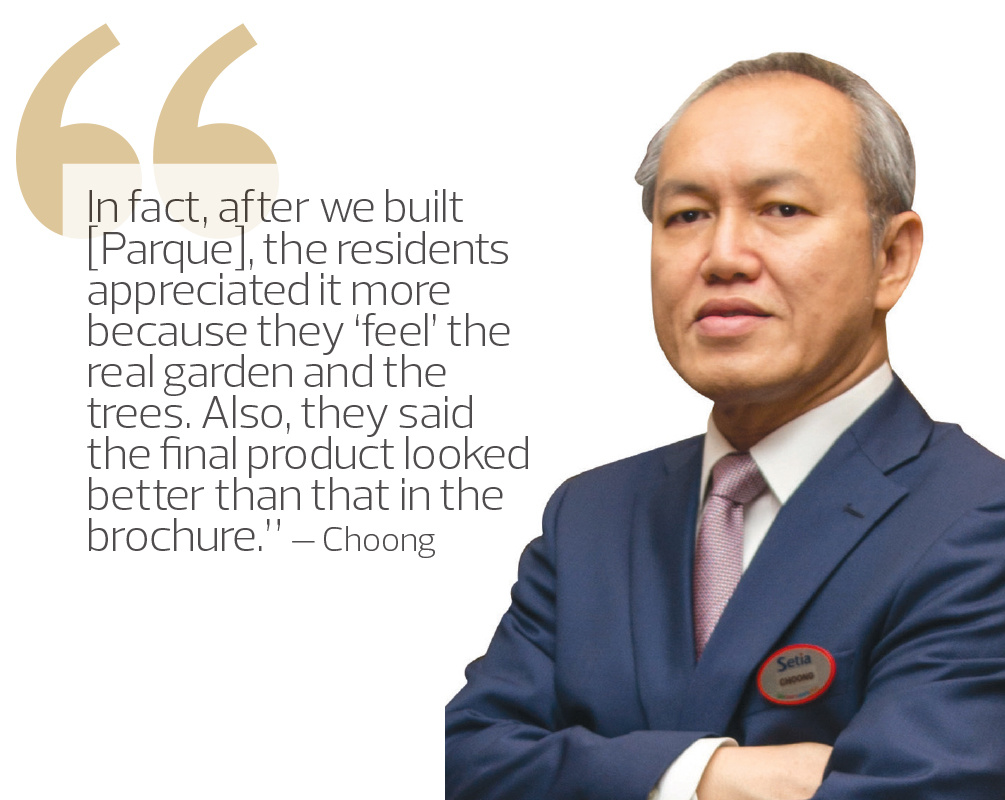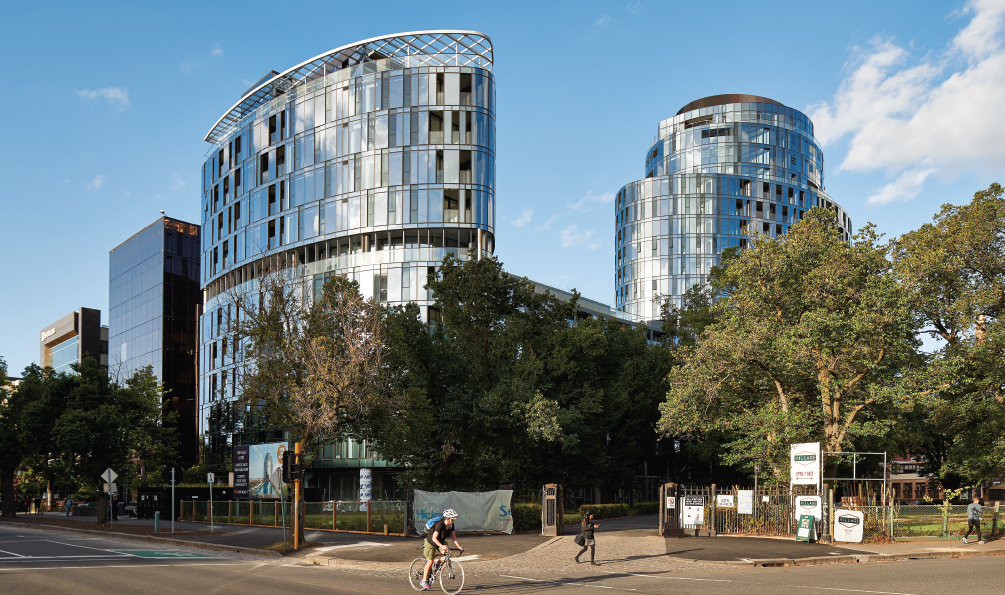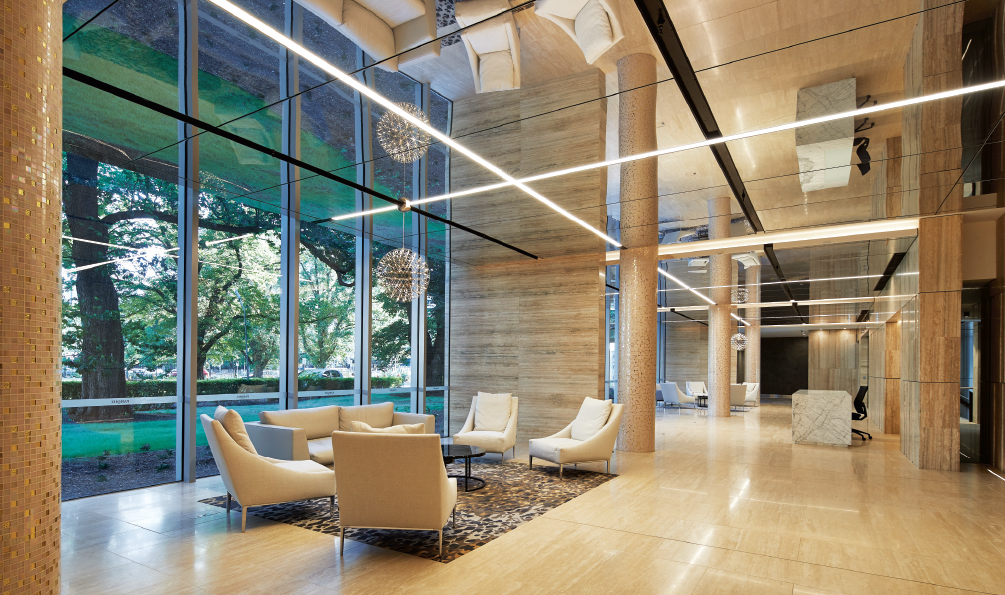 The spacious lobby area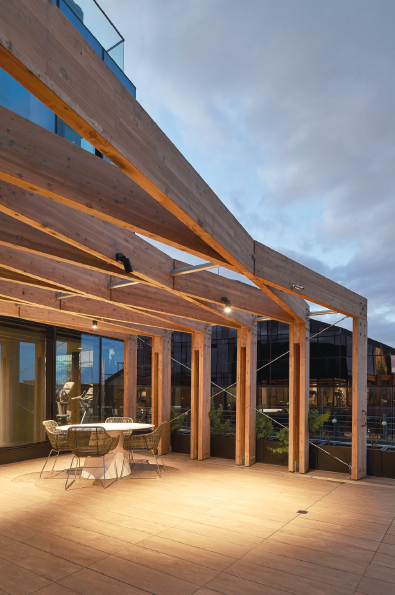 The outdoor deck leading to the swimming pool for small gatherings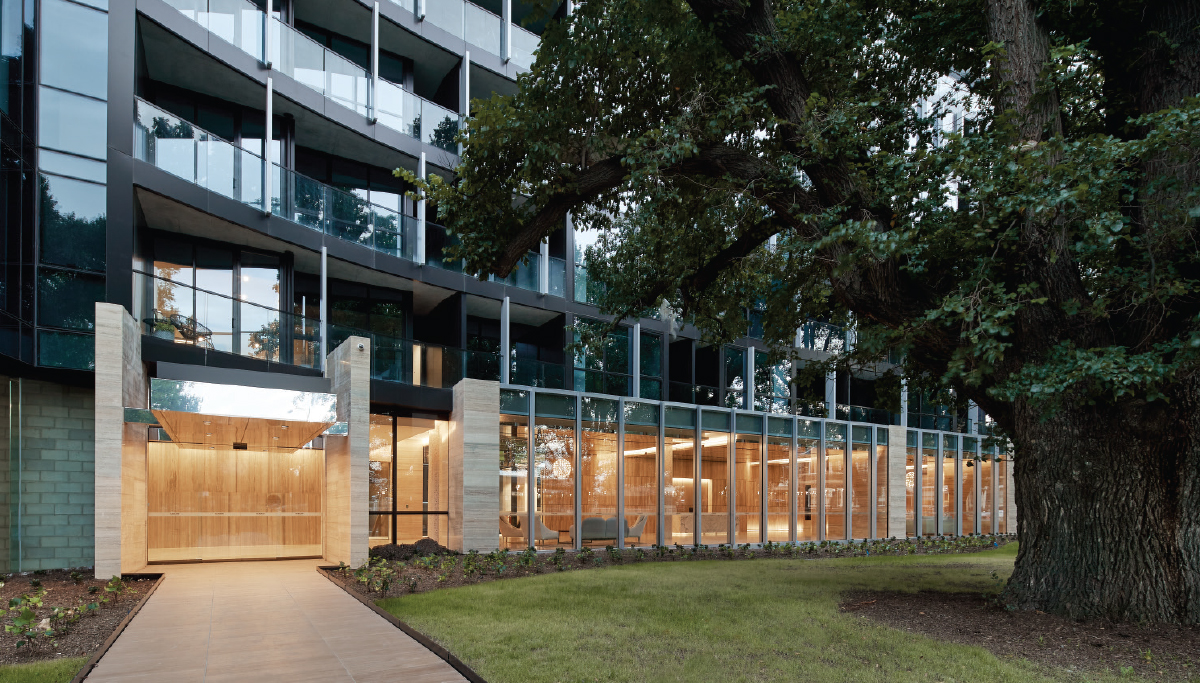 The entrance to Parque with a 150-year-old elm tree on the right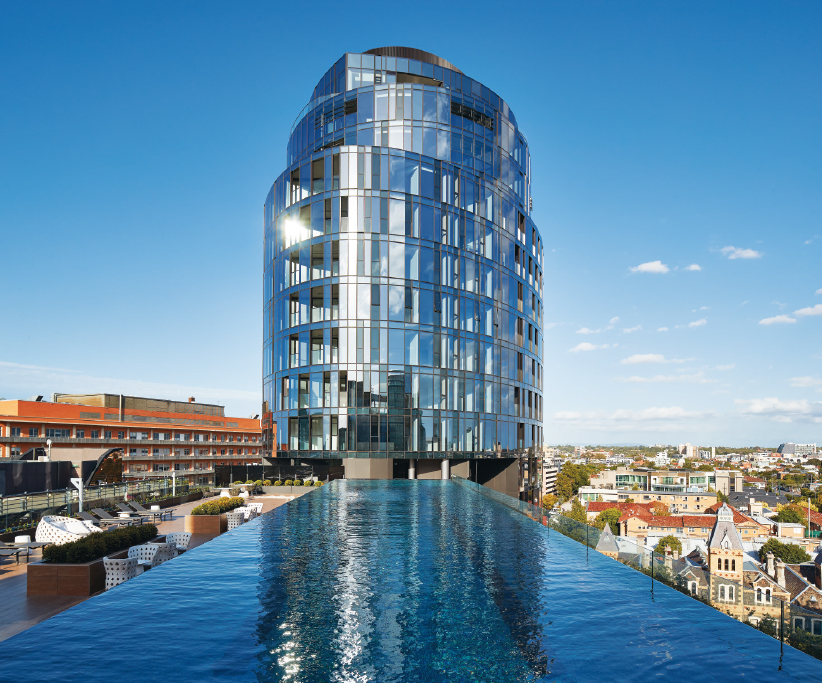 The open air heated infinity pool with views of the city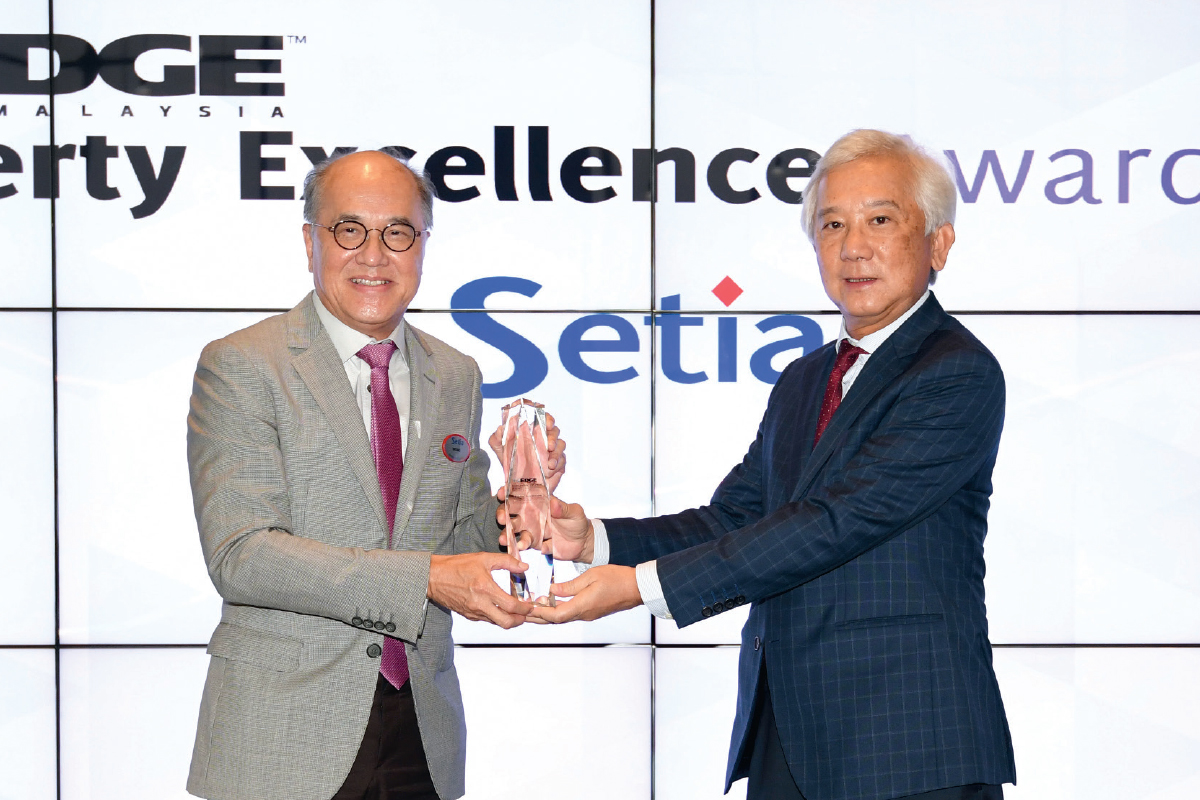 Deputy president and COO Datuk Wong Tuck Wai (left) receiving the award from The Edge Media Group publisher and group CEO Datuk Ho Kay Tat
Joint Winner | Parque, Melbourne | Setia Melbourne
Just 10 minutes away from Melbourne's CBD stands one of this year's The Edge Malaysia Outstanding Overseas Project Award winners — Parque by S P Setia Bhd. Located on 555 St Kilda Road, the project features two towers — 11 and 19 storeys — and a private heritage garden within a two-acre site. Launched in 2013, the 332 units that were available were quickly snapped up, according to Setia (Melbourne) Development Co CEO Datuk Choong Kai Wai.
"When we first bought [the land] and started selling, many of the buyers from the surrounding area thought it was a park and you could not build anything on it," recalls Choong. "On the day we launched the project, we sold everything except for two units."
The project offered 1-, 2- and 3-bedroom units with average built-ups of between 52 and 114 sq m. The starting price was A$390,000. The gross development value was A$229.5 million.
"The challenge of developing on this land was that we had to retain the 150-year-old elm trees and even the roots must not be damaged during construction. And the driveway and gateway had to be retained," Choong says in a Zoom interview recently.
The land on which the project sits is part of the former Royal Victorian Institute for the Blind (RVIB), which was founded in 1866. One of the conditions in the agreement on developing the land was to retain the elm trees, the sweeping driveway and original wrought iron entry gates of the former RVIB. The design of the project was by Australian architect Karl Fender of Fender Katsalidis Architects.
Since Parque's completion and handing over in Nov 2016, residents, including several Malaysians, have had only positive feedback for Choong.
"In fact, after we built [Parque], the residents appreciated it more because they 'feel' the real garden and the trees. Also, they said the final product looked better than that in the brochure," says Choong with a chuckle.
Moreover, residents staying on the third floor and above have the opportunity to touch the leaves of the elm trees during spring and summer. Additionally, residents were happy with the generous lobby size and also with the fact that the majority of the units are owner-occupied. "Residents were surprised because the make-up here is so different from that at the Fulton Lane project [S P Setia's first project in Melbourne]," he says. Normally, for a project by a foreign developer, the buyers are mostly investors, Choong notes.
Some of the facilities provided are concierge service, an open air heated rooftop infinity pool and a recreation deck with garden, sea and city views. Choong adds that residents and their guests have a prime view of the Formula 1 races.
Furthermore, Parque is not far from beaches such as St Kilda Beach, Port Melbourne Beach and Elwood beach; golf courses such as the Albert Park Golf Course; parks such as Albert Park, Fawkner Park and Royal Botanic Gardens Victoria. Public transport takes residents into Flinders Street Station in the city.
What were some of the key lessons learnt from developing Parque that informed other S P Setia projects?
"To be a successful developer, you must know what the market wants. At that time, we did a market study. There were a lot of downsizers. Landed property prices had gone up to, say, A$3 million to A$4 million. A lot of them felt their home was too big and they wanted to find something like a 3-bedroom unit, which wasn't too big or too small. There was no product catering to that demand. So, we were confident at that time that we would be able to sell," says Choong.
He reveals that a unit purchased for A$685,000 four years back was sold before the pandemic struck for A$765,000. "Prior to the pandemic, the property values [for Parque] were very good. However, Melbourne's appreciation rates tend to increase gradually," he adds. Capital growth has been consistent, at 2% to 3% a year. Parque's property value has risen 10% since its completion in 2016.
There are units for rent in Parque, mainly the 1-bedroom units, which Choong says go for about A$500 a week. This is considered on the high side as similar units elsewhere would go for between A$450 and A$470 a week. The net yield is estimated to be 4%.
Choong recalls that during the early days before Parque was developed, there were not many projects in the area — four to five but those were on small pockets of land. "Our parcel, which is two acres, is irreplaceable. So, the values of units at Parque will be maintained owing to this factor, as you can never get another two-acre site like this in Melbourne," he says.
For those who have lived and studied in Melbourne, the changes that St Kilda Road has gone through have been immense. In fact, St Kilda used to be a seedy area.
"In the old days, St Kilda was a red light district," says Choong. "But once some offices were built there, the employees discovered that St Kilda was a wonderful place. After some time, apartment projects came up. Subsequently, the government restricted the height of buildings to not more than 20 storeys."
Currently, the high-rise market in Melbourne is going through challenging times because of Covid-19, but Choong sees a shift in buyers' sentiment.
"People are now buying quality apartments already in the CBD and not looking for investment-grade properties, because investment-grade properties have suffered. The international students are not there any more, a few thousand apartments are empty because of the Covid-19 situation. There are no fire sales; there are no 20% to 25% discounts. Even if there are discounts, they are about 5%," he says.
This "flight to quality" theme started in 2019 and according to Choong, the new generation of towers with the right mix of community facilities for the lifestyle and practical needs of tenants, as well as better-designed apartments, is achieving stronger acceptance from both buyers and tenants.
Due to the pandemic, sales volume has dropped about 70%. In March, 5,000 units could be sold but now, it is 1,500 units, Choong explains. For the time being, sales are done virtually, and while the market is soft, thankfully the market contraction, which was estimated to be 15% to 20%, did not happen. Prices weakened no more than 5%, he adds.
The outlook for the property market, however, depends on the discovery of a vaccine for Covid-19. "If we have a vaccine for Covid-19, things will go well. If there is no vaccine, the market will continue as it is," says Choong matter-of-factly.
However, if all does go well, the apartment market is expected to recover in 2021-2022 as migration progressively resumes, with a higher population expected from 2023. There will be very little new stock being completed after 2023 across the CBD or inner city because of tighter planning regulations. This will severely shrink the potential supply pipeline for developers and will support investment in the fewer buildings that can be delivered by quality developers, says Choong.
As for S P Setia's long-term plans in Melbourne, the group is looking to develop something that will sustain it for several years.
"We have been here for 10 years; we don't want to build a one-off project. We want to look for something that is sustainable, something we can develop over the next 10 years," says Choong. "Maybe a township project. We are here for the long term. We have the human resources, the capital resources. We want to continue this journey."
For this type of project, Choong says, the developer would need a tract of land anywhere from 20 to 100 acres and about 15km from Melbourne city. S P Setia is also considering Sydney but so far, Melbourne is where the focus is at the moment.
While things are uncertain currently, S P Setia's focus on developing a presence in Australia, particularly Melbourne, has borne much fruit and it is likely that this will continue.