This article first appeared in Enterprise, The Edge Malaysia Weekly, on May 13, 2019 - May 19, 2019.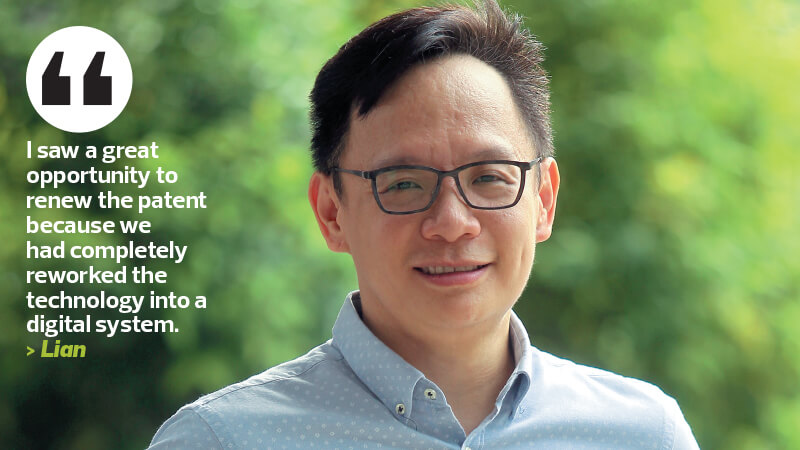 It is a big claim to be sure, but Lian Wah Seng has made a habit of taking huge leaps in big industries. The man himself rarely wastes words, but he does take pleasure in articulating the technicalities of financial auditing, back-end IT best practices and, more recently, cutting-edge railway safety technology. One gets the impression that Lian, who is clearly left-brained by nature, could have JavaScript as his first language.
He has worn many caps over the years. But since 2014, he has been founder and CEO of AZTI Group — a railway safety solutions manufacturer turned software developer and Internet of Things (IoT) pioneer.
Lian first spotted an opportunity to revolutionise a decades-old railway safety technology while running his previous IT consultancy business. The technology, known as the Platform Intrusion Emergency Stop (PIES) system, was invented by Canadian engineer Arnold Friedman in the 1980s. It was one of the industry's earliest safety solutions designed for the then growing driverless train ecosystem.
At its most basic, the PIES system comprises a series of sensor-activated, weight-sensitive plates, installed just underneath the tracks. It detects any weighted obstacles (such as people) that may have fallen on the track. Once triggered, the sensors activate that station's alarms, at which point human operators intervene to communicate with trains heading to the station, in addition to manually shutting down the line's tracks.
"The technology has been around for decades now. It is reliable and very well tested. I was keen to adopt it because rail operators obviously place a heavy emphasis on safety and reliability. And with a few modifications and upgrades, the technology could become highly scalable and cost-effective," Lian tells Enterprise.
"I only came to know about it in 2013. In the course of my research, I realised that Friedman had spent many years marketing the technology and managed to get it implemented in parts of Canada, the US, Australia and even parts of Malaysia in the roaring 1990s. However, the company fell into a lull for a number of years as Friedman became ill."
This was in the early 2010s and Lian had just sold his IT consultancy business to an Asian-based technology conglomerate. He had stayed on as part of the deal and continued to lead the company he had founded. But he was so taken with the PIES system that he looked Friedman up with a view to acquiring the technology. "I spent a lot of time talking with Friedman about the system," says Lian.
A Holocaust survivor, Friedman was anxious to see his technology go to someone with a clear, long-term vision for it. His son had pursued other career goals, so he was not in a position to take over the company.
Lian patiently discussed the prospect of buying the technology. "He was a very friendly old man who just wanted to secure what he thought was his key legacy. He wanted to be assured that whoever took over the PIES system would treat the brand responsibly and respect the position it had achieved in the market," he says.
Six months after Lian secured the technology, he received word that Friedman had died.
The patents had lapsed for many years by the time Lian took over the system, but he had a grand vision for revolutionising it. He wanted to turn the system from a clunky and unwieldly but highly effective piece of mechanical engineering into an IoT-enabled powerhouse that would be both cost-effective and easily adaptable. "I saw a great opportunity to renew the patent because we had completely reworked the technology into a digital system," he says.
A head for many caps
With his extensive experience in auditing, investments and IT, Lian is very much a hands-on CEO, and not just a big picture leader and strategist. He is eminently familiar with the technology's inner workings, having directly led the software development team from its early iterations to the final working model.
Being something of a polymath, Lian had put his double major in accountancy and IT to good use. He had worked as an investment analyst with a local fund house before moving to Singapore for a stint at an investment bank. All in, he spent about seven years in the investment business before branching out on his own to start an IT consultancy business.
Going back even further still, he spent a number of years working at the Malaysian affiliate of one-time US accounting giant Arthur Andersen. "My bosses would have me perform my usual financial audit duties for six months out of the year, when we would be extremely busy. For the rest of the year, when there was not as much work, they shipped me off to work in the firm's IT department. So, I was busy all year round," says Lian.
The high stakes nature of his previous work, coupled with a keen analytical mind, meant that he saw which way the wind was blowing well before the local market caught on. He knew that Malaysia, and much of emerging Southeast Asia, was on the cusp of a connectivity craze. At the same time, he deeply respected the work of his professional forebear, Friedman, and was convinced that there was new life in old technology.
Lian and his entirely local team of high-end software developers and specialists decided to split the PIES system into two distinct modules. He refers to the physical components — the sensor-enabled weighted plates — as the passive system.
"We reimagined the passive system to be modular for quick and easy maintenance. In addition, we built it in such a way that it can be maintained without the need for any tools," says Lian.
This greatly reduces the risk of an operator mistakenly leaving behind tools on the tracks, he adds. Such human errors can create significant derailment risks.
The second module is what Lian refers to as the active system. "This component of the system basically houses our entirely in-house developed management software, as well as the electrical and electronic components that facilitate physical integration."
The software integrates the PIES system with a number of very important railway and station management systems. "Although we are perfectly capable of deploying both the passive and active systems in a railway network [whether in a driverless ecosystem or otherwise], our plan is to focus on selling the management software as well as the physical components in the active system. Quite simply, we consider ourselves a software and IoT company. Our management software readily integrates into a railway network's existing signalling, supervising and control systems," says Lian.
He decided to focus on selling the management software and its related components because the passive system — the weighted plates — is available in the market and can be easily manufactured by other companies.
Over the years, other companies noticed the effectiveness of Friedman's system and manufactured variations of his original technology. In short, Lian's sales strategy allows him to sell to railway networks that already have some form of a PIES system, even if it is not the original technology.
This minimises rail network downtime and does not require overly invasive, physical renovation work. This solution is much more palatable to legacy railway networks that are gradually modernising their lines and stations.
The addition of this management software means that any kind of emergency that triggers the passive system will result in a series of automated safety measures kicking in, independent of human intervention.
The software first contacts any approaching trains with instructions to stop. It then proceeds to communicate the stop order throughout the entire railway line. Meanwhile, at the station, internal alarms are immediately tripped and emergency services are contacted. Security cameras in the vicinity then automatically pan to the scene of the emergency.
"We have also added a number of redundancies to our system. So if there is a power failure, for example, the PIES system will not deactivate," says Lian.
The system proved its worth last April, when a pregnant woman was saved after she fainted and fell onto the tracks at the Damai Light Rail Transit (LRT) station in Kuala Lumpur. It is situated along the heavily utilised Kelana Jaya LRT line.
It took seven minutes for emergency personnel to rescue the victim. Meanwhile, the entire Kelana Jaya LRT line, which shut down when the emergency was detected, was back up and running in under 30 minutes.
Going forward, Lian plans to take his technology abroad. In fact, his company recently launched the new and improved PIES system in Indonesia. It is an achievement he is particularly excited about as he sees huge potential in reaching out to manually driven rail ecosystems.
"Legacy versions of the PIES system already exist in other countries. Over the last few years, we have successfully implemented the technology in various local rail networks. And now, in Indonesia," says Lian.
"Over the longer term, we want to introduce the technology into older, manually driven ecosystems, particularly in Southeast Asia. We are in talks with several international railway lines and have received a lot of positive feedback on the various trials that we have been invited to conduct."