This article first appeared in Enterprise, The Edge Malaysia Weekly, on May 14, 2018 - May 20, 2018.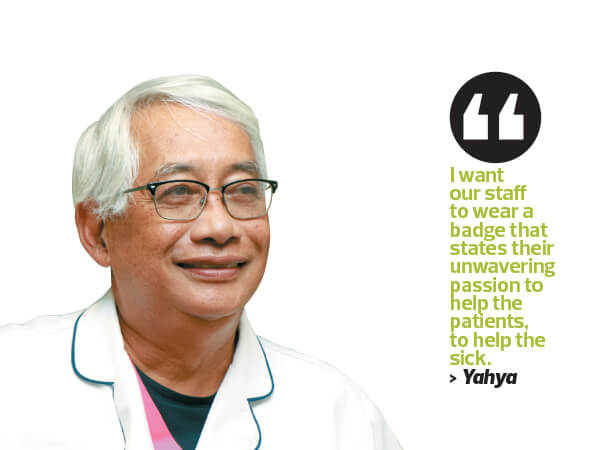 In the 1970s, Tan Sri Dr Yahya Awang was a cardiac surgeon working in a government hospital with just five beds for heart patients. He saw the hospital having to turn away patients, many of whom had come from the kampung, because there was not enough space to help them or because they had come too late.
"They were too ill for surgery and you could see their sad faces when we told them that nothing could be done for them. In effect, we were playing God because we only had five beds to serve the whole country. That was tough."
Dr Yahya saw first-hand what happened when there were long waiting lists for cardiac surgery. Many didn't make it and it bothered him tremendously.
He was one of the pioneer surgeons who helped set up the National Heart Institute or Institut Jantung Negara (IJN) in 1992 and this was a great improvement over the status quo. "We trained more surgeons and were able to reduce the waiting list."
But it was not enough. The number of heart patients kept increasing and there was a need for more such facilities. "I realised that if, with the help of investors, I could open a private heart hospital, it would help decrease the load for the nation," says Dr Yahya.
This had been his passion and desire for a long time but it was not until he was approached by global alternative asset firm, TE Asia Healthcare Partners (funded by global alternative asset firm TPG Capital), that the idea became concrete.
"I was fortunate to meet the right investor and get the right people on board to agree to the idea of a heart hospital. TE Asia Healthcare discussed the possibility with me and the opportunity arose for us to build a heart hospital at KL Sentral," he says.
In November last year, Cardiac Vascular Sentral Kuala Lumpur (CVSKL) opened its doors in KL Sentral. TE Asia Healthcare spent some RM270 million on opening the hospital and this includes the cost of the building, renovations, equipment, working capital and the merger of an existing screening business.
One of Dr Yahya's greatest coups was convincing his colleagues to get on board. "I was able to bring a lot of my colleagues who were in IJN with me as well as some doctors on the private side. They saw the benefit of opening a heart hospital that was owned by us. Our share might be small but we are still owners. And with our main investor, I think we've made the right decision."
Although Dr Yahya and the other surgeons he brought in are on the board and contribute towards the management of the hospital, for the most part, they concentrate on the clinical aspect and leave things like the marketing and financial management of the hospital to their investor. "And TPG looks after that very well, I think."
While CVSKL was basically set up to reduce the country's cardiac patient load, another reason was medical tourism. Though it has only been open for a few months, it has already attracted foreign patients.
"A lot of the foreign patients come for medical screening. We have got a specific area in the hospital that we allocate for screening and health scans. And we see a lot of Indonesians coming in for that — basically, many of those who used to go to Singapore for the same thing," says Dr Yahya.
In fact, CVSKL acquired HealthScan Malaysia, a screening centre, to provide early detection services for cardiovascular diseases, stroke, cancer and other general screening purposes. HealthScan now operates on the first floor of the hospital.
After they are screened, some patients require procedures and Dr Yahya himself has conducted some of them. He says CVSKL hopes to capitalise on patients in the region. "We are looking at Indonesia, Bangladesh, Myanmar and Vietnam. We have the expertise and facilities; now all we need is proper marketing."
But as he mentioned before, marketing is the investor's province. So far, it has not done too badly. In fact, Dr Yahya avers, the response has been overwhelming. "We have seen a lot of people coming through our doors. They got to hear about it through social media and advertisements, and our own doctors have played a significant role in attracting them."
As at March this year, CVSKL had seen almost 600 admissions, 4,000 outpatients and about 1,600 health screenings. The patients are mostly Malaysian but 10% are from other countries and they have contributed about 12% to its revenue so far.
Dr Yahya believes CVSKL is competitively priced for what it does. "I don't think we are more expensive than other private hospitals. In fact, for some procedures, we are cheaper. And we want to keep it that way. And the fact that I have brought together the best of minds, patients can rest assured that their interests will be taken care of."
He adds that the hospital also wants to do its duty by the nation. "We want to help government hospitals reduce their long waiting lists. We don't want to be seen as only a private hospital but one with a strong CSR component. So maybe we can offer them our facilities, expertise and strength. I want our staff to wear a badge that states their unwavering passion to help the patients, to help the sick."
Why are the number of heart patients increasing in Malaysia? "There are many reasons, one of which is our eating habits and another is smoking. We also have genetic factors and as you know, diabetes is prevalent in our country. In fact, one in every five people has diabetes and this is an important risk factor for coronary artery disease."
He attributes the rise in diabetic cases to the unhealthy eating habits adopted, especially by the young who patronise fast-food joints on an almost daily basis.
Dr Yahya is very pleased with CVSKL's location. "We felt this would be a good place to have a heart hospital. It is the transport hub for Malaysia. We felt this would be a meeting point for various modes of transport — cars, trains, buses. And from what we have learnt so far, I think we were right."
The hospital occupies the site of the former retail block, Sooka Sentral, which used to house a fitness and spa centre, business centre, food court, restaurant and al fresco dining facilities.
Is he thinking of setting up private heart hospitals in other states? Eventually. "Yes, we have been approached by other states but it depends on whether we can get the right zoning and permits."
The next state? "Maybe Penang, maybe Melaka, maybe Johor. We will consider all opportunities."
Dr Yahya adds that he has been approached by other investors but he tells them it is too late. "I'm already with TPG. I am committed to this hospital and intend to give it my full attention until I retire."
He says it is early days yet to talk about financial performance but this particular private hospital is performing ahead of budget. "It has been very encouraging, thanks to insurers and third-party administrators (TPAs) who have been very supportive and put CVSKL on their respective panels."
Dr Yahya is chairman of the hospital and its licence holder while Dr Nik Fawaz Nik Abdul Aziz is its CEO and Kelen Leong is the chief operating officer. "I am the person in charge and ultimately responsible for everything. This hospital is my vision and I aim for it to be the best in Malaysia dedicated to the treatment of heart and vascular diseases."
The good surgeon will be turning 68 this year but he's not ready to hang up his scalpel. He stretches out his hand to demonstrate how steady it is. "There is no retirement age for surgeons, even in the UK or the US. You have to decide for yourself. My hands are still steady. I think I can continue to operate for another 10 years."