This article first appeared in Personal Wealth, The Edge Malaysia Weekly, on January 14, 2019 - January 20, 2019.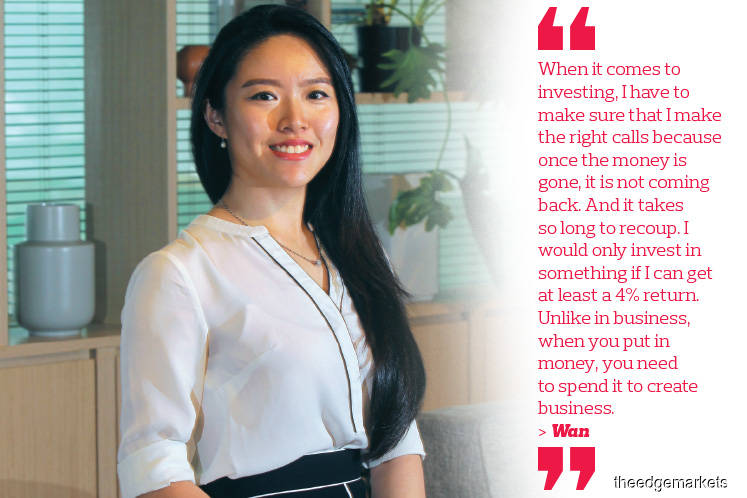 As a national ice hockey player, Kimberly Wan is well aware that discipline and patience are part and parcel of achieving success. Both in sport and wealth management, she sets bite-sized goals based on techniques she aims to master and takes the required steps to achieve them.
"It is important to set goals and achieve them strategically. For example, if my end-goal is to be skilful in a particular [ice hockey] technique, I need to determine what I have to do to achieve that," Wan tells Personal Wealth.
"Similarly with wealth management, I categorise my goals and change strategies according to my current or future financial needs. Planning ahead is very important because every stage of our life requires a different money management strategy."
At 24, Wan appears to have a good head on her shoulders when it comes to growing her wealth, as demonstrated by her ability to save and her belief in delayed gratification. She holds strongly to these principles despite being in the fast-paced start-up industry, where results and returns are expected to come sooner rather than later.
"When it comes to investing, I have to make sure that I make the right calls because once the money is gone, it is not coming back. And it takes so long to recoup. I would only invest in something if I can get at least a 4% return. Unlike in business, when you put in money, you need to spend it to create business," says the CEO of Otomate Me Sdn Bhd.
Wan got into figure skating at the age of six. When she was 12, her competitive streak earned her a spot in the Malaysian Book of Records for being the "Youngest female to achieve the highest skating level in Malaysia" — a record that still stands to this day.
In 2006, Wan became the only female figure skater in the country to qualify as a Freestyle 9 skater. The international governing body for recreational figure skating, the Ice Skating Institute (ISI), has 15 testing levels — 5 basic and 10 freestyle.
"Gruelling" is how she describes the month leading up to this achievement. But the most challenging aspect of the sport is the emotional stress and physical wear and tear that come with the continuous exertion, she says.
"I was at the rink daily to record the programme portion of the test, which was sent to Hong Kong to be judged. Shortly after receiving the wonderful news that I had passed, I got badly injured with a hairline fracture to my spine as a result of the overexertion. To go through that at the age of 12 was emotionally draining and I was out for five months," says Wan.
She got into ice hockey when she was 16 and is currently on the national team. In 2013, she was the first Malaysian linesman to officiate at the Women's Challenge Cup of Asia tournament in Hong Kong, organised by the International Ice Hockey Federation.
Being an accomplished athlete for almost 20 years, Wan is disciplined, driven and goal-oriented. And she applies these principles in her daily life, including her personal wealth management activities.
"The ice hockey team is self-funded so we have to come up the money to cover our expenses — flights, training, food and physiotherapy. So, it is important to have a lot of structure and routine as that allows us to get as much as possible on any given day," says Wan.
"My outlook on life has been shaped and influenced by the invaluable lessons I have absorbed from being in sport for nearly two decades. With a unique understanding of the real amount of time to become successful at any given goal, it serves to guide me in my twenties to be patient and work diligently to attain the goals I have set for myself and my business over the next 5, 10 and 20 years."
During her figure skating days, her expenses were borne by her parents. But when she was in secondary school, she took on a part-time job to supplement her allowance.
"In the beginning, I could not afford the ice hockey gear. So, the Malaysia Ice Hockey Federation lent me the gear. Over time, I bought my own gear and returned what I had borrowed. Now, I also pay for my training and tournament expenses," says Wan.
Even though competing professionally does not come cheap, she is driven by her competitive spirit and her support network. To her, motivation is fleeting, but her hunger for success keeps her striving to be better.
"I read about and follow athletes and successful business owners on various mediums and try to learn from their examples. After listening to their interviews, I work to emulate what they have in common," says Wan.
It was through her involvement in sport that she was exposed to the art of networking. She also believes that a shared interest in or passion for sport provides a good platform for networking.
"Since you already have that bond, which you have formed [through mutual interest in sport], it is easier to learn about what they do outside of sport. Over time, you learn about what they do, their businesses and the industries they are in. Then, we can explore the possibility of a cross-border collaboration," says Wan.
From athleticism to entrepreneurship
Wan believes that millennials are dominating the start-up scene all over the world, creating massive wealth and reshaping the labour market. Millennials, she observes, are creating wealth at a much earlier stage in life than previous generations by starting their own companies and generating multiple streams of income.
But there are also challenges as the cost of living continues to rise. Nevertheless, there are plenty of resources available, Wan points out.
While it is important to generate wealth, it is also imperative to look at other aspects of society that need one's contribution, she says. "Ultimately, we need to have a plan to give back [to the community]. That is my philosophy in terms of building wealth as well as saving money and distributing it.
"I believe that each individual has the potential to achieve many great accomplishments. However, because each individual is born into different circumstances, some start off behind others. In the future, I intend to work with teenage girls to teach them how to develop a resilient mindset and self-confidence so that they are able to level the playing field."
Otomate Me started by offering a subscription service that allows customers to receive regular supplies of basic household items such as personal care and baby products. The ultimate aim, however, was to develop its own technology to help meet the evolving needs of brands and consumers alike, based on what it learnt from its customers' purchasing behaviour.
"We focused on the business-to-consumer side as a means to demonstrate and build up the technology. Since then, we have shifted our core focus to business-to-business software as a service (SaaS)," says Wan.
The technology is a "value-nurturing automation software" that delivers personalised and automated post-purchase experiences through timely email and SMS follow-ups. These experiences are designed to help brands gain trust from their customers, says Wan.
"Ultimately, we encourage customers to connect with the brand and its values, help them get the most out of their investment in the brand's solutions and keep them coming back for more," she adds.
This year, the start-up aims to impact three million end-consumers by enabling brands to build closer relationships with their customers through value-nurturing. "We also plan to educate brands and businesses on the relevance of 'timely value-nurturing' and the subscription economy to grow their businesses," says Wan.
Despite building a sales automation company that leverages technology, her idea of achieving success requires more than just taking shortcuts with technology. Having seen her parents build their own businesses when she was growing up, she realises that it takes time to unlock a certain amount of wealth.
"While we [millennials] have access to technology, social media, [other] tools and information today, there is no shortcut to success because it is also [about having] the right kind of attitude and mentality," says Wan.
She notes that while it is common for millennials to go into short-term businesses looking for fast returns, the sustainability of a venture is just as important as profit. "One thing I ask myself is, what legacy do I want to leave behind [with my business]? I think this is something that millennials should think about."
While social media and other technologies can be harnessed to grow one's product, service or business, many fail to come to terms with the downside of these tools, says Wan. "What is it doing to our mental and physical health? What does it say about how we perceive ourselves as individuals?
"Beyond just the social media façade, the branded advertisements and [the ability to] get RM2,500 per post, what can I do after that? What kind of impact can I leave?"
Playing the long game
As a business owner, Wan has taken risks to grow her company. But she admits that her risk appetite is rather low when it comes to investing. That is because she does not believe in investing in anything that she does not have ample knowledge of.
She believes in the power of saving as her parents instilled in her the habit of setting aside a certain sum from the allowances they gave her when she was a child. Now, she prefers to be on the safer side of things when it comes to investments.
"I keep my money in fixed deposits (FDs), breaking it up into small chunks. If I ever need to use some of the money, I can withdraw a small portion without affecting the rest of my FDs," says Wan.
"As for other asset classes, I need to do a bit more research, simply because I have had multiple people giving me different information. I do know, however, that if you do not have the heart for risky investments, such as stocks, and if they tank and you do not remain steadfast, you could lose everything. That is not a risk I am willing to take."
To help her on her wealth management journey, Wan has joined a Facebook group that discusses personal finance and investing issues. She takes comfort in knowing that she will be able to ask any questions to this tight-knit but growing group.
"I also look at reports from the Big Four accounting firms to keep tabs on investment trends, so that I am able to plan ahead. There are different stages of wealth planning and there is a stage that I want to achieve, but not right now."