This article first appeared in Enterprise, The Edge Malaysia Weekly, on August 5, 2019 - August 11, 2019.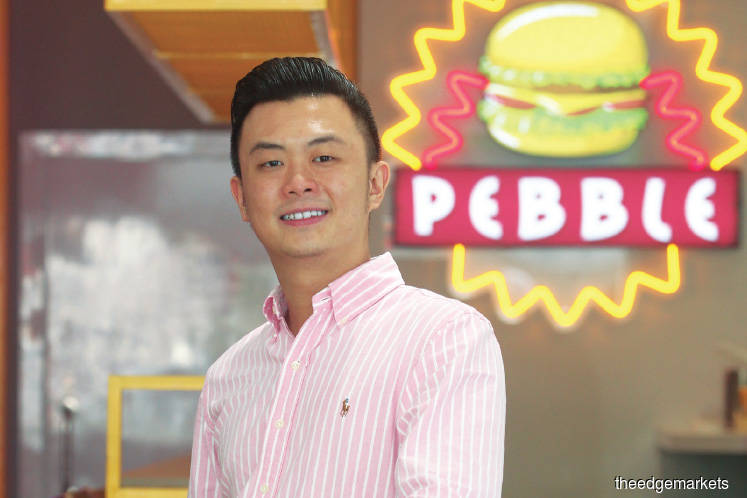 Tan Kai Young was a working at a bank in Singapore when he had his first taste of frozen yoghurt (also known as froyo) by llaollao, a franchise from Spain. One of the branches was situated across from his office building and despite the long queues for the yoghurt, Tan kept going back for more.
He loved it so much that in 2014, he decided to acquire the franchise to distribute it in Malaysia. Tan felt there would be a demand for llaollao even though the froyo craze was slowly subsiding and other chains were closing their branches or ceasing to operate altogether.
He believed llaollao could hold its own as it offered a wide range of toppings, which included freshly cut fruits as well as a variety of sauces on top of a premium-quality froyo. And it did. In fact, it became a hit the moment it was launched here.
From only two outlets in 2015, llaollao has expanded to more than 40 this year. The target is 60 by the end of 2019. The brand is 99%-owned by Woodpeckers Group Sdn Bhd, of which Tan is group director.
It was not always smooth sailing, though. In the early days, it was a challenge for Tan to identify the types of toppings and sauces that would win over local consumers.
"We couldn't forecast the variations of products that would appeal to the Malaysian market — in other words, which sauces and fruits would do well. But the more we did it [offering different varieties], the more we could understand the market's reaction and it also helped us strategise better marketing campaigns," he says.
Not that all its marketing campaigns worked well. One particular campaign, styled like a quiz, failed as it was rather complicated. Patrons were given a discount based on the number of fruit they could identify from their silhouette. If they got all three right, they would get a 33% discount and if they got only two correct, a 22% discount.
"That was a failure," says Tan.
But the company still wanted to give double-digit discounts. So it came up with a "wellness day" campaign, where patrons would enjoy discounts every Wednesday. The discount is 11% on the first and fourth Wednesday, and 22% and 33% on the second and third Wednesday respectively.
This campaign is also part of Woodpeckers' efforts to ensure that llaollao remains relevant in the fast-paced food and beverage (F&B) space. He says after three years, the marketing strategy for the brand has to be more localised.
"And we'll have to give back to the community that has been supporting us for three years. Without them, we wouldn't have been able to grow to over 40 outlets today, so we have to give back somehow," he adds.
In a recent corporate social responsibility campaign during the month of Ramadhan dubbed Secawan kasih, sedekah budi (which roughly translates to "a cup of love for charity"), nearly 1,000 customers across eight llaollao outlets donated RM3.50 each in exchange for an empty cup, on which they penned good wishes for underprivileged children.
The cups were then turned into art pieces and presented to the children, who were served with the frozen dessert during the group's visits to more than 10 orphanages in the central and northern region of Peninsular Malaysia.
To ensure business sustainability, Tan is aiming to boost brand affinity — the likelihood that customers will stick with a brand or company. He is also attempting to make llaollao a household brand and emphasises localised marketing strategies.
"We have to be as accessible as we can to everyone, not just in the cities but also in suburban areas. We also have to localise as much as we can, because certain big foreign brands that have entered Malaysia still hold on the brand's characteristics in their country of origin," he notes.
Building a home-grown brand
Llaollao is one of three brands under Woodpeckers. Two years after bringing the brand here, Tan won the exclusive franchise rights to Tapas Club, a casual dining restaurant that serves authentic Spanish food.
Its third and latest brand is Pebble, a local burger brand. A self-professed burger aficionado, Tan says he developed an affinity for it when he was a student in Melbourne, Australia. This inspired the creation of Pebble.
In line with the company's mission to elevate eating standards and food quality in Malaysia, Tan says the meat for Pebble's burger patties are imported entirely from Australia. "We don't buy ground beef but instead grind it ourselves to ensure freshness and quality," he says.
"We started with classic beef, buttermilk chicken and good-quality wagyu burgers. But to do well in Malaysia, we had to come up with something more local, like a rendang burger."
Here too, the direction is towards localisation and making the burger joint "people-friendly". Tan intends to invite key opinion leaders such as chefs or athletes to craft burgers, which, if good, will be added to the menu.
There are countless bun-and-patty options, including local ones, in the Klang Valley but competition does not intimidate Tan. He believes there is still a lot of opportunity in the burger space.
Tan describes Pebble — which first opened its doors in Taman Tun Dr Ismail, Kuala Lumpur, earlier this year — as a "bright, friendly and fun" brand. "It's for everyone, for the family as well as the white-collar workers who come here during lunch hour," he says.
"We see other burger brands as competitors, but our menus are different from each other. We are just adding more variety into the market."
The TTDI outlet shares the same space as a llaollao branch. Tan describes this as a dual concept promote the burgers as the mains and the froyo as a dessert.
"When we acquired this shop lot, it was for llaollao, but it's a little too big for the froyo shop alone, so we wanted to come up with a brand that would complement llaollao's offerings. Llaollao lacks customers during lunch and dinner time, so it has to fill those gaps.
"Llaollao is also not hot and savoury, while burgers are. This combination works well because you have your hot, greasy and sinful burger and then you can enjoy something light, fresh, cool and tangy afterwards," he explains.
Having managed two franchises before, Tan is facing a new challenge with Pebble, which he built from scratch. Unlike the first two, he has to be very involved in the R&D process for Pebble.
"Having your own brand means you have to continuously innovate new products, do R&D and taste control. This is why we started off small, with things that are acceptable to the market so that there is very little room for error," he notes.
After some trial and error, the kitchen team grew in confidence and could afford to get more experimental. Another Pebble-llaollao outlet was recently launched in Bangsar, putting the company on track to opening six Pebble outlets by year-end, Tan says.
Solid foundation
Tan attributes llaollao's rapid growth and success to a strong team. Apart from being passionate about F&B, he says developing the same drive within the team is equally important.
He emphasises rewarding and motivating staff, but also places importance on training and upskilling them to improve efficiencies within the company. Woodpeckers' low turnover rate, he says, is indicative of a healthy working environment.
Tan looks up to British business magnate Richard Branson, from whom he draws inspiration. "He empowers his staff a lot and ensures that they have work-life balance. He goes out of his way to make sure that the front-liners are being noticed, their voices are heard and those who perform well are rewarded. I think this should be the way business is done because I want my colleagues to wake up feeling motivated rather than dragging their feet.
"You have to have a lot of team bonding experiences as well so that everyone is on the same page in terms of the company's goals," he says. Woodpeckers has a 300-strong team.
Tan considers the staff at the company's headquarters as a base, which has to be strong enough to support the front-liners. "The whole value chain has to be strong — your supply side and finance included — and you need to be able to pinpoint the problems and fix them in a timely manner."
It is crucial to be agile in the F&B industry. That means being attentive to trends influenced by pop culture and moulding seasonal products or services around these trends or themes. "You also have to be accessible location-wise because if you have a limited number of outlets, you will get hit when a strong brand comes in," he shares.
What's next? Tan says Woodpeckers has sets its sights on growing the business Down Under, after having secured the master franchise for llaollao there. Apart from his familiarity with the market because he went to university there, he chose Australia because there is no language barrier.
"We are expanding there come August or September. My partners there are Australian-based Malaysians. My hope is to garner support from back home as well since we have many Malaysian students there," he adds.