This article first appeared in Personal Wealth, The Edge Malaysia Weekly, on January 28, 2019 - February 03, 2019.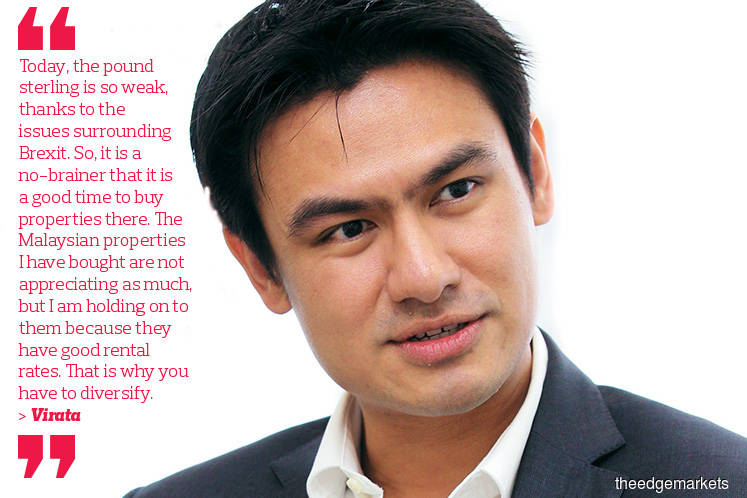 Virata Thaivasigamony was in his teens when the 1997/98 Asian financial crisis occurred. The economic meltdown destabilised countries and wrecked Malaysia's financial landscape. It was enough to put him off investing in the capital markets, or anything remotely speculative for that matter.
After graduating from the University of Toronto with a degree in finance and accounting in 2005, Virata joined an accounting firm. It was there that he realised there were other ways of investing that could provide sustainable returns.
"I was exposed to real estate clients while working at PricewaterhouseCoopers in Canada and through conversations with them, I began to understand that there was a way to build sustainable wealth and a way to get my time back to pursue other interests and passions," says the 35-year-old.
That prompted him to make his first property investment in 2006. "I started out by buying properties on my own, but there is only so much you can buy with your own money. As I was buying properties in Canada, I quickly ran out of money to invest," says Virata.
"So, I got my friends involved and we partnered to buy properties in Canada — mostly residential but also some commercial properties. The idea was for us to pool our money. But at that point, my friends and I were just starting our careers. So, we did not have much money to invest. That was when we started hustling our way through networking events such those hosted by business and investor groups.
"Along the way, we managed to get different types of investors to chip in and jointly invest. Some of these investors had the money but did not have the time, and needed services like ours to manage their properties."
Virata worked to master the techniques of buying and holding properties. And when the market looked promising, the partners would sell the properties and share the profits.
In 2010, he decided to return to Malaysia to help locals invest in properties abroad and diversify their portfolios. "I came back to Malaysia and decided to replicate what we did in North America. Four years ago, a bunch of us came together and started CSI Prop because we believe that given the current market conditions, whether it is the local property landscape or economic conditions, it is really important for people to make informed decisions," says Virata.
"We believe in helping people to achieve their personal goals and take control of their future, rather than just putting their hard-earned money with fund managers and not taking the time to understand their investments. In other words, we help people understand property markets around the world."
The local property market has suffered a setback in the last few years as transaction volumes have been on the decline. While developers are more optimistic about the outlook for the Malaysian real estate market this year, the slow take-up has led to an increase in overhang residential properties.
That is why it is crucial to educate property investors on diversifying into overseas markets, says Virata. "The local property market is not at its prime. Five years ago, it did very well. But over the last few years, the market has been challenging.
"However, we believe that properties in different parts of the world are in different cycles. That is why we sell properties in the UK and Australia to Malaysians. I started by investing in North America and then came back and bought properties in Asia. Now, via CSI Prop, we have exposure to the Australian and UK markets.
"Today, the pound sterling is so weak, thanks to the issues surrounding Brexit. So, it is a no-brainer that it is a good time to buy properties there. The Malaysian properties I have bought are not appreciating as much, but I am holding on to them because they have good rental rates. That is why you have to diversify."
Virata says he is not a big spender and his idea of wealth is not so much about amassing a fortune, but having enough time to do the things he loves, one of which is spending time away from the daily grind to go hiking.
"Time is what I measure. I am really big on where I spend my time. I love hiking and running and family time is really important to me," says Virata.
"I started hiking six years ago and every year since, my friends and I have gone on hikes. We climbed Mount Kinabalu in the first year. In the subsequent years, we hiked up Gunung Mulu, Mount Rinjani in Indonesia and Doi Inthanon in Thailand. A month ago, we went to the Annapurna Base Camp in Nepal. We are now planning to go to the Everest Base Camp in October.
He adds that he started running marathons in 2016. Hiking and running marathons have taught him patience and resilience, which are values he applies in his business.
"I do not believe in shortcuts. Everyone gets a lucky break here and there. Perhaps with innovative solutions, you get things done faster. But I think you still have to work for it," he says.
Citing psychologist Abraham Maslow's theory on the hierarchy of needs, Virata says future generations will eventually focus more on self-actualisation. "Maslow's hierarchy talks about needs, where the base needs are food, shelter and security. Once those are there, people look for purpose and self-actualisation.
"Our parents started out in the post-Independence era and made sure we had enough to survive and were secure. Generations Y and Z were born in an environment where most parts of the world are safe, secure and everything is provided for. So today, we want purpose and meaning in our lives because the basics are already there and we do not have to struggle for it."
Investing in oneself by knowing what excites and drives you to fulfil your passions is bound to become the priority of the next generation, he adds. "If we figure out how to do something purposeful, the paycheque will come."