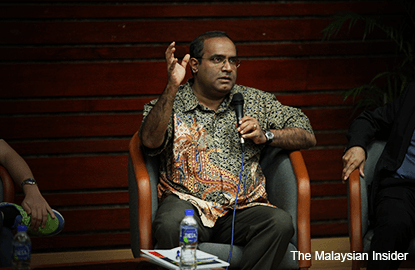 (Sept 8): An expert in political financing and an anti-graft watchdog have snubbed Putrajaya's consultative committee on political funding, saying they will stay out as long as there were unresolved issues over the RM2.6 billion donation channelled into Datuk Seri Najib Razak's personal bank accounts.
Universiti Malaya political economy professor Dr Terence Gomez declined to be part of the committee after attending a meeting chaired by governance and integrity minister Senator Datuk Paul Low, where those invited were asked to give feedback on the set terms for the committee.
Gomez told The Malaysian Insider that he did not agree with some of the terms and voiced his concerns at the Aug 28 meeting.
One of the Gomez's main concerns was over the fact the committee would not deal with the 1Malaysia Development Bhd (1MDB) issue, the Finance Ministry-owned state investment firm that has racked up debts of RM42 billion.
"My concern was that 1MDB was the basis of which this committee was formed, so it seems odd that we could not discuss 1MDB.
"If you look at the circumstances around 1MDB, it points to two things – it gives us insight into how we can trace the financing of politics – where the finance can come from (both legal and illegal sources) and two, it also shows us how money is spent in a manner which can even bypass existing laws on elections, including the financing of elections," Gomez told The Malaysian Insider.
The other issue he was uncomfortable with was the restrictions on what committee members could say to the public, pending completion of the findings.
"I looked around the table and there were some fine people sitting there, including those who have been openly speaking out on 1MDB.
"So I was concerned that this restriction could be an attempt to silence critics of the state."
Gomez and anti-graft group Centre to Combat Corruption and Cronyism (C4) had been invited to sit on the national consultative committee on political funding, covering institutional change, monitoring new regulations and law enforcement.
Chaired by Low, a minister in the Prime Minister's Department, it has one year to draw up a plan for use in the next general election, which is due in 2018.
Malaysia has no laws governing political funding and the committee came about following controversies involving 1MDB and the RM2.6 billion that went into Najib's personal accounts.
Independent of Cabinet
Gomez said since the prime minister had been implicated, a Cabinet member should not be leading the committee.
"It has to be independent of the Cabinet, it is unacceptable that a Cabinet member is leading the committee, it affects credibility."
It was now crucial for the committee's findings to bypass Cabinet and be taken straight to Parliament, said Gomez, who had once done a study on political financing for Transparency International Malaysia (TI-M) when Low was its head.
He said that TI-M had hired him as a consultant in the study led by Low, adding that a book was subsequently published on the findings.
Meanwhile, C4 executive director Cynthia Gabriel said she also declined to sit on the committee, and reiterated that it would only do so if investigations into the RM2.6 billion received by Najib were completed.
The money was said to be from a Middle-Eastern donor.
"Political financing and money politics are key issues that had fed patronage politics and destroyed a functioning democracy in our country, as such the move to address this is a matter of great interest.
"However, unless the probe into the RM2.6 billion that went into the prime minister's personal bank accounts is completed, no amount of reform announcements or formation of task forces would be able to reduce the trust deficit faced by Najib," Gabriel said.
She added that C4 was willing to review its decision if investigations into the RM2.6 billion were completed.
"Until then, we are concerned that Najib, who is being investigated by the Malaysian Anti-Corruption Commission and whom this committee reports to, will not have the political will to adopt the recommendations and move these into comprehensive laws."
Soon after Najib announced the committee last month, president of the Malaysian Bar Steven Thiru said the Bar Council would not be part of it until investigations into the RM2.6 billion were completed.
Najib, who is also finance minister, had already been under pressure over alleged wrongdoing by 1MDB. But the scrutiny grew more intense after The Wall Street Journal reported in early July on the RM2.6 billion that were transferred to his accounts.
Of this amount, the largest portion – US$681 million – was transferred in March 2013, ahead of the general election, leading to suspicions that it was used to influence or finance the polls that year.
Najib has only denied taking money for personal gain, and has said that there was nothing wrong with him holding the funds in trust for his party, Umno. – The Malaysian Insider