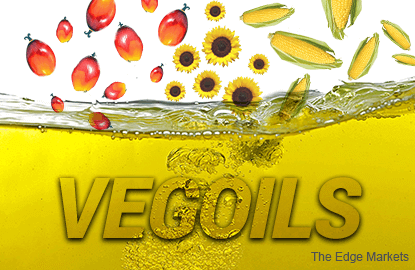 KUALA LUMPUR (Feb 2): Malaysian palm oil rose 1.4% in the first-half session on Thursday, supported by data showing lower production and improved exports.
Benchmark palm oil futures for April delivery on the Bursa Malaysia Derivatives Exchange rose to 3,072 ringgit (US$694.71) per tonne. Traded volumes were thin
with 52,232 lots of 25 tonnes each changing hands.
A trader based in Kuala Lumpur said a fall in production, strong export data and a weak ringgit were providing support to the palm futures.
"A few factors are affecting prices today — the production picture, the weaker ringgit, coupled with strong export estimate numbers," the trader said, adding stronger exports and a drop in production were positive factors in the short run.
Southern Peninsula Palm Oil Millers' Association (SPPOMA) released data on Thursday, noting a drop of 21.8% in production for January.
Exports of Malaysian palm oil products for January rose 8.1% to 1,174,893 tonnes, from 1,086,523 tonnes shipped during December, cargo surveyor Intertek Testing Services said on Tuesday.
"Market is firmer today, riding on overnight strength on CBOT and SPPOMA updating the full January production figures," the trader said.
Technical buying could be lending some support to the futures as well, the trader said.
Earlier in the day, the Malaysian ringgit, the currency in which the futures contract is traded, fell 0.2% to 4.436. A weaker ringgit makes palm more attractive to traders holding foreign currencies.
"Palm oil may test a resistance at 3,089 ringgit per tonne, a break above which could lead to a gain to 3,169 ringgit," Reuters market analyst for commodities and energy technicals, Wang Tao, said.
On the Chicago Board Of Trade, the March soybean oil contract was up 0.2%.
The Dalian Commodity Exchange is closed for the Lunar New Year celebration, and will resume trading on Feb 3.
Palm, soy and crude oil prices at 1050 GMT
| | | | | | | |
| --- | --- | --- | --- | --- | --- | --- |
| Contract | Month | Last | Change | Low | High | Volume |
| MY PALM OIL | FEB7 | 3258 | +28.00 | 3230 | 3267 | 233 |
| MY PALM OIL | MAR7 | 3147 | +48.00 | 3133 | 3160 | 5005 |
| MY PALM OIL | APR7 | 3072 | +43.00 | 3058 | 3085 | 25586 |
| CHINA PALM OLEIN | MAY7 | 0 | +0.00 | 0 | 0 | 0 |
| CHINA SOYOIL | MAY7 | 0 | +0.00 | 0 | 0 | 0 |
| CBOT SOY OIL | MAR7 | 34.42 | +0.80 | 34.22 | 34.75 | 7587 |
| INDIA PALM OIL | FEB7 | 578.90 | +0.80 | 578.40 | 582 | 1324 |
| INDIA SOYOIL | FEB7 | 703 | +0.85 | 701 | 706.25 | 11300 |
| NYMEX CRUDE | MAR7 | 54.24 | +0.36 | 53.49 | 54.34 | 77985 |
(US$1 = 4.4220 ringgit)
(US$1 = 67.42 Indian rupees)
(US$1 = 6.8768 Chinese yuan)