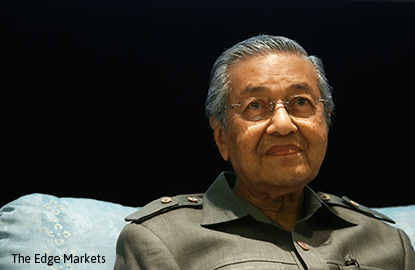 KUALA LUMPUR (Feb 15): Former prime minister Tun Dr Mahathir Mohamad today suggested that authorities conduct an audit on the lifestyle of suspects to ascertain if they were living beyond their means, saying this was the only way to haul up corrupt politicians.
He said no one would ever come forward to give evidence especially when their bosses and powerful people were involved in corruption.
"The best way for the anti-corruption commission to act would be to audit the lifestyle of the suspects. Are they living within their means? If it is beyond their means, a thorough investigation must be made on all sources of income of the suspect," Dr Mahathir said in his latest blog post.
"The contest for contracts by the private sector created opportunities for corruption. The bigger the contracts the bigger would be the amount of illegal gratification offered.
"The decision-makers collect lots of money. Getting proof or evidence for cases of corruption is very difficult. No contractor would come forward to give evidence because he would be marked and his business and future contracts would be affected."
The former prime minister also urged the Inland Revenue Board to investigate Najib, saying that it was their right to do so.
He said, however, that the board appeared not to be doing its duty over the RM2.6 billion deposited to Najib's account, adding that the amount was obviously beyond what a Malaysian prime minister could have.
He added that Malaysia was fortunate that officers of government were professionals and did not get involved in politics, but simply took orders from the elected government.
""But what if the government asks them to break the law?
"Well they did not think this would happen. But this has happened.
"They are in a quandary. But better obey orders than refusing orders and have to face unpleasant consequences," Dr Mahathir said.
He said that Malaysia was listed among the 10  most corrupt countries in the world due to Najib's involvement in the financial scandals revolving around 1Malaysia Development Bhd and the RM2.9 billion "donation".
"Saying that it is all untrue and the attorney-general has cleared Najib does not carry water.
"Only a full investigation including the identification and questioning of the donor or donors, sources of income and the documentary evidence of money transfer to Najib's account would clear the air," he said.
Dr Mahathir also hit out at A-G Tan Sri Mohamed  Apandi Ali, saying he had no credibility after he dismissed the reports by Bank Negara and the Malaysian Anti-Corruption Commission.
He added that the A-G had also proposed life imprisonment for leaking government information, a clear and sure indication that he was hiding the truth.
"As a good Muslim he should swear on the Quran in a mosque witnessed by mosque officials and the public that the reports did not implicate Najib in any way.
"He should not try to cheat by vowing in his heart something else, and swearing aloud something else.
"That would be a double sin.
"He will go to a worse hell."