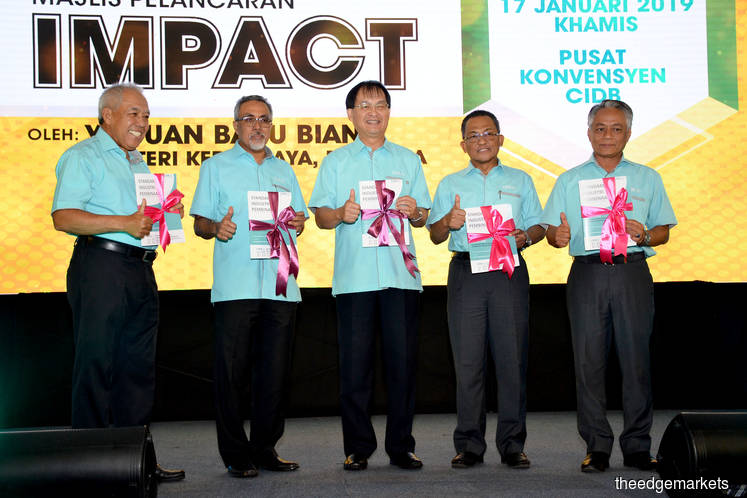 (From left): Construction Industry Development Board (CIDB) CEO Tan Sri Dr Ahmad Tajuddin Ali, chief secretary to works minister Datuk Dr Syed Omar Sharifuddin Syed Ikhsan, Works Minister Baru Bian, CIDB chief executive Datuk Ahmad Asri Abdul Hamid and CIDB senior general manager Datuk Elias Ismail having a group photo taken. Photos by Shafiq Suhaimi
CIDB CEO Tan Sri Dr Ahmad Tajuddin Ali giving a speech about the IMPACT program at the event today.
Works Minister Baru Bian was present at the event.
KUALA LUMPUR (Jan 17): The private sector adoption of the industrialised building system (IBS) currently stands at an estimated 35%, out of its 2020 target of 50%, said the Construction Industry Development Board (CIDB).
CIDB chief executive Datuk Ahmad Asri Abdul Hamid said he is confident the adoption rate will increase steadily as more construction players are made aware of the benefits of the system.
IBS is defined as a technique of construction where by components are manufactured in a controlled environment, either at site or off site, placed and assembled into construction works.
"As it is in Kuala Lumpur, most high rise buildings are constructed using IBS because they can no longer do it the old and manual way," he told reporters on the sidelines on an event by CIDB earlier.
The adoption rate is also expected to increase as from Jan 10, 2018, the Housing Ministry has since mandated IBS adoption for private projects worth RM50 million and above, with a minimum score of 50 required.
Ahmad said while this new ruling has been approved at federal level, the government now aims to apply this rule to state level. "About seven states have accepted this new rule, however now they will have to trickle it down to the local authorities. It has not yet been made compulsory to these local authorities to follow. We will give them time however by 2020 we will make it mandatory," he said.
Aside from making the rule compulsory, Ahmad added that it is important to ensure the quality and standard of IBS practices follow what is recognised by CIDB, he said.
"Everyone wants to do IBS. But there are companies that don't specifically follow the proper IBS standard. Therefore you hear stories of walls and doors that break easily even though it was claimed to have been built using IBS. So we need to ensure that the quality of IBS used adheres to the accepted standards," he said.
There are currently 300 companies manufacturing IBS products, 68 of which have been accredited by CIDB.
On the outlook for the construction industry this year, Ahmad said it would remain flat for now as the government continues to review certain projects. However, he noted that the momentum is expected to pick up by the middle of this year.
"As it is, the government has already approved many projects so I am positive on its prospects. When the government takes a slower approach, the private sector tends to follow with a 'wait and see' approach as well. However, as soon as these projects begin implementation, I believe the private sector will also pick up steam again," he said.