This article first appeared in Personal Wealth, The Edge Malaysia Weekly, on December 16, 2019 - December 22, 2019.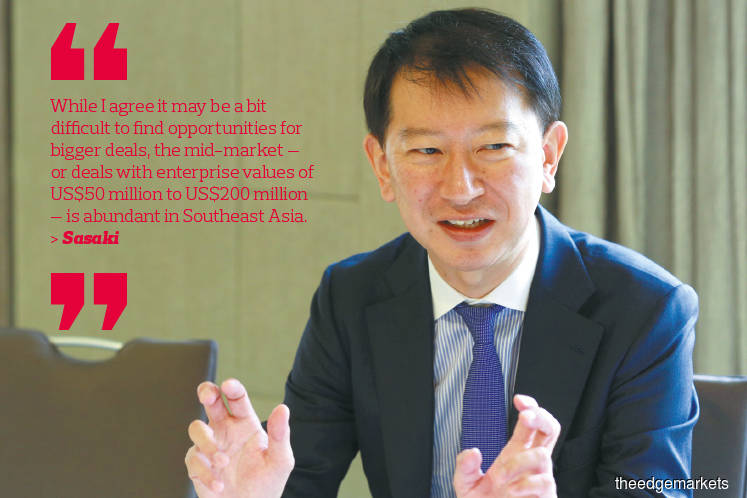 Malaysia and its neighbours are becoming increasingly attractive destinations for private equity (PE) investments. Takeshi Sasaki, a partner at Japan-based PE firm Advantage Partners, says he is seeing a lot of deal flow in the region, especially in the mid-market segment.
"It is positively unexpected. We are very pleased to know that there is a lot of deal flow in the area. While I agree it may be a bit difficult to find opportunities for bigger deals, the mid-market — or deals with enterprise values of US$50 million to US$200 million — is abundant," says Sasaki.
According to a report published by financial data and information provider Preqin in September, Southeast Asia's contribution to the global PE and venture capital industry's assets under management (AUM) remains modest but is growing rapidly. As at last December, the region's AUM — which had risen 8.6% year on year to US$28 billion — accounted for less than 1% of the global industry's AUM.
Sasaki says market trends that were seen in Japan previously can now be observed in the region. "In Japan, there are mainly two deal sources. One is corporates — a lot of companies are selling their non-core subsidiaries or divisions to PE firms, providing a good deal flow. The other is [a lack of] business succession. Usually, this happens when the founding partners of a company reach retirement age and cannot find a suitable successor.
"I have found the same phenomenon in this region. In Malaysia, for example, we see a lot of opportunities, particularly in the mid-market, where companies are facing succession issues. The second-generation family members are refusing to take the reins. I believe this trend will continue in the next couple of years and we do have a positive long-term perspective on the region."
He was speaking on the sidelines of the Malaysian Private Equity Forum 2019, organised by Ekuiti Nasional Bhd, on Oct 1.
Advantage Partners, one of the oldest buyout funds in Japan, started operations more than 20 years ago. What started as a small US$30 million fund has grown into a US$3 billion concern. The firm has invested in more than 70 companies to date, mainly in Japan. Recently, it started looking at opportunities beyond home shores.
"Of course, the US is one of the biggest markets we could look at, but there are a lot of PE funds there already. Europe has a lot of countries with different cultural backgrounds and is a bit far from our base in Japan. So, our operations there could be difficult. Seeing that Japan has a lot of connections with Southeast Asia, we think it is a great opportunity for us to expand here," says Sasaki.
He started looking for opportunities in the region almost three years ago. On April 30 last year, Advantage Partners announced the closing of its inaugural Asia fund, with a total commitment of US$380 million. Covering Southeast Asia and Greater China, the fund has invested in six deals so far — two in Malaysia, two in mainland China, one in Vietnam and another in Taiwan.
The first Malaysian company it invested in is Plastic Centre Sdn Bhd, a Klang-based plastic packaging and fast-moving consumer goods contract manufacturer. The second is Eko Group Industries Holdings Sdn Bhd, a Penang-based die casting and sheet metal parts manufacturer.
"We like to create a diversified portfolio. Like our operations in Japan, we look at many sectors. We invest in manufacturing, retail and distribution, services and even technology companies," says Sasaki.
He was personally involved in investing and exiting a few companies, including Japanese cinema chain United Cinemas Co Ltd and China-based facility management company ESG Holdings Ltd. "I do not have a particular preference, but I like businesses with strong leading positions among its peers, even if they are operating in niche markets," he says.
"While it is not easy to find such deals, it is not rocket science. We just had to cast a wide net, speak to a lot of people and build a good network. Of course, sellers also look at our capability, credibility and track record. Many sellers, particularly family-run businesses, have a strong attachment to their companies. They do not want to see the companies fail after the sale. We believe that we are a credible buyer with decades of experience. So, we have that advantage."
Looking for 'out of the box' opportunities
Having dealt with potential investee companies in Japan and Malaysia, Sasaki says there are a few differences between the sellers in these two countries. For one, founding partners in Japan do not want to talk about the idea of selling their companies as that would mean the companies are not doing well. The sellers only want to talk to a select group of people or trusted advisers who can control the whole process.
"In Malaysia, business owners tend to be more open and direct in terms of potential value realisation of their assets. In Japan, sometimes it is not easy to find the decision-maker. I do not face the same problem here. They are very open, even to foreign investors like me. They are very transparent about wanting to sell their businesses," he says.
This does not mean that the process is a short one. In fact, it actually takes more time, says Sasaki. "In Japan, it is not easy for owners to make a decision. But once they do, the process is quite straightforward. Maybe it will take about half a year.
"Business owners here, on the other hand, are always looking at many different opportunities to sell. The level of commitment may be a bit lower. So, it takes more time to seal the deal."
That is why he appreciates the fact that it is quite easy to reach out to business owners in Malaysia. He uses this opportunity to further familiarise himself with the owner and the company's corporate culture, in addition to analysing other intangible values.
"In Japan, processes are mostly standardised and often controlled by the advisers. We have limited access to the owners, sometimes only meeting them once or twice. Here, we understand what is important to the owners and what they are like, preparing us for what will come after the transaction," says Sasaki.
The founders of Advantage Partners and most of its partners, including Sasaki, have a consulting background. So, the firm deploys an active management strategy to nurture its portfolio companies into entities that remain competitive even after it exits.  
"We work like free consultants. We try to support the companies and help them tackle challenges, even if it means hiring third-party professionals or experts to solve their issues," he says.
One company that Sasaki helped to grow and become more profitable is United Cinemas, currently one of the top three cinema chains in Japan. He says cinema chains emerged in country in the late 1990s, gradually replacing the retro standalone cinemas. The shopping mall boom in Japan helped to fuel the growth of the cinema chains, eventually causing the market to be saturated.
In 2011, when the market was still feeling the effects of the 2008 global financial crisis, a 9.0 magnitude earthquake — dubbed the Great East Japan Earthquake — shook the nation. According to reports, the direct economic loss from the disaster is estimated at US$360 billion. Not only were people not spending their money on entertainment, intense competition caused cinema revenues to decline.
"We invested in United Cinemas in 2012, when the company was in financial trouble. We started looking for ways to improve the business. For instance, we found a lot of opportunities to enhance revenue such as selling new forms of advertisements, merchandise, memberships and more popcorn, which actually provides quite a high profit margin," says Sasaki.
"We also changed the business model to improve its operations. Back then, all the fixed assets such as the screen, projector and seating belonged to the cinema. When we opened new cinemas, we used an 'outsourcing model', where the assets actually belonged to the shopping malls while we were responsible for the operations and name of the brand. This took away our fixed asset obligations."
At the time Advantage Partners exited, the cinema chain had grown to 36 outlets from 21 previously, as well as undertaken an acquisition. Its revenue and profitability improved tremendously, with earnings growing tenfold in less than three years, says Sasaki.
"The company performed much better than we had thought. This showed us that we were able to add value and create performance improvements even in a saturated and mature market," he adds.
So far, the firm has yet to exit any of the companies in the region. While Sasaki is optimistic about finding exit opportunities here, he admits that finding a prospective buyer will be challenging.
"The buyer pool may be smaller in Southeast Asia. So, I think it will be a bit difficult to find a suitable one for exit. That being said, we are the sort to think out of the box [for a solution]," he says.
"For example, in the case of the cinema chain, we did not sell to a fund or another cinema operator. Instead, we sold to convenience store chain Lawson. When I was looking for a prospective buyer, I found that it had an entertainment division. It was one of the biggest event ticket sellers in Japan and had acquired entertainment-related companies before.
"The cinema chain continued to grow after the sale. So, it is good to hear that they were happy with the purchase. While finding an exit is not easy, I do not think it is impossible."
Advantage Partners' funds are open to institutional investors globally.