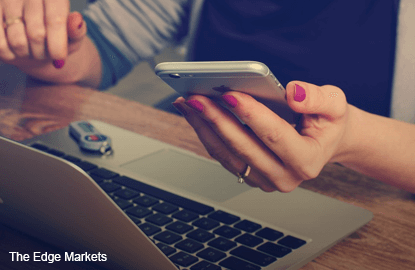 SINGAPORE (Feb 14): Singapore has ranked top in the world on the World Economic Forum's Network Readiness Index (NRI) for the second year running, but concerns are rising over personal data protection and cyber security.
The global metric was derived to help assess and rank markets on their ability to exploit opportunities afforded through information technology (IT).
Singapore was judged to have the best digital business and innovation environment in the world, driven by its forward-thinking government policies and regulatory systems. It was also ranked highest for strong economic and social impact of its digital environment.
But four in every five Singaporeans are now worried about how organisations collect, store and use data about them, according to the 'Savvy Singapore: Decoding a digital nation' report released by EY on Tuesday.
And Singaporeans are right to be concerned, considering how closely they are tied to their tech devices.
The EY survey found that more than three out of four Singaporeans check their smartphones or tablets before they go to bed, and when they wake up in the morning.
Interestingly, some 37% agree that they are addicted to their mobile devices, and admit to spending more time with the gadgets than with their friends or family. Some 41% even think that their social lives would not exist without their smartphones or tablets.
Indeed, more than half of the respondents see Singapore, as a more digitally advanced nation relative to other leading developed countries.
Yet, they are looking to the government to regulate emerging digital social issues.
Some 75% of Singaporeans want the government to impose greater controls and transparency, including on how information is given to organisations to be stored and used, according to EY.
In 2012, Singapore enacted the Personal Data Protection Act (PDPA) to govern the "collection, use, disclosure and care of personal data." As part of the PDPA, individuals can opt out of marketing and advertising calls and SMS.
However, EY says the results of its study suggest that the government, and organisations, need to take greater action to reassure consumers that their personal and financial information is safe, providing greater transparency choice and control.
"While the population holds a positive view of how they are being 'governed' in a digital age, there are still challenges to address and high expectations to be met around affordability, privacy, information usage, transaction security and digital content, says Jonathan Rees, EY Asean Advisory Digital Leader.
"With high levels of connectivity and concentration of data centres, Singapore must also be extra vigilant of the cyber risk environment. The outlook for Singapore as a Smart Nation is positive, but there is no room for complacency given how digitally well-informed and demanding the population is," Rees adds.
Singapore is currently home to more than half of Asia's data centres.
In its report, EY says this concentration of data centres is likely to make Singapore a particular target of cyber crime, requiring renewed focus on the cyber risk environment.