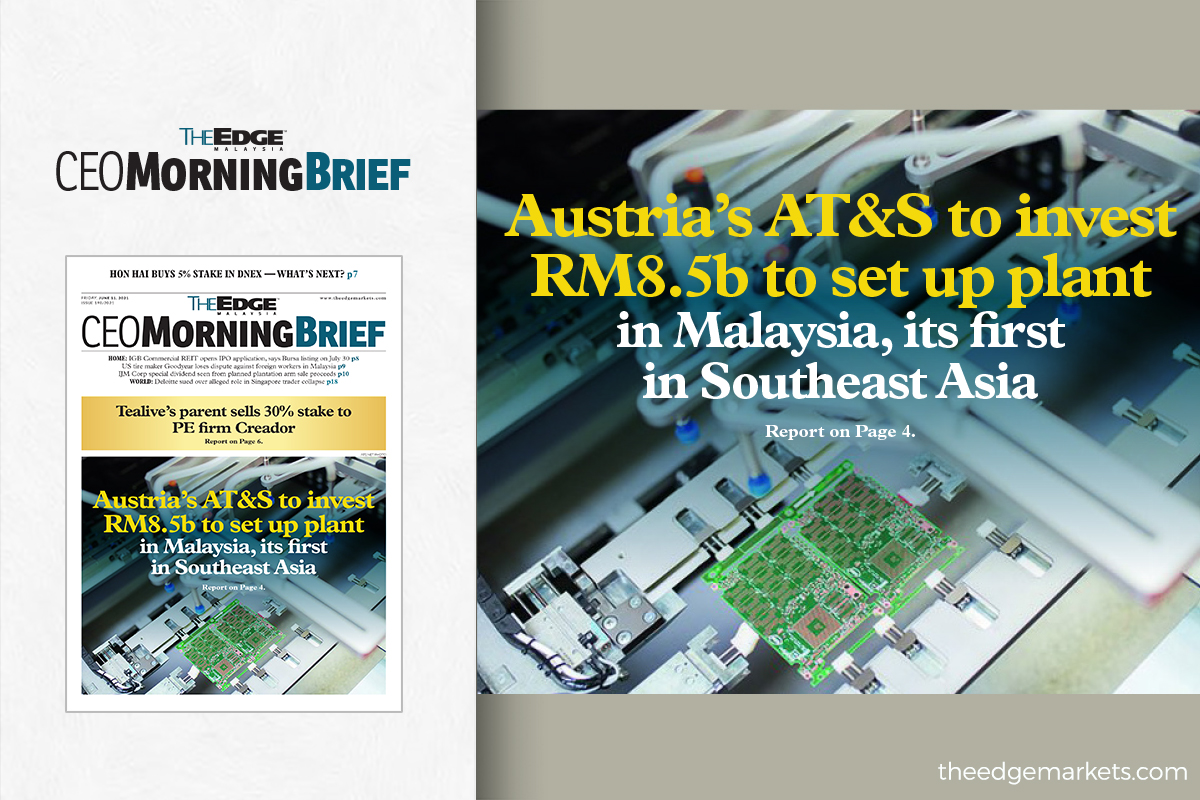 KUALA LUMPUR (June 10): Austria-headquartered AT&S, a global manufacturer of high-end printed circuit boards (PCBs) and integrated circuit (IC) substrates, has chosen Malaysia for its first production plant in Southeast Asia.
The facility, which involves a proposed total investment of RM8.5 billion (€1.7 billion), will be set up in the Kulim Hi-Tech Park, Kedah, and produce high-end PCBs and IC substrates, Senior Minister and International Trade and Industry Minister Datuk Seri Mohamed Azmin Ali said in a statement today. 
It is expected to create 5,000 high-tech and high-impact jobs, he said.
In the same statement, Prime Minister Tan Sri Muhyiddin Yassin said AT&S' decision to invest in Malaysia speaks volumes of its confidence in the Malaysian economy's capacity and promise of sustainable growth.
He expressed confidence that the country's skilled talent pool in the electrical and electronics (E&E) industry, facilitative investment environment as well as deep integration with international supply chains offer the ideal mix for high-tech stakeholders. 
"Working hand in hand, AT&S' footprint in Malaysia will also further boost the development of our semiconductor ecosystem, enable opportunities for our local vendors in the field of advanced electronics and spur high-tech employment for Malaysians," he said. 
According to the statement, the construction of the facility is scheduled to begin in the second half of 2021 (2H21), with commercial operations targeted to come on stream in 2024. 
Meanwhile, AT&S chief executive officer (CEO) Andreas Gerstenmayer said Malaysia was chosen after "very intensive location scouting globally".
He said the company will bring the latest generation of high-end technologies to the country and build up a whole new technology sector. 
"Besides the manufacture of high-tech products, a significant amount of research and development (R&D) activities will be executed at this new location. 
"Malaysia can benefit from its position as a technology country and can strengthen the region as a high-tech manufacturing hub in Asia," he added. 
Mohamed Azmin, meanwhile, said AT&S' latest investment is a testament to the confidence of foreign investors in Malaysia's economic prospects as well as the human capital resources available to cope with the high-tech demands of high-impact industries. 
To receive CEO Morning Brief please click here.