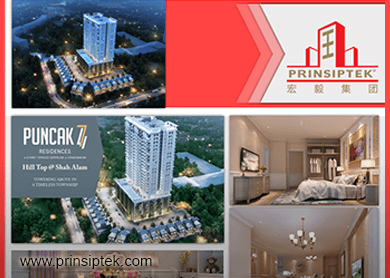 KUALA LUMPUR: Prinsiptek Corp Bhd — which saw a 64% plunge in its latest quarterly net profit — is expecting better earnings from the second half of this year ending December (2HFY15) on progressive billing and revenue recognition from its construction and property projects, said managing director Datuk Foo Chu Jong.
"Earnings in the first quarter[1Q] ended March and 2QFY15 will be satisfactory, although shareholders were also concerned about this. But we are gearing up for progressive billing profitability realisation from construction and property projects, which have already begun," Foo told The Edge Financial Daily after the company's 13th annual general meeting in Petaling Jaya last week.
Currently, 77.3% of Prinsiptek's revenue is generated from its construction division, followed by property development (14.07%) and trading (8.63%).
In 1QFY15, Prinsiptek's net profit fell 64% to RM713,000 or 0.22 sen per share from RM1.99 million or 1.57 sen per share in 1QFY14, on a 28.9% drop in revenue to RM65.6 million from RM92.27, which the company blames on the completion of certain construction and development projects.
Foo said Prinsiptek currently has a construction order book of RM600 million, which should last it between three and five years.
He said the company targets to increase its order book to RM1.5 billion by 2017. Its tender book now stands at RM800 million, of which some RM200 million are turnkey construction bids to build affordable houses.
"We are in talks with several government corporations to build high-rise affordable houses, but we have not reached any decisions yet," he said, adding that Prinsiptek has a bidding success rate of between 40% and 50%.
"We also have more than six property development projects in the Klang Valley, Kuantan, Penang and Thailand, with an outstanding gross development value (GDV) of more than RM641 million. This excludes a few joint-venture projects that we have in other areas," he said.
In FY14, Prinsiptek's operations in Thailand — via its 91%-owned Prinsiptek International Ltd — contributed 2.7% or RM8.16 million to total revenue.
Foo said Prinsiptek is adopting "a prudent approach" in its investments and is not likely to launch any more new projects this year as it waits for the soft property market to "correct itself". It is also cautious about landbanking.
"Going forward, we are keen to go on a joint venture with the right partner. We are very selective in buying more land, because we need to be sure that there is no hidden or 'last-minute' regulatory cost that could unintentionally erode our profit," Foo said.
Prinsiptek's (fundamental: 0.55; valuation: 1.1) total land bank now stands at 8.84ha, with plots in Selangor and Thailand, with a net book value of RM31.67 million.
The counter, which has been on a downward slide from 31.2 sen on Sept 17, closed at 18 sen last Friday, down 42%. The current price gives it a market capitalisation of RM57.05 million.
This article first appeared in The Edge Financial Daily, on June 1, 2015.