This article first appeared in City & Country, The Edge Malaysia Weekly, on April 20, 2020 - April 26, 2020.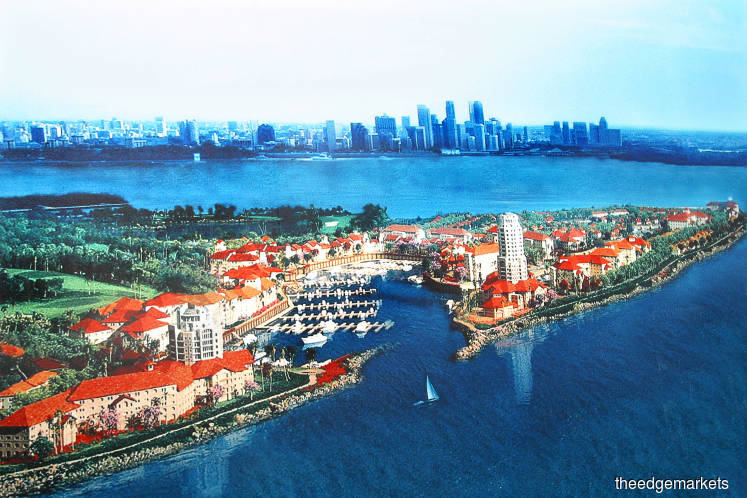 Click / Tap image to enlarge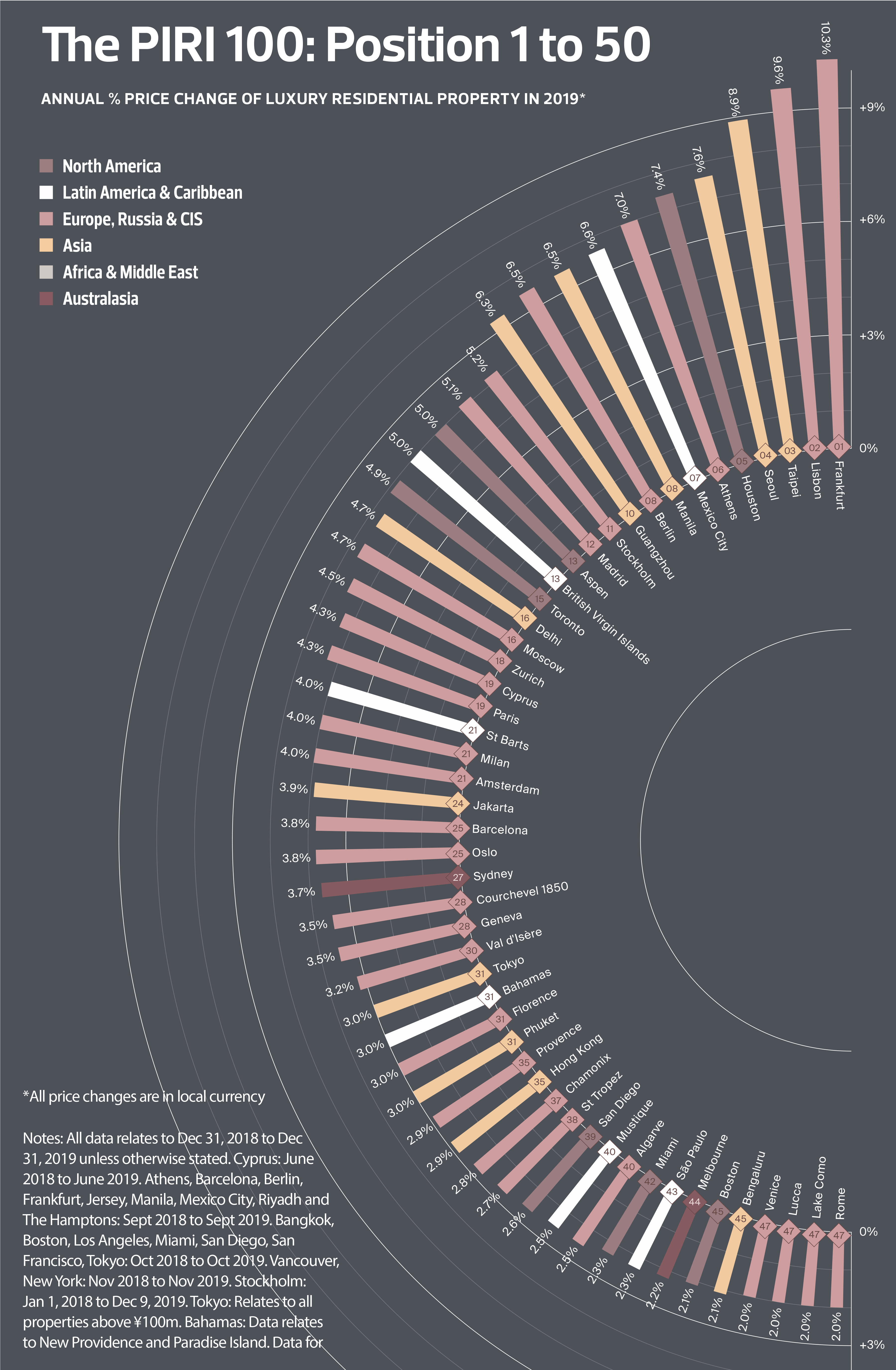 Source: Knight Frank Research; World Cities Forum; Current Results, Numbeo; Tomtom; The UN; UBS Global Wealth Management; Health Category Of The Legatum Prosperity Index; And The Economist Intelligence Unit
A slowing global economy, property taxes and a surplus of luxury homes for sale in some places have weighed on prime property price growth despite continued wealth growth and record-low interest rates in most advanced economies in 2019, says Knight Frank in its Wealth Report 2020, which was released mid-March.
"The results of our Prime International Residential Index (Piri), now in its 13th year, reflect this. While growth ranged from double-digit hikes in some markets to significant falls in others, we saw a shift in the trend of moderating growth that has prevailed since 2013. In 2019, the 100 locations covered by Piri recorded average price rises of almost 2%, up from 1.3% in 2018, but still some way off the 2.8% recorded in 2013," says Knight Frank.
Piri's Top 10 list saw a mix of regions as well as advanced and emerging markets. The top 10 cities in terms of annual price change of luxury residential property were Frankfurt (10.3%), Lisbon (9.6%), Taipei (8.9%), Seoul (7.6%), Houston (7.4%), Athens (7%), Mexico City (6.6%), Manila (6.5%), Berlin (6.5%) and Guangzhou (6.3%).
"Surprisingly, Athens and Cyprus at 19th place (4.3%) are now outperforming their Italian counterparts but they are rising from a low base, with prime prices still around 35% below their 2008 peak.
"The Italian non-dom tax may yet prove a game changer, offering ultra-high-net-worth individuals the opportunity of a €100,000 (RM472,668) flat tax on global income in return for a slice of the Italian lifestyle. However, Greece is hot on its tail, having replicated the scheme in 2019," says Knight Frank.
In Asia, the Hong Kong protest, the US-China trade war as well as more stringent property regulations have affected activity in some markets and diverted capital to others. Seoul and Taipei have replaced China's metropolises as the region's frontrunners, with annual growth of 9% and 8% respectively.
Speaking on China's top-tier cities, Knight Frank head of research for Greater China, David Ji, says, "Much of 2019 was dominated by an escalating trade war with the US and this, combined with the government's determination to curb price inflation via a range of cooling measures, led to more muted price growth. Hong Kong at 35th place (2.9%) surprised on the upside in 2019, with a mortgage-cap reduction and three interest-rate reductions mitigating some of the impact of the political volatility."
In Singapore, higher rates of stamp duty for foreign buyers are no longer considered draconian and are seen instead as a trade-off for stable politics and a secure currency in a city-state that applies no capital gains tax or estate duties.
Prime prices in Auckland (-0.7%) are correcting due to the 2018 foreign buyer ban and economic headwinds.
"A recent rise in enquiries from expatriates and lower interest rates are softening the impact," says Bayleys research manager Ian Little. Bayleys is Knight Frank's partner in New Zealand.
In Australia, Sydney led with a price growth of 3.7%, owing to a constrained supply and cheaper financing. Prime price growth in African cities, meanwhile, was dampened by mounting economic, political and climatic challenges.
London and Vancouver did not fare too well in 2019, dropping by 2.6% and 8.3% respectively. The uncertainty of Brexit and its protracted political wrangling had a negative impact on the London market.
However, clearer skies are ahead for London as the Conservatives' decisive win in England's December general election provided much-needed clarity and Knight Frank expects the market to gain traction this year.
Vancouver, meanwhile, has been hit by many regulations since 2016, from a 20% foreign buyer tax to occupancy taxes, and was the Piri 100's weakest performer in 2019.
"The annual rate of decline (in Vancouver) has slowed since 1Q2019 and sales increased by 87% in December 2019 year on year," says local associate Kevin Skipworth of Dexter Realty. The sales numbers are from the Real Estate Board of Vancouver.
Markets to watch
The Wealth Report listed Houston, Frankfurt, London, Singapore and Sydney as cities to monitor in 2020.
Houston is home to 23 Fortune 500 companies as well as a burgeoning text and innovation sector.
"With no state income tax and tax breaks for large corporations, the city ranks amongst the highest in the US for inward migration. A fast-growing economy, assisted by three interest rate cuts in 2019, is underpinning demand for homes in upmarket areas such as West University and River Oaks. Single-family home sales increased by 4% in the year to November 2019 and luxury prices by 8% year on year," says Chris Lollar of Douglas Elliman in Houston.
Frankfurt, Germany's financial hub and home to the European Central Bank, was until recently a predominantly commercial area.
"Now the area between Westend and the River Main is undergoing significant regeneration, attracting both local and overseas buyers. Frankfurt's population has been growing on average by 11,000 per annum since 2013 and construction rates are lagging demand, fuelling price growth of around 10% per annum," says Till Bruhofener-McCourt of Ziegert Knight Frank.
In London, the Conservative Party's win in the general election has given the party a comfortable parliamentary majority and with clarity emerging around Brexit, prime central London is expected to see strengthening sales volume.
"How far this translates into price inflation will depend on the implementation of the Brexit deal, the wider economy and future tax changes. With prices down by more than 15% in locations such as Chelsea, Bayswater and Knightsbridge, and Crossrail set to reshape the communities' landscape in 2021, there are notable opportunities," says Tom Bill of Knight Frank UK.
Over in Singapore, another hike in stamp duties a year ago threatened to slow down the market.
"Twelve months on and the city-state is emerging as a regional safe haven, particularly for Asian buyers. Given the uncertain external environment, Singapore is back in the spotlight, with many buyers willing to overlook higher purchase costs to take advantage of its political and economic stability and status as a regional commercial hub," says Dr Lee Nai Jia of Knight Frank Singapore.
In Sydney, the annual prime price growth of 4% was due to the three interest rate cuts in 2019, a resilient stock market and a constrained pipeline of new supply.
"Arguably unrivalled for lifestyle, Sydney combines all the first-class amenities of a tier-one city with an outdoor lifestyle in a waterfront location and although non-residents without an investor visa are restricted to new-build purchases only, prime demand remains robust," says Michelle Ciesielski of Knight Frank Australia.