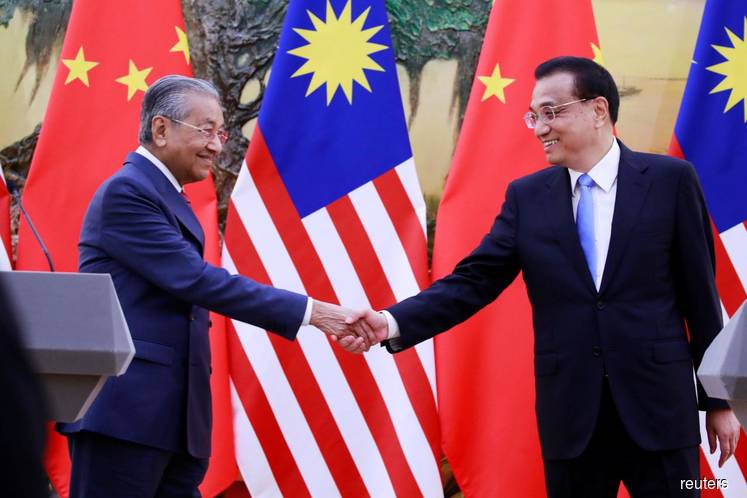 KUALA LUMPUR (Aug 27): Malaysia's engagements with China during the Prime Minister Tun Dr Mahathir Mohamad's official visit have resulted in "positive outcomes" for the Ministry of Primary Industries, which will facilitate greater export of Malaysian palm oil to China, amongst others.
In a statement today, the ministry said the Chinese had offered technical assistance to facilitate the import of Malaysian commodities to China, during the visit from Aug 21 to 24, which it had taken advantage of to further promote Malaysian commodities.
The visit resulted in partnerships in the form of three memoranda of understanding (MoUs) signed.
These included an MoU between Sime Darby Plantation Bhd and China National Cereals and Oils Foodstuffs Corporation; Malaysian Rubber Board and Hainan State Farms Bureau and Investments Holding Group; as well as between Tsinghua University and Malaysian Palm Oil Board (MPOB).
"Overall, the China engagements during the Prime Minister's official visit and the extended interaction, dialogue and engagements during our mission have resulted in positive outcomes and key initiatives that will facilitate greater export of Malaysian palm oil and various Malaysian agricommodities and products into China.
"His Excellency Ni Yuefeng, China's Minister of General Administration of Customs was informed of the ongoing collaboration between MPOB and the general administration of customs authority for the acceptance and registration of red palm oil which is highly nutritious but needed incorporation into Chinese food standards.
"Both ministers also agreed that the long-standing bond and friendship between these agencies could be further enhanced through technical exchanges and dialogues," the statement read.