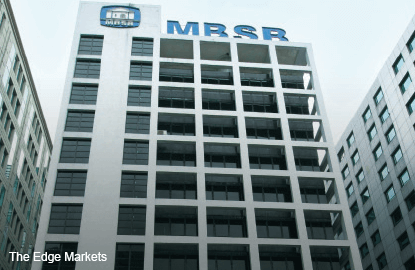 This article first appeared in The Edge Malaysia Weekly, on October 19 - 25, 2015.
MERGER talks between Malaysia Building Society Bhd (MBSB) and Bank Muamalat Malaysia Bhd are still at a "very early" stage, with due diligence expected to begin only this week at the earliest, sources say.  Analysts say the sticking points that are likely to emerge in the talks include pricing/valuation and whether the deal should be structured such that a cash option is included for Bank Muamalat's major shareholder, Khazanah Nasional Bhd, which is looking to exit.  Asset quality and cost-cutting are also among the difficult issues they will need to thrash out.
A merger of the two Islamic lenders would create the country's largest standalone Islamic bank with assets of RM62.1 billion. As standalones go, Bank Rakyat would still be larger, with assets of RM89.3 billion as at end-2014, but the lender is classified as a development finance institution and not a bank.
MBSB, which is twice the size of Bank Muamalat in terms of assets, is said to be in the driving seat of this merger. MBSB (valuation: 3; fundamental: 1.20) is 65%-owned by the Employees Provident Fund, while Bank Muamalat's shareholders are conglomerate DRB-Hicom Bhd (70%) and Khazanah (30%).
DRB-Hicom is required by the central bank to pare its stake to at least 40% by February 2016, The Edge reported in July, citing banking sources, which puts pressure on it to look for options.
With bank valuations at low levels now, DRB-Hicom may have to lower its price/valuation expectations. The diversified group has in the past spoken to other potential merger partners, like Affin Holdings Bhd and Bank Islam Malaysia Bhd, but had problems closing a deal because it didn't want to cede control and its price expectations were too high, industry sources say.
"Now, with the industry going through challenging times, banking valuations have come down even further, so it may be difficult for DRB-Hicom to get the kind of pricing it had in mind previously. Valuation is definitely going to be a sticking point," says a banking analyst.
At least two analysts say they would be surprised if Bank Muamalat, an unlisted entity, is valued at above one time its book value. The banking sector is currently trading at about 1.2 to 1.3 times book value on average.  Affin Holdings — one of the smaller banks and with similar return-on-equity levels as Bank Muamalat — trades well below one time book value.
"The question is, will DRB-Hicom be willing to stomach a price-to-book of below one?" asks one of the analysts.
Another analyst, however,  expects that Bank Muamalat would be valued at least within the sector valuations of 1.2 to 1.3 times price-to-book.
The last Islamic banking transaction in the country, in December 2013, was done at a price-to-book value of 1.8 times. This was when BIMB Holdings Bhd bought the remaining 49% stake it didn't already own in Bank Islam for RM2.86 billion from Lembaga Tabung Haji and Dubai Financial Group.
The merger will likely be effected through a share swap. "However, with Khazanah known to want to exit, I suspect there may have to be a cash portion. But there are ways to go about it. As DRB-Hicom is understood to want to remain in banking, maybe it could buy out Khazanah's stake in Bank Muamalat? Or, Khazanah could take up a stake in the enlarged banking entity and later place the shares out?" another analyst remarks.
Meanwhile, asset quality issues are also likely to take centre stage during the merger talks. Bank Muamalat's asset quality is relatively better, with a gross impaired loan ratio of 2.8% compared with MBSB's 6.9%, but both are well above the industry's average of 1.6%.  The loan loss coverage levels of both lenders are broadly on par.
"With banks going through challenging times and many seeing an uptick in non-performing loans, will the parties be happy with the quality of each other's books?," an analyst asks.
Still, an industry source believes that asset quality need not be such a big issue.
"They can do some write-offs, some provisions, impairments — and then you adjust on the pricing. It's just a matter of pricing it correctly," the source remarks.
A bigger issue for the parties at hand is cost-cutting, he opines. "They need to look at some cost-cutting issues, including whether there'll be excess staff. Bank Muamalat has more branches but many may need to be streamlined again as not all of them are well penetrated. Bank Muamalat's cost-to-income ratio (CIR) is high, about 70%, and needs to come down," the source says.
MBSB's CIR is one of the lowest in the industry, at 23.4%. Bank Muamalat has 60 branches nationwide, while MBSB has 46.
Another issue that may crop up is how to handle the conversion of MBSB's conventional loans — which make up only a small percentage of its overall financing portfolio — to Islamic. It is understood that these comprise mainly retail and some corporate loans.
Bank Negara Malaysia gave the nod for the parties to commence merger talks on Sept 30. It has given them three months to complete negotiations.