This article first appeared in The Edge Malaysia Weekly, on December 16, 2019 - December 22, 2019.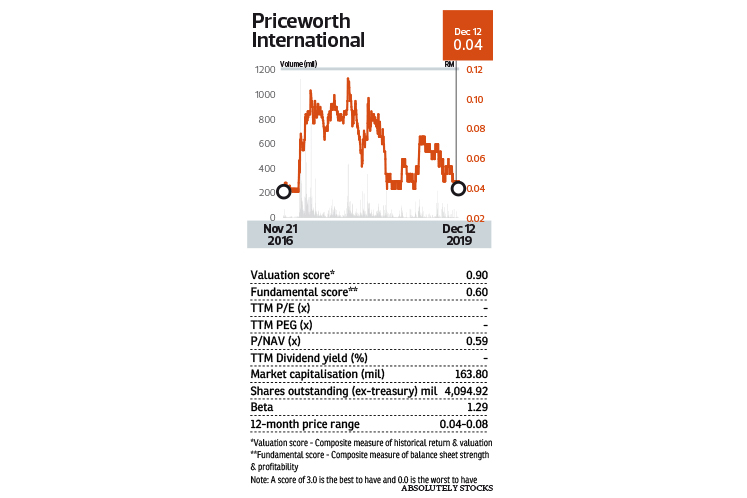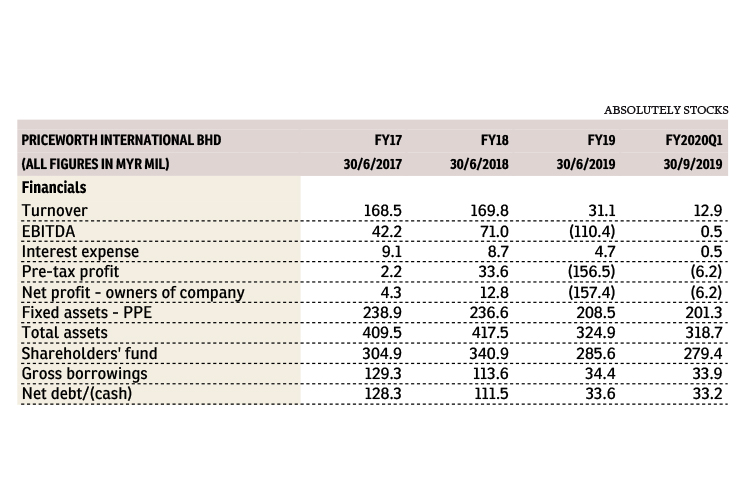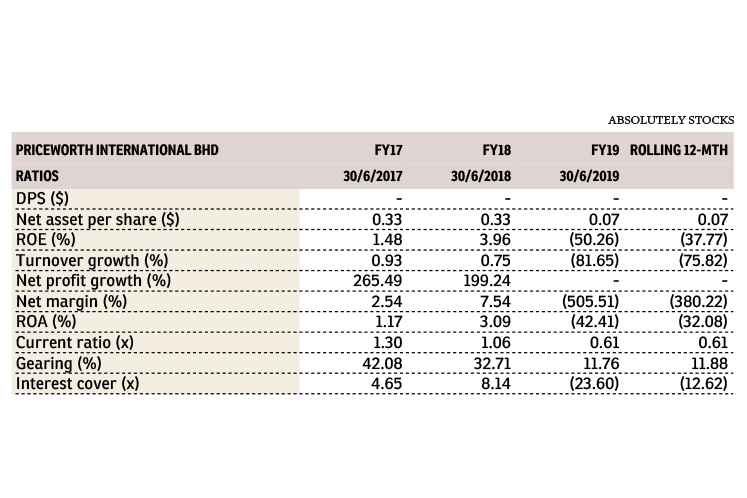 THE forest management unit No 5 (FMU 5) — a timber logging concession measuring 88,920ha in Trus Madi Forest Reserve, Sabah — was supposed to be a transformative game changer for Priceworth International Bhd but this has not come to fruition.
Recall that in June 2017, the Sandakan-based integrated timber operator had projected that the much-anticipated FMU 5 could help lift the group's bottom line to RM100 million in its financial year ended June 30, 2018 (FY2018).
In fact, group managing director Andrew Lim Nyuk Foh had in November 2016 told The Edge Financial Daily that 2017 would be the year for Priceworth to shine, as its market capitalisation was expected to jump by almost tenfold to RM600 million.
Back then, Priceworth was valued at over RM60 million.
However, none of the projections have materialised.
Today, although the company's market capitalisation has about tripled to RM184 million — based on its closing price of 4.5 sen last Wednesday — it slipped into the red with a massive net loss of RM157.4 million in FY2019.
While it posted a net profit of RM12.8 million in FY2018, it remained far off its target of achieving RM100 million that year.
It is noteworthy that Priceworth began logging FMU 5 in September 2017. However, since last July, the group's logging operations have been severely affected by temporary interruptions to facilitate the widely reported verifications conducted by the authorities — led by a special task force set up by the Sabah Chief Minister's Department — on the big timber players in the state.
As a result, Priceworth's monthly log production volume fell significantly by 84% to 5,382.39 sq m in July last year from 33,860.87 sq m the month before.
Things went downhill from there — the group has been reporting zero log production volume since August last year, which consequently dragged down its financial results.
Meanwhile, Priceworth's share price plunged 63% from a five-year high of 11 sen on Jan 8 last year to near its all-time low of 4 sen on Sept 13 last year.
For perspective, the FMU 5 is the single largest timber concession for Priceworth, which has under its management a total of 116,920ha of forestland — where it can harvest and replant — for periods ranging from 50 to 80 years.
However, under the new regulations, limited areas are allowed for harvesting. As a result, most of its assets remain underutilised.
Now, given its heavy exposure to FMU 5, what will Priceworth do to revive its business operations as well as improve its log production volume and financial performance?
When contacted, Priceworth declined to comment for this article.
According to its 2019 annual report, the company claimed that it has complied with the authorities' requests as the operations are in accordance with the laws and practices under the Sabah Forest Enactment, 1968 and the approved Forest Management Plan No 3 for FMU 5, which was approved by the Sabah Forestry Department with the input and participation of three non-governmental organisations.
"The group is in the midst of liaising with the relevant authorities for the finalisation of the verifications and is requesting for resumption of operation," it said.
"[We] see this as the right direction towards restructuring the timber industry in Sabah and developing downstream activities, which will, in turn, be positive for the economy of the state and for the group," it added.
Priceworth also explained that the losses in FY2019 were partly due to the impairment on goodwill, badly degraded round logs stock written off after prolonged restrictions imposed by the authorities for their verification, provision for receivables and write back of deferred tax assets.
Innoprise Corp to the rescue
But it is not all doom and gloom, as Priceworth signed a log supply agreement with Innoprise Corp Sdn Bhd's subsidiary Rakyat Berjaya Sdn Bhd in October, following the terms of the memorandum of understanding signed a month earlier.
Under the agreement, Priceworth will receive logs worth up to a 30% stake, to be paid for via an issuance of new shares to Innoprise Corp, which is the investment holding vehicle of Yayasan Sabah.
With this, Priceworth may resume logging activities in the Yayasan concession areas, which will ensure a constant log supply for the group's plywood and sawn timber mills.
Moreover, Innoprise Corp and Priceworth will also "use their best efforts" to obtain the state government's approval for the group to resume log harvesting operations in FMU 5.
Yayasan Sabah is a state-sanctioned organisation that promotes educational and economic opportunities for the benefit of Sabahans.
Interestingly, Sabah Chief Minister Datuk Seri Mohd Shafie Apdal is the chairman of Innoprise Corp as well as the chairman of Yayasan Sabah's board of trustees.
Also noteworthy is that Innoprise Corp is the controlling shareholder of locally listed Innoprise Plantations Bhd. Its plantations are located in Kalabakan, Sabah, and it is currently planting and developing 22,763ha, of which about 12,500ha are suitable for oil palm cultivation.
Corporate observers, whom The Edge spoke to, note that the imminent emergence of Innoprise Corp as the major shareholder should provide relief to Priceworth.
"Yayasan Sabah also owns some timber concessions. Most of the time, it would just go in [to companies] as an investor. But if its stake [in Priceworth] is big enough, it might appoint an independent director to sit on the board or maybe even a CEO to run the show," says an industry veteran.
Meanwhile, a source familiar with the matter claims that to date, the state government "has not been able to find a single fault" with the operations of FMU 5 and take formal action against Priceworth.
"This is a tough time for Priceworth, there is no doubt about that. But based on what I have gathered, Priceworth is not at fault, and the company is now bending over backwards to cooperate with the new government," he says.