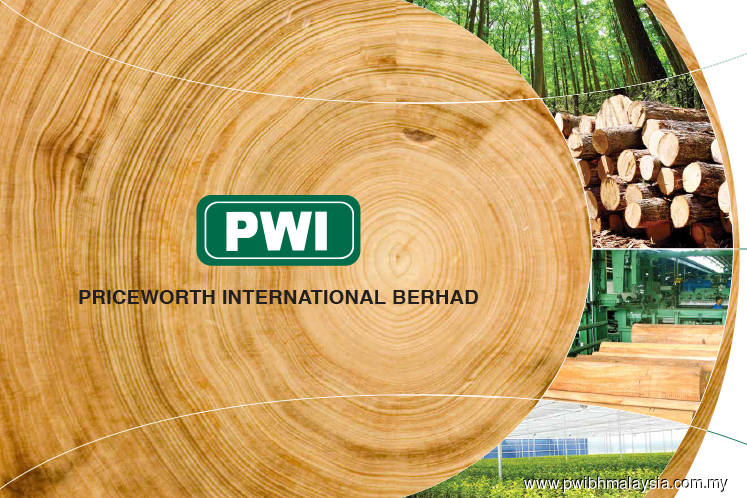 KUALA LUMPUR (Sept 6): Priceworth International Bhd, which was late to release its quarterly financial figures, announced that its net profit for the fourth quarter ended June 30, 2018 (4QFY18) grew 16% year-on-year to RM3.54 million from RM3.06 million on an increase in other income.
Earnings per share, however, fell to 0.34 sen from 0.39 sen in 4QFY17.
In a filing to Bursa Malaysia today, the group said revenue had dropped 27% to RM42.99 million from RM59.2 million previously due to a decrease in production volume.
It said current quarter results had been affected by the ban on export of round logs from Sabah which commenced in June this year.
"The group had previously ramped up and accumulated export-grade logs which we were unable to export this quarter, resulting in demurrage and shipping costs which were beyond our expectations.
"To address this, we have channeled these logs into our plant for downstream products but there is a lag factor on conversion timing," Priceworth explained.
Operations were also affected by some temporary interruptions in July to facilitate the widely reported verifications on major timber players conducted by authorities.
Yet while this caused the supply of logs in the market to be reduced, the group said it had also elevated the selling prices of round logs, plywood and sawn timber products.
"We remain optimistic of future prospects and fully support the Chief Minister's initiatives to transform the timber industry. We see this as the right direction towards restructuring the timber industry in Sabah and developing downstream activities, which will in turn be positive for the economy of the State and for Priceworth," it said.
For the full year, net profit almost tripled to RM13.84 million from RM4.7 million previously, while revenue rose 2% to RM173.37 million from RM170.17 million a year ago.
Priceworth explained that the delay on the release of its quarterly report to Bursa was due to the group's preparation of financial statements adopting the new MFRS framework which became mandatory from Jan 1 onwards.
Shares of Priceworth closed unchanged today at five sen, with 67 million shares traded, for a market capitalisation of RM204.12 million.