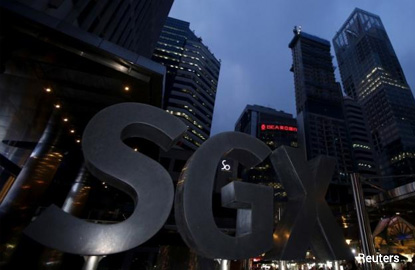 SINGAPORE (March 10): Since Tan Boon Gin was appointed chief regulatory officer at the Singapore Exchange in June 2015, there has been a palpable sense that the exchange is wielding the stick more often.
Under his watch, SGX has reprimanded eight trading representatives (TRs) for offences such as market manipulation. The last time individual traders ran afoul of SGX was in 2009, when just one person was reprimanded. This followed a single reprimand in 2008.
"Maybe because of my law enforcement background, the 'guns blazing' analogy comes very quickly to mind," says Tan, a former prosecutor, police officer and district judge.
But Tan says his preference is to go "upstream" and spell out clearly what constitutes malpractice so it will not be committed at all. He calls this approach "prevention" and "containment" done within the remit of SGX.
To this end, he has introduced a Members Surveillance Dashboard, which tells brokerages every quarter how many surveillance system alerts they have triggered. Information such as the dates and times of alerts and the counters involved is also provided, so brokerage houses can question their traders.
Last September, SGX started issuing "surveillance handbooks" covering what constitutes wrongdoing.
Meanwhile, his regulatory team now tries to provide more information about what sets off red flags for trading activity.
In addition, the creation of a separate regulatory unit within SGX is underway.
In July last year, the exchange announced it would create a new subsidiary for its regulatory team of about 100 people. Known for now as "RegCo", it will have its own board with at least five members.
Is SGX a safer market now? Or will tighter regulation merely dampen speculative activity?
Find out more about how SGX's chief regulatory officer has been doing more to keep the market fair and orderly in our cover story, "New Sheriff in Town", on pages 10 & 11 of The Edge Singapore (week of March 13), available at newsstands now.