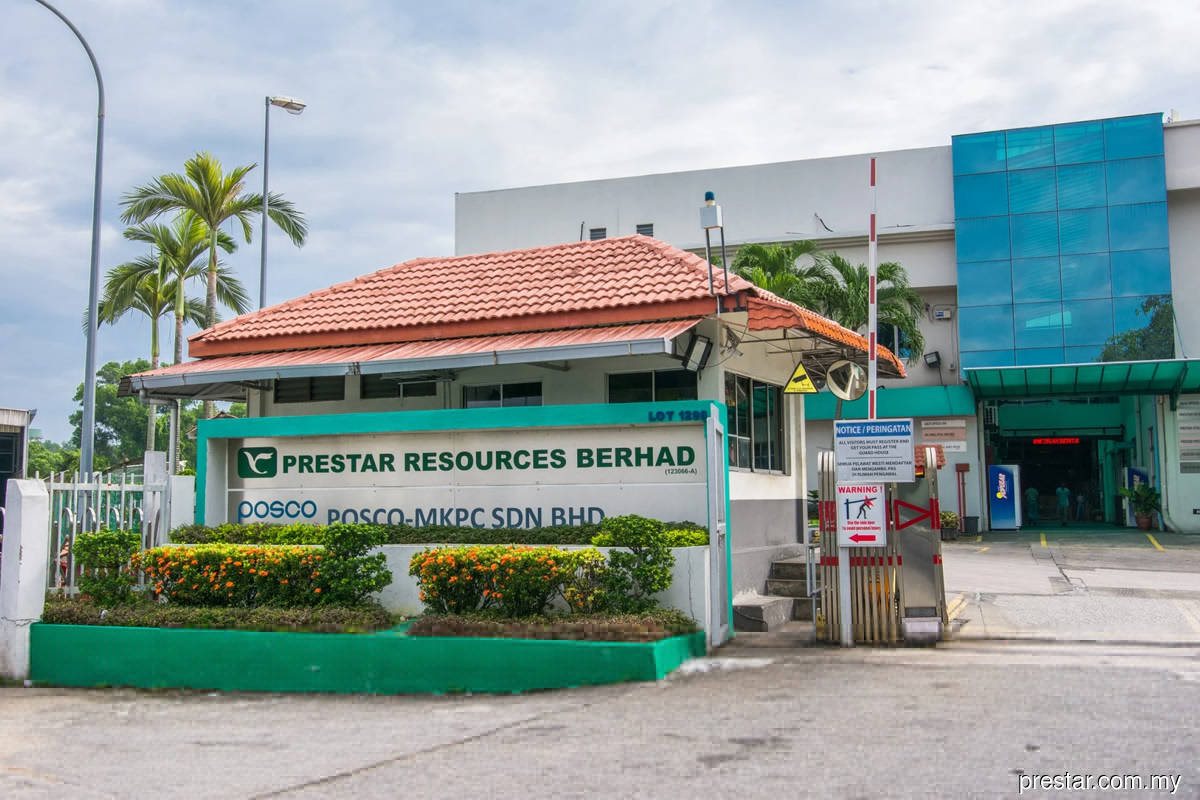 KUALA LUMPUR (Feb 24): Steel products and equipment maker Prestar Resources Bhd' net profit for the fourth quarter ended Dec 31, 2020 (4QFY20) jumped to RM15.76 million, five times the RM3.12 million it made in the corresponding quarter a year earlier, driven by strong demand and higher selling prices of its products.
Quarterly revenue grew 22.6% to RM137.05 million from RM111.77 million, its stock exchange filing showed. Earnings per share jumped to 8.12 sen from 1.59 sen previously.
The group has proposed a final dividend of 1 sen per share, amounting to RM1.94 million, subject to shareholders' approval.
The strong 4QFY20 lifted the group's annual profit for FY20 to RM22.17 million, four times the RM5.53 million it recorded in FY19.
This came despite annual revenue slipping 9.73% to RM409.98 million from RM454.17 million, following sales slowdown in April and May due to Movement Control Order restrictions, and the reimposition of conditional MCO towards the end of 2020.
The easing of lockdowns in 3QFY20 and 4QFY20, coupled with higher demand for the company's steel pipes and related products, helped lift the group's FY20 performance, said Prestar group managing director Datuk Toh Yew Peng.
"The company resumed full operations in June last year. We reported higher sales for our steel pipes and related products with better margin in 3QFY20 and 4QFY20, on the back of increased raw materials prices and strong customer demand," he said.
Going forward, Toh said the company expects strong demand for its steel pipes and related products, in line with the continued uptrend in global commodities prices.
"Prestar supplies steel pipes to original equipment manufacturers, manufacturers of automotive, furniture and equipment. These manufacturers continued to receive strong orders, while increasing e-commerce activities have stimulated increasing demands for our racking products from third party logistic companies.
"Our supplies of guardrails for the Pan Borneo Highway Project in Sarawak are also progressing well. At the same time, we have also started exploring the provision of supplies to the Sabah Pan Borneo Highway project," he said.
Coupled with the improvement in sales margin as a result of the upward uptrend in steel prices, the board expects Prestar's FY21 performance to remain positive, Toh added.
Shares of Prestar settled 10 sen or 0.97% higher at RM1.04 today, giving the company a market capitalisation of RM213.02 million.