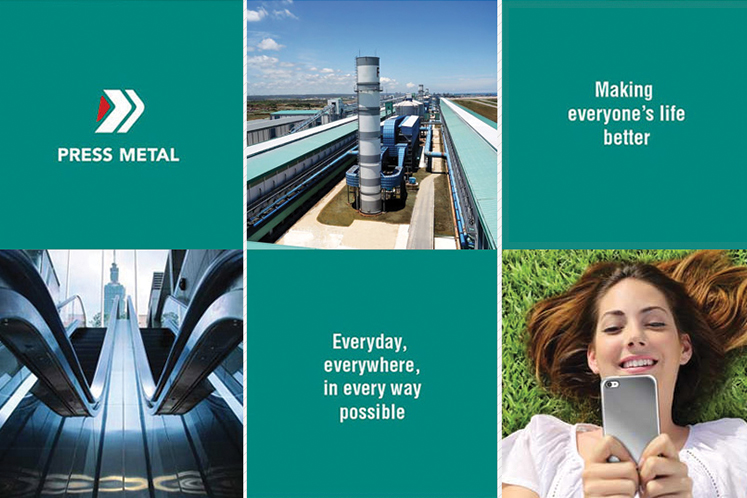 KUALA LUMPUR (Nov 22): Press Metal Aluminium Holdings Bhd's third quarter net profit rose 5.3% to RM162.5 million or 4.17 sen per share from RM154.4 million or 4.14 sen per share a year earlier, aided by proceeds from insurance settlement.
Revenue for the quarter ended Sept 30, 2018 also grew 12.1% to RM2.37 billion from RM2.12 billion previously, the group said in a stock exchange filing.
The higher revenue, it said, was mainly due to the completion of Leader Universal Aluminium Sdn Bhd's acquisition on March 30 which saw this company's revenue consolidated into the group's revenue.
The higher revenue was also due to higher metal price compared to the year-ago third quarter, the group said.
The board of directors has approved a third interim single tier dividend of two sen per share, which will go ex on Dec 6 and is payable on Dec 27.
For the nine months ended Sept 30, 2018, Press Metal's net profit grew 4.6% to RM473.6 million from RM452.6 million in the corresponding period a year ago.
The group said its financial performance in the period should have been stronger if not for higher raw material prices.
Revenue for the nine-month period rose 15.5% to RM6.94 billion, from RM6 billion previously.
"We have delivered another satisfactory set of results amidst continued external uncertainties with the on-going trade tensions. The outlook remains challenging due to raw material supply disruptions arising from the on-going curtailment of alumina production in Brazil," group CEO Tan Sri Paul Koon,  said in a press release.
He added that the proposed acquisition of a 50% equity interest in Japan Alumina Associates (Australia) Pty Ltd (JAA) is part of its strategy to secure a reliable supply of alumina, a key raw material for the group.
"JAA gives us access to approximately 230,000 tonnes or 5% of total alumina produced from the Worsley Alumina Project, which is one of the world's largest, longest-life and lowest-cost alumina producers," Koon said.
JAA is Press Metal's second venture to strengthen itself vertically after its investment in a joint venture with Sunstone Development Co Ltd in China for the manufacturing of pre-baked carbon anodes, which is another key consumable in the group's smelting activities.
Koon noted that Sunstone has begun commissioning its manufacturing operations and is expected to make its maiden delivery in the first quarter of 2019.
"We are close to achieving our targeted 50% value-added contribution to our total sales this year. With our smelters operating at full capacity, we intend to further grow our value-added contribution to 60% by 2019. This will further enhance our margin and strengthen our position directly with end users," he said.
Press Metal's share price was unchanged at RM4.90 today with 646,900 shares traded, giving it a market capitalisation of RM19.3 billion. The share price has risen 4.4% over the last one year and is trading at a trailing P/E of 30.8 times at current level.