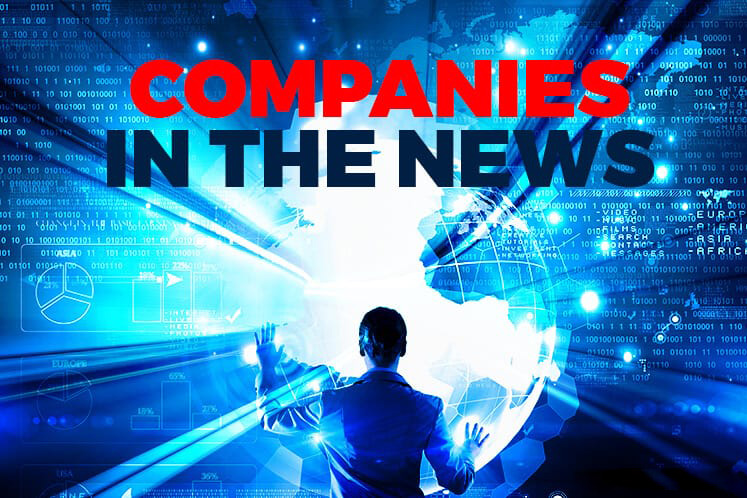 KUALA LUMPUR (July 31): Based on corporate announcements and news flow today, stocks in focus on Thursday (Aug 1) may include: Press Metal Aluminium Holdings Bhd, Zeland Bhd, Chin Teck Plantations Bhd, YTL Hospitality Real Estate Investment Trust, Barakah Offshore Petroleum Bhd, Pintaras Jaya Bhd, Trive Property Group Bhd and Lotte Chemical Titan Holding Bhd.
Press Metal Aluminium Holdings Bhd has entered into a power purchase agreement (PPA) with Syarikat SESCO Bhd — a unit of Sarawak Energy Bhd — to secure more power for capacity expansion in Sarawak.
The PPA, signed today, provides long-term access of up to approximately 500MW of electricity for 15 years. Under the agreement, a first drawdown of 300MW will commence by October 2020 and the balance 200MW will be made available on a reasonable endeavour basis by SESCO.
The additional power allocation will enable Press Metal to build a third aluminium smelter in Samalaju Industrial Park, Sarawak, which will potentially increase its total smelting capacity up to 1.08 million tonnes per annum upon full power drawdown, from the current 760,000 tonnes per annum.
Zelan Bhd is set to receive 264.6 million dirhams (RM297.6 million) from Meena Holdings LLC after the International Court of Arbitration, International Chamber of Commerce (ICC) ruled that its wholly-owned subsidiary Zelan Holdings (M) Sdn Bhd's (ZHSB) termination of contract was valid.
ZHSB had on Aug 18, 2016 initiated arbitration proceedings against Meena over breaches and defaults of the latter under a contract for the development of the Meena Plaza project in Abu Dhabi, the United Arab Emirates.
Zelan is in the process of seeking advice from its solicitors on the enforcement of the arbitration award with the purpose of recovering the awarded sums.
Chin Teck Plantations Bhd's net profit dropped 62.4% year-on-year to RM7.77 million in the third financial quarter ended May 31, 2019, from RM20.65 million a year ago, mainly due to lower revenue and other income.
Revenue fell 15.5% to RM33.48 million from RM39.64 million due to lower average selling prices of palm products despite higher sales volume recorded.
Nonetheless, the group declared a second interim dividend of eight sen per share, as well as a special dividend of two sen per share, payable on Aug 30.
Chin Teck expects average selling prices of crude palm oil to remain weak, which would have a corresponding effect on the group's financial performance for the current year.
YTL Hospitality Real Estate Investment Trust's (YTL REIT) net property income grew 3.7% on year to RM60.26 million in its fourth financial quarter ended June 30, 2019, from RM58.11 million a year ago, due to higher master leases, mainly from the acquisition of The Green Leaf Niseko Village in September last year.
Its realised income also rose 6.8% to RM35.77 million versus RM33.49 million previously, while quarterly revenue increased 1.8% to RM118.67 million from RM116.6 million before.
The trust declared a final income distribution per unit of 2.1 sen.
The manager of YTL REIT expects the trust to achieve satisfactory performance for FY20, after considering the strength of the real estate portfolio invested.
Barakah Offshore Petroleum Bhd will not proceed with the proposed debt settlement schemes of both the group and its wholly-owned subsidiary PBJV Group Sdn Bhd following the recent suspension of PBJV's licence by Petroliam Nasional Bhd (Petronas).
Barakah had previously announced that the licence suspension effectively rendered PBJV unable to undertake and bid for new contracts from Petronas, its subsidiaries and any petroleum arrangement contractors (PACs) during the suspension period.
Nevertheless, PBJV is still allowed to continue and complete its existing and ongoing contracts with Petronas, including [those with] its subsidiaries and PACs, in accordance with the respective existing and ongoing contracts' terms and conditions.
Pintaras Jaya Bhd's wholly-owned subsidiary in Singapore, Pintary International Pte Ltd, has secured another nine new piling contracts collectively worth RM156 million (S$51 million) since April.
The commencement dates for these projects are in July and August, with contract periods varying from two to six months, and are expected to contribute positively to the group's earnings.
Trive Property Group Bhd has aborted its plan to undertake research and development; assembly and production; as well as distribution and marketing of photovoltaic products such as solar cells, solar panels or solar modules in a joint venture (JV) with China-based Jiangxi Fujing New Energy Technology Co Ltd (JFNET).
Trive said the company and JFNET have mutually terminated the JV entered into on Nov 10, 2017. However, no reason was given for the move.
There are no matters or payment pending from either party as at July 31.
Lotte Chemical Titan Holding Bhd's (LCT) net profit fell for a fourth consecutive quarter in the three months ended June 30, 2019, due to margin squeeze resulting from a fall in product selling prices.
Quarterly net profit declined 66.7% to RM104.85 million from RM315.03 million. Revenue for the current quarter also saw a 6.5% dip to RM2.13 billion from RM2.28 billion a year ago, which LCT blamed on the fall in average product selling price.
LCT warned that the results of its operations for the full financial year ending Dec 31, 2019 are expected to be primarily influenced by the demand and supply balance of petrochemical products in the market, as well as its ability to maximise production outputs and operational efficiency.