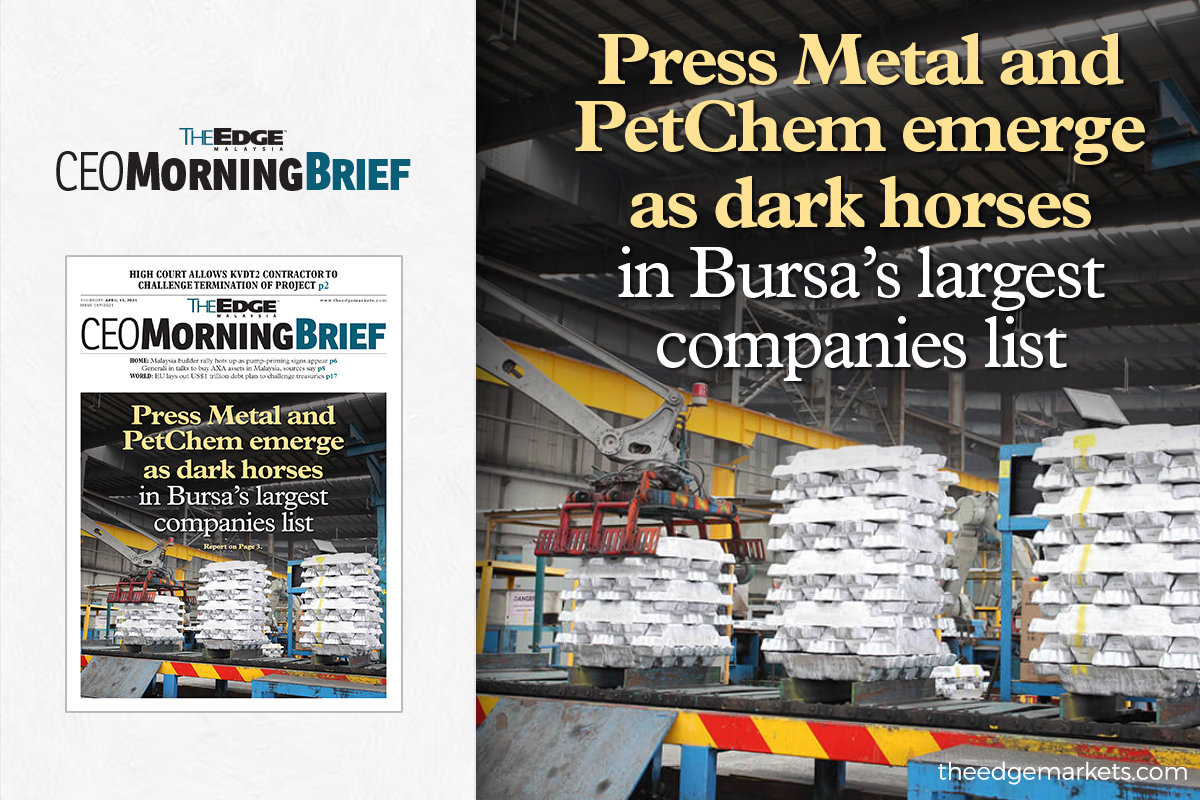 KUALA LUMPUR (April 15): While much has been said about the growth of glove stocks and tech counters on Bursa Malaysia, two companies in different sectors — Press Metal Aluminium Holdings Bhd and Petronas Chemicals Group Bhd (PetChem) — have emerged as dark horses in the list of largest companies.
Press Metal was the 28th largest company on the exchange on March 31, 2020 with a market capitalisation of RM13.29 billion, according to Bloomberg data. It rose to 22nd place on Sept 30, 2020 with a market value of RM20.77 billion, and has now climbed to eighth place with a value RM40.46 billion.
In short, between March 31, 2020 and today, the aluminium supplier has added some RM27.17 billion in market capitalisation.
While PetChem has been among the top 10 largest companies on Bursa for some time, it is worth noting that the chemical producer has managed to climb from its sixth and seventh positions on March 31, 2020 and Sept 30,2020, respectively, to third place as of market close today.
Petchem's current market value is RM63.04 billion, a rise of RM22.64 billion since March 31, 2020.
Rising aluminium prices contributed to Press Metal's fortunes, while PetChem's growth has been aided by higher plant utilisation.
A new kid on the block is Mr DIY Group (M) Bhd, which made its Main Market debut in late October 2020. Based on today's closing price, Mr DIY is the 19th largest company on Bursa, with a market value of RM26.36 billion. It is even larger than banking groups like RHB Bank Bhd, which is valued at RM21.17 billion.
While Covid-19 has brought the aviation industry to its knees, Malaysia Airports Holdings Bhd (MAHB) actually commands a higher market capitalisation of RM10.80 billion now, from the RM7.17 billion on March 31.
As one of the only two listed breweries, Heineken Malaysia Bhd was also heavily impacted by Covid-19, which ravaged the entertainment and tourism sectors. Despite this, Heineken is now worth RM7.61 billion, from RM6.61 billion on March 31, 2020.
In contrast, Carlsberg Brewery Malaysia Bhd saw its market capitalisation shrink to RM7.31 billion from RM7.64 billion on March 31, 2020.
More money has been shovelled into tech stocks
In line with the rising interest in technology counters worldwide, tech stocks have emerged among the Top 50 most valuable companies on Bursa Malaysia.
As of March 31, 2020, there was no technology counter in the Top 50 list. Fast forward to Sept 30, 2020 and Inari Amertron had made it to the list as the 40th most valuable company with a market capitalisation of RM7.46 billion.
At market close today, the Top 50 list featured four technology companies. Inari is in the 35th spot with a market value of RM11.39 billion, followed by Malaysian Pacific Industries Bhd (MPI) at 45th place with RM7.94 billion, Vitrox Corp Bhd at 48th and Greatech Technology Bhd at 49th.
Glove makers remain in top valuable firms list
The big four rubber glove counters, Top Glove Corp Bhd, Hartalega Holdings Bhd, Supermax Corp Bhd and Kossan Rubber Industries Bhd, have certainly gained traction since March 31, 2020.
On Sept 30, 2020, Top Glove was the second-largest company on Bursa Malaysia with a market value of RM67.49 billion while Hartalega was 5th with RM55.53 billion. Supermax was 20th with a market capitalisation of RM21.63 billion while Kossan was 26th at RM17.5 billion.
While remaining in the list, the big four rubber glove manufacturers are in lower positions now, with Top Glove in seventh place and Hartalega in 13th. Supermax and Kossan have dropped to the 34th and 40th positions.
To receive CEO Morning Brief please click here.