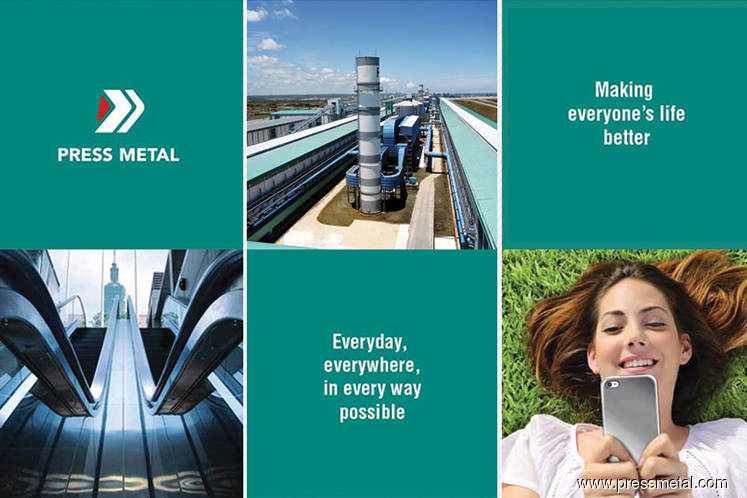 KUALA LUMPUR (April 24): Press Metal Aluminium Holdings Bhd shares fell as much as 44 sen or 9% to RM4.66 with global aluminium prices after the US gave American customers of Russia's largest aluminium producer United Co Rusal Plc more time to comply with sanctions.
Reuters reported that on Monday, aluminium prices on The London Metal Exchange (LME) tumbled 8.7% on the US Treasury Department announcement, which gives Rusal more time to sell off large quantities of aluminium it had been stockpiling in the wake of sanctions. The department was quoted as saying it would consider lifting the sanctions if Rusal's major shareholder, Russian tycoon Oleg Deripaska, ceded control of the company.
Global aluminium prices continue to fall today. At the LME, it was reported that the commodity's prices were down 1.7% at US$2,250 a tonne by 0139 GMT. In China, the most-traded June aluminium contract on the Shanghai Futures Exchange slipped 3.3% to US$14,445 yuan a tonne.
At Bursa Malaysia, Press Metal shares were transacted at RM4.71 at 11:40am after some 10 million shares were traded. Earlier, Aluminium Co of Malaysia Bhd shares fell 4.5 sen to 78 sen at 11:28am with 209,900 units transacted.
On Press Metal, UOB Kay Hian Securities (M) Sdn Bhd wrote in a note today: "The current situation which still points to tighter (aluminium) supply should be favourable to Press Metal, although we note that it is too early to gauge the exact impact to earnings at this juncture given the big price swings."
UOB Kay Hian said it maintained its hold call for Press Metal shares with a RM5 target price.