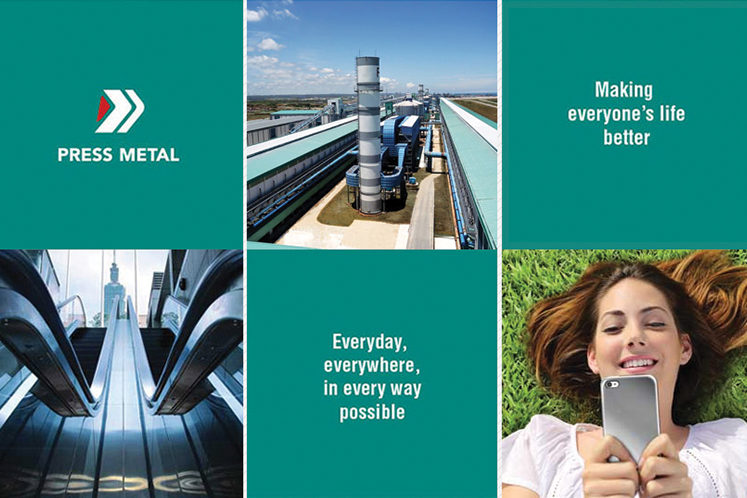 KUALA LUMPUR (Aug 15): Press Metal Aluminium Holdings Bhd said its second quarter net profit rose 6.95% to RM160.6 million, from RM150.17 million a year ago, mainly due to higher aluminium price and the strengthening of the US dollar against the ringgit.
Earnings per share for the quarter ended June 30, 2018 improved to 4.15 sen from 4.02 sen previously, the group said in a stock exchange filing.
Quarterly revenue, meanwhile, surged 24.67% to RM2.44 billion from RM1.96 billion.
The group declared a second interim dividend of 1.5 sen per share, payable on Sept 19.
Cumulative net profit for the first two quarters came in at RM311.08 million, up 4.31% from RM298.22 million in the same period last year.
Revenue for the six months surged 17.32% to RM4.56 billion from RM3.89 billion previously.
Press Metal group chief executive officer Tan Sri Paul Koon said external uncertainties continue to exist in the global supply chain as a result of US tariffs and sanctions and this is amplified by the on-going alumina supply disruptions.
"Internally, we continue to strengthen ourselves vertically through our joint venture with Sunstone Development Co Ltd in China for the manufacturing of pre-baked carbon anodes which is a key raw material for our smelting activities," he said in a press statement.
The plant is under construction and on track for commissioning in the last quarter of the current year, he added.
Koon said the expansion capacity for value-added and extrusion businesses are in line with the group's plan to expand into new markets.
For its value-added products from smelting operations, Koon said the group is targeting to achieve 50% contribution by the end of this year. While for the Kapar and Foshan plants, the group had expanded 30% of its extrusion capacity.
Press Metal's share price fell 1 sen or 2.24% to RM4.79 today, giving it a market capitalisation of RM18.53 billion.