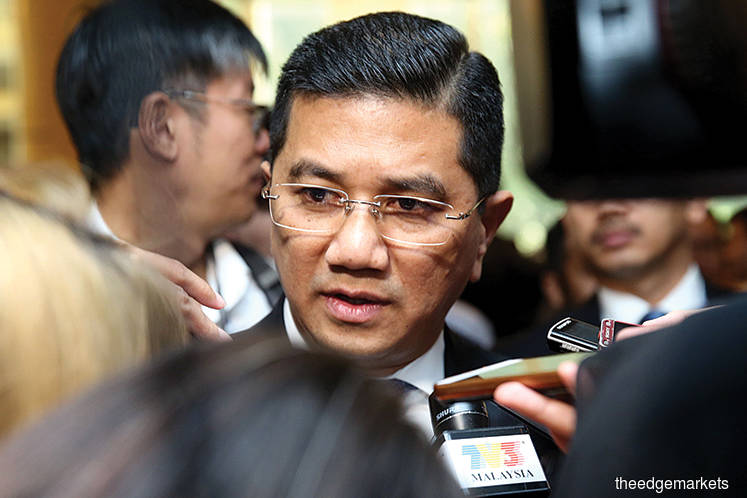 KUALA LUMPUR (Dec 10): The presentation of a white paper on the Federal Land Development Authority (Felda) in Parliament, by the Ministry of Economic Affairs (MEA), has been postponed to next year on the recommendation of the Cabinet.
This follows an earlier advice by the Attorney-General's Chambers (AGC) against the release of the white paper today (Dec 10) due to certain legal issues, said Economic Affairs Minister Datuk Seri Azmin Ali.
In a statement today, Azmin said MEA has worked closely with Felda to prepare the report to obtain an in-depth picture of numerous issues surrounding Felda.
This was to help MEA and the new Felda management in the formulation of a turnaround plan and a future direction that is sustainable for the agency, said Azmin.
"MEA is committed to present a white paper that is both comprehensive and credible," said Azmin, adding that the report is "at its final stages of preparation" for its scheduled presentation in Parliament today.
"However, MEA has been advised by the AGC to reconsider the proposal to present the white paper (today).
"This is because the AGC is of the opinion that several legal issues need to be resolved before the white paper can be presented in the Parliament," said Azmin, without elaborating on the legal issues mentioned.
"MEA takes serious note of the opinion from the AGC, and has decided to seek the views of Cabinet members. To ensure the integrity of Felda's white paper, the Cabinet has agreed that the presentation of the white paper be postponed to the first parliament meeting in the second term of the 14th Parliament sitting (in 2019)," said Azmin.
Felda, along with Lembaga Tabung Haji and several other government agencies, have been scrutinised by the government over allegations of graft and poor governance.
The Edge weekly had previously reported that the white paper on Felda would include three proposals for the beleaguered agency, which is now saddled with RM8 billion in debt.
They are to improve the management of Felda, the privatisation of subsidiary FGV Holdings Bhd, and merging Felda with the Federal Land Consolidation and Rehabilitation Authority Bhd (Felcra).
Azmin has reportedly said he had studied the first draft of the report, and found that there were serious frauds involving the financial problems of the government agency.