This article first appeared in City & Country, The Edge Malaysia Weekly, on December 21, 2020 - December 27, 2020.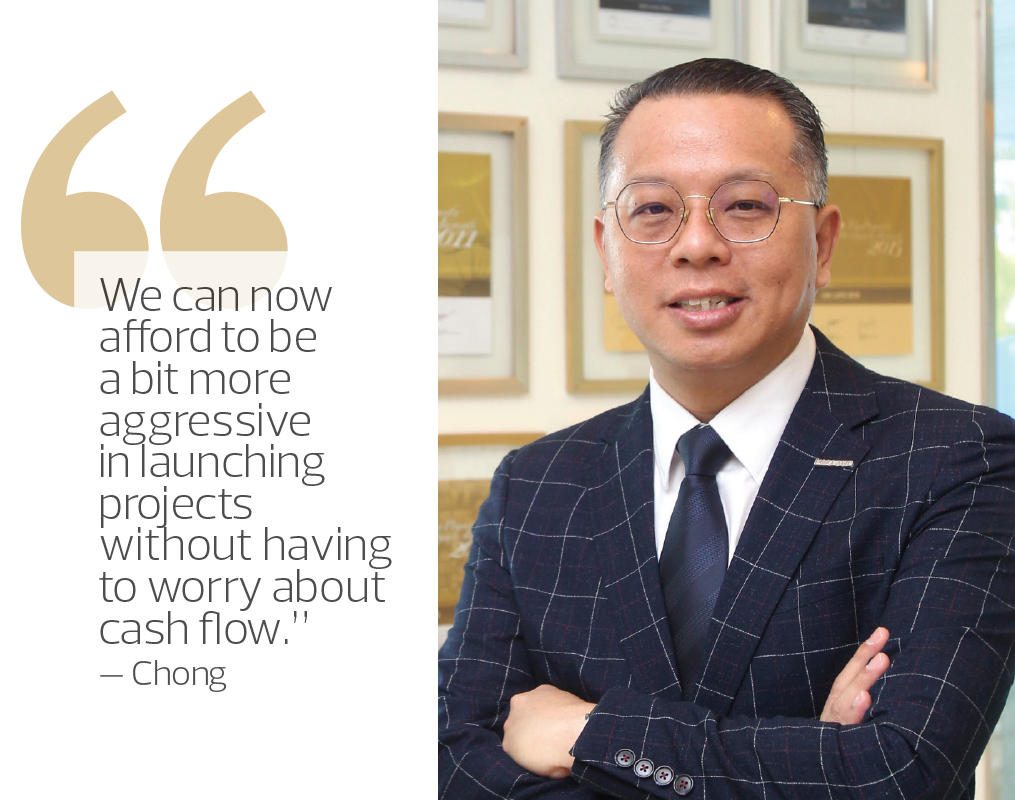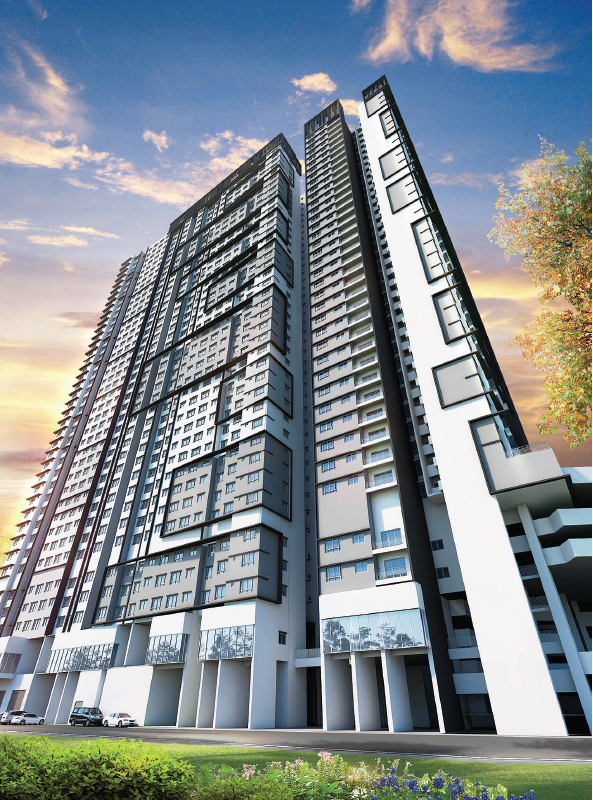 An artist's impression of the RM590 million [email protected] Dutamas ... it is among the developer's upcoming projects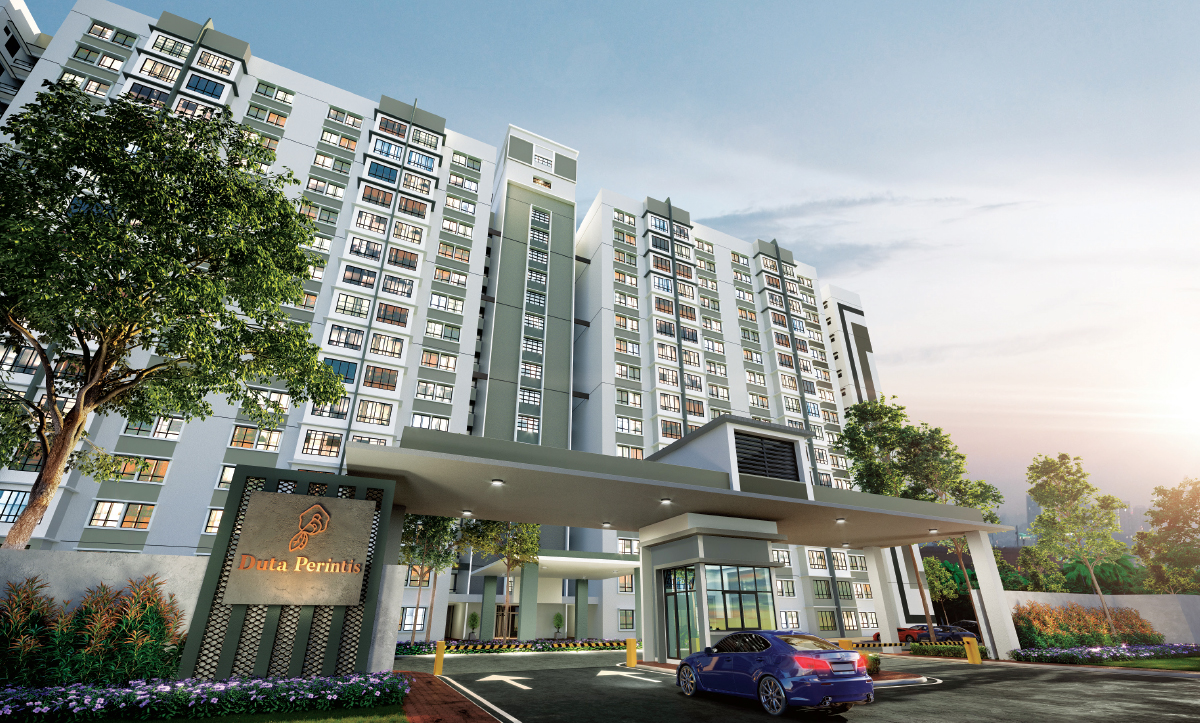 An artist's impression of the upcoming Duta Perintis in Shah Alam 2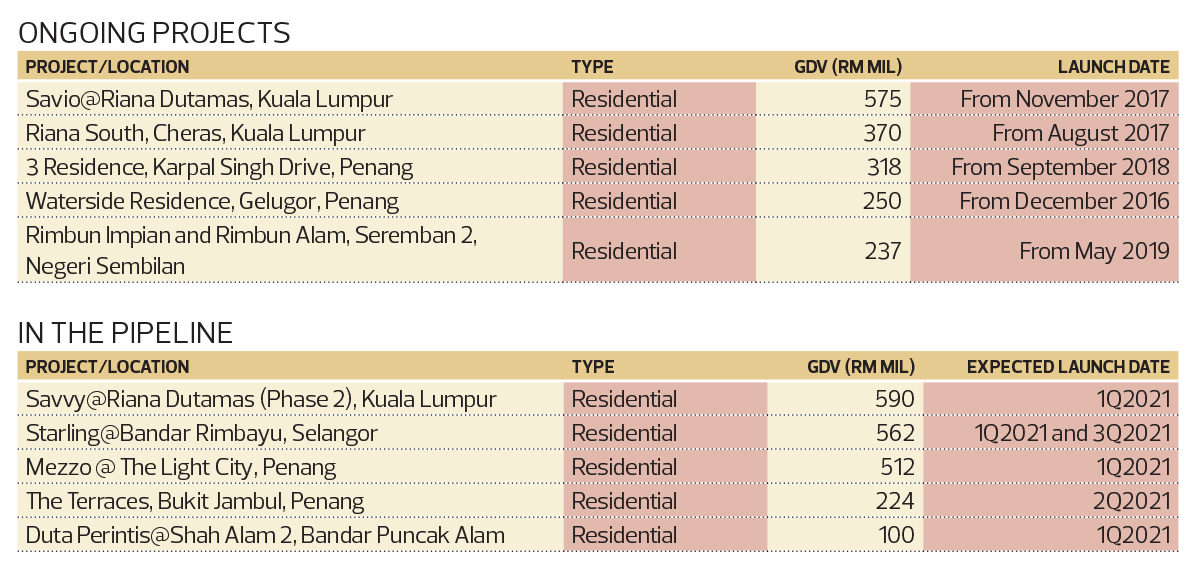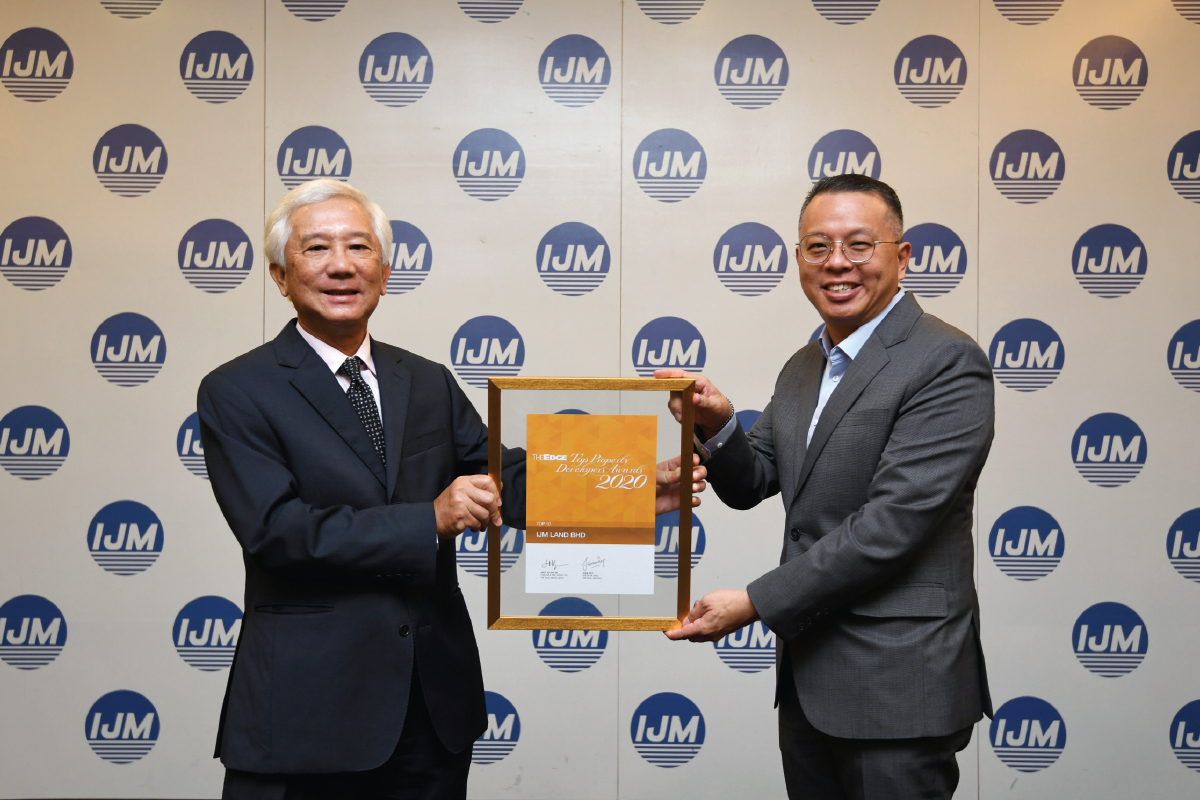 Chong receiving the award from The Edge Media Group publisher and group CEO Datuk Ho Kay Tat
No. 5 (Joint Ranking) | IJM Land Bhd
 
2020
2019
Overall
5
4
Quantitative
6
10
Qualitative
3
2
Bright and early in the morning, IJM Land Bhd managing director Edward Chong, who was working from home, was in a jovial mood during the Zoom interview. After quick hellos, the conversation turned to how we were adapting to the new normal of working life.
From a business perspective, the market has been tough, Chong admits. "To our surprise, the market was coming back quite reasonably post-Movement Control Order (MCO). Most developers would tell you that there was an uptick and an improvement in sentiment, except that loan approvals were a lot slower."
Until October, things were going quite smoothly for the company, he adds. "But, now, with the third wave, what we had planned for the next few months has been rendered void and we have to go back to the drawing board. That's the reality of life."
According to Chong, IJM Land plans RM1.5 billion to RM2 billion worth of launches each year. "We normally line up a bit more than what we want to launch, so that we have the flexibility of moving things around. We need to make sure the right product is launched at the right time," he says.
IJM Land has consistently ranked among the top developers in The Edge Malaysia Top Property Developers Awards in the last five years. The property arm of IJM Corp Bhd was privatised and made a wholly-owned subsidiary of the group in 2015.
The company has a diverse portfolio under its belt, ranging from townships and commercial properties to landed and high-rise residences. It currently has a sizeable landbank of 4,998 acres with a combined gross development value (GDV) of RM55.28 billion spanning key growth areas of Malaysia — in ­Greater KL, Negeri Sembilan, Penang, Pahang, Johor, Sabah and Sarawak — as well as the UK and China.
Some of its completed projects include Inwood Residence and Secoya at Pantai Sentral Park in Kuala Lumpur; Rimbun Ara and Rimbun Harmoni at Seremban 2, Negeri Sembilan; Penduline, Livia and Blossom Square at Bandar Rimbayu, Shah Alam; as well as Royal Mint Garden in London, the UK.
Chong tells City & Country about the company's plans in these uncertain times.
City & Country: What has IJM Land been busy with in the last 12 months?
Edward Chong: We have been focusing on what the Covid-19 pandemic has taught us and how it has changed buyers' preferences. We have been trying to see whether we can tweak some of the products to meet some of these new demands.
We used to be able to plan ahead, but things are different today. The first two months of the year was quiet, followed by the MCO, which lasted through May. Between July and September, we saw sentiment coming back and thought things were getting better, [but then] the Conditional MCO (CMCO) was imposed.
2020 has been challenging and is, I suppose, a very fluid year. We can plan something, but two weeks later, we would have to revise our plans and strategies because things are no longer relevant. It is a year in which we really need to keep our eyes and ears on the ground and remain focused on our targets and changing market demands.
Which product segment has been the best-performing in the last 12 months?
For the last couple of years, the best-performing product segment has been the affordable property segment. I don't mean the affordable housing segment that is controlled by the government, but those by a private developer. I think properties with prices between RM500,000 and RM800,000 are still in strong demand. Of course, we believe that the pricing, location and product type have to be a perfect match for a project to do well.
Landed properties have also been best sellers. During the pandemic, people realised the need for space and an area in which they could step out of the house. Our landed homes in Phases 12A, 12B and 12C in Starling, Bandar Rimbayu, were all taken up immediately. For our Rimbun Jasmin launch in Seremban, people queued from Saturday morning to Sunday morning to book their units.
High-rise units priced at RM500 to RM600 psf in a good location are still in demand. For instance, Phase 1 of our Riana Dutamas development is close to 97% sold. Surprisingly, the bigger units get a lot more demand whereas the leftover units are the few one-bedders we have.
Studios and small units of 400 to 500 sq ft are no longer popular, as people eventually don't know what to do with them, unless they are located in highly dense office areas like KLCC and KL Sentral, where they can be rented out as an alternative living space. At IJM Land, we feel people need a good two-bedder or 700 sq ft at least and it has to be decent enough for them to start a family. I think this has been proven in today's market.
What will IJM Land be focusing on next year? Do you have projects in the pipeline?
We have a few major launches planned, including Phase 2 (Savvy) of our Riana Dutamas project, which has a GDV of RM590 million. We also have a new project in Penang called The Terraces in Bukit Jambul. Then, we will launch Phase 12D of Starling in Bandar Rimbayu, which I believe will receive good response. In fact, we have lined up another phase of 537 units in Bandar Rimbayu that we have yet to name. It will comprise 18ft by 65ft 2-storey link homes priced from RM630,000.
We were targeting to launch Savvy in November but the timing was not right, owing to the CMCO. Next year, we expect the market to be slightly better but still cautious. We have to ensure the product we launch is commensurate with market demand and we believe the strongest demand is coming from those who are starting a family. Therefore, we will focus on starter homes.
We also plan to launch the second phase of apartments (Duta Perintis) in Shah Alam 2. The apartments have built-ups of 850 sq ft and are priced from RM310,000. The first phase — called Danau Perintis — was just handed over.
How is the company handling the current challenges in the market?
Financially, we took some time to reposition our balance sheet, even before we knew about Covid-19, because we felt the market was not going to rebound strongly and we needed to make sure our financial position was strong. So, we can now afford to be a bit more aggressive in launching projects without having to worry about cash flow. If we had not consolidated earlier, it would have been a lot tougher. As IJM Land is a relatively conservative group, it has always been our strategy to pare down and consolidate during any downturn before moving forward.
The team also has to be highly adaptive and flexible. Covid-19 will continue to be around, so we have to live with it and find a way to move on. There will be plenty of challenges, that's life; we just have to approach it with the right mindset. We just have to [stay grounded] and push on.
Meanwhile, we still have 4,998 acres of landbank that can easily last us for at least 10 years. What's most important today is not how much profit we make but knowing that the company will still be around.
What trends do you foresee will affect the property industry in the near future?
We can definitely see the need for good internet connectivity because many people are working from home.
They will also need a bit more space for setting up a home office. Prior to the MCO, people who worked from home for short periods may have worked in the living room or used the dining table, but it won't be convenient if they need to work five days a week. However, as not everyone can afford the extra 200 sq ft of space, we have been studying — since the beginning of the MCO — how to create flexible spaces and to put in more thought, such as making sure there is internet coverage and sufficient power sockets and identifying a suitable location for the modem.
Some people may also want a small garden so that, when they feel trapped at home, they can step out for some air. Previously, many Malaysians didn't spend time in their balconies because of the hot weather. But now, more people may prefer even a small balcony.
Has the pandemic affected your overseas projects? What are your strategies?
Yes and no. Our main overseas project is the Royal Mint Gardens in the UK. Fortunately, we have managed to complete and hand over all the units that were sold in December 2019. We still have one more phase of the project to do, but now is not the best time, as the UK has  started going back into lockdown.
In Vietnam, we have sold the Nhon Trach City Centre project in Dong Nai to a local buyer and finally closed our chapter in the country.
Our only project in China is the eight-storey Yin Hai Complex office block in the central business district of Changchun. We are trying to get the final certification of the land title before we can launch or sell it.
The pandemic has affected overseas investment in the sense that we can't do our feasibility and market study. Nonetheless, this is part of our longer-term strategy and is not critically urgent. It is not going to make a big difference if we defer it for another year.
The company has a sizeable landbank in the country. Any plans to acquire more?
We are not in desperate need to acquire land unless something very good with attractive pricing comes up. In the current market environment, some bargains may pop up. This is probably one of the advantages of consolidating ourselves early, so we are now in a position to take an opportunity when it arises. It always makes sense to do landbanking when the market is down and when we have the capacity to do so. We will definitely look at the Klang Valley and Penang in terms of landbanking.
What needs to be done to spur economic and property market recovery?
What the overall economy really needs is for the political masters to work together to forge a good economic policy for the country. I don't think any individual or single company can turn things around on their own.
To drive economic recovery, the government has to be very firm and decisive and know exactly what needs to be done. During this period, the lower-income groups are the ones affected the most. There needs to be targeted assistance to help these businesses survive and we need concerted effort to implement them in the right sectors. Giving direct assistance or money individually is not a long-term solution. We need to help businesses survive so people can keep their jobs.
I think this is also a good time for the government to relook at and review areas of excesses to see where they can trim and retarget some of these funds into where the real need is. Everybody has to work together in this crisis. I still believe the country is strong; we just need to ensure the resources are put where they are really required.