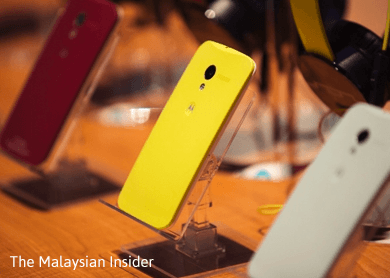 KUALA LUMPUR (April 2): Prepaid mobile services will be subject to the goods and services tax (GST) upon activation, the Communications and Multimedia Consumer Forum (CFM) clarified today, amid confusion over who bears the tax.
Nevertheless, CFM said as a transitional measure, the telecommunications industry will provide customers who reload RM5 and above, a value which is higher than the GST addition in the form of free minutes and short message service (SMS).
"For example, customers will get 5 voice minutes and 5 SMS for every top up of RM10. While for reloads of RM20, the customer will receive 10 voice minutes and 10 SMS," read the statement by CFM today.
It added this will apply for three months, starting tomorrow (Friday, April 3).
The clarification from CFM followed a meeting between the telecommunications industry and the Customs Department today to clarify on GST implementation for prepaid services.
"It was agreed during the meeting that reload for prepaid is subject to GST upon activation, and that the value of the reload is identical to pre-GST, the only difference is that GST is added to the reload amount," said CFM.
It said mobile communications services, excluding international roaming, is a standard rated item under the GST Act 2014, and since mobile communications services are neither a GST exempt item nor a zero rated item, the industry is required by law to charge 6%.
International roaming charges on the other hand are zero rated.
The GST paid by customers will be collected by telecommunications operators and remitted to Customs, in accordance with the GST law.
Earlier, there was some confusion on the matter since deputy finance minister Datuk Ahmad Maslan had been reported as saying there will be no changes to the prices of reload coupons, as the 6% GST would merely replace the sales and service tax which is also 6%.
He had also said telecommunications operators such as Maxis Bhd, Celcom Axiata Bhd, DiGi.Com Bhd and U Mobile Sdn Bhd could be hauled to court if they insist on passing the higher charge to the consumers.
The CFM was established and designated by the Malaysian Communications and Multimedia Commission MCMC in 2001.       
It is a platform for the industry and the consumers and the public to make coherent and constructive contributions to service improvements and policy development.