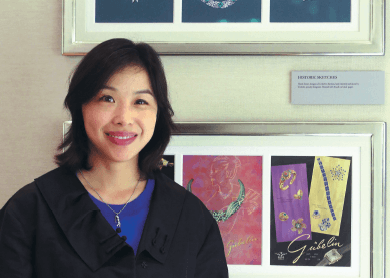 Introductory course gives insight into sparkling world of gemstones
IF you are an avid collector of precious gemstones it is extremely important to know the science and history behind the exquisite craft of gemmology. Celebrated luxury jewellery house Gübelin Kuala Lumpur recently held a special coloured gem professional course at its Starhill boutique dedicated to introducing people to this dazzling world.
Conducted by Gübelin Academy senior trainer Yvonne Chu the exclusive course is a fast-track two day introduction course to gemstones called the coloured gem professional level 1 course specifically highlighting emeralds, rubies and sapphires. The Gübelin Academy in Hong Kong was launched in 2013 and its launch coincided with the centennial birth anniversary of Eduard J Gübelin, who is known as "the father of origin determination" and is one of the world's most celebrated gemmologists.
He is most noted for becoming one of the main pioneers of modern gemmology by classifying an extensive range of gem materials and his innovative work in studying gemstone inclusions.
Chu has been in the jewellery professional for over 10 years. Her interest in diamonds and gemstones led her to obtaining a diploma in gemmology from the Gemmological Institute of America (GIA) after working in the hospitality industry. She joined the Gübelin Academy in December 2013 and teaches the coloured gem professional course in Hong Kong.
The outline of the course was developed by the managing director of the Gübelin Academy, Helen Molesworth, and it places deep importance on the history of gemstones and why they are so valuable.
The quality and value of coloured gemstones are known to be trickier to determine than diamonds and by attending a course such as this, participants gain an insight into the properties of gemstones.
The course was held "boardroom" style making it easy for discussion. "I believe opinions matter and it allows people to engage in the topic of gemstones, "Chu explains during the course.
She uses materials such as colour charts to illustrate how gemmologists determine the standard of the gems. Known as "the big three", emeralds, rubies and sapphire gemstones have grown in popularity worldwide in recent years.
"Gemstones are becoming very popular now especially among engaged couples who see it as an alternative to diamond rings," says Chu.
Furthermore with the value of stones such as pigeon blood rubies from Burma and emeralds from Colombia increasing significantly in the past few years it is easy to see why people have started to take notice in gemmology.
Chu notes that there are two types of customers who attend these courses. "The first is the 'tai-tai' who loves to shop and collects gemstones while the other type of customers are usually people who are in the industry itself who come to expand their knowledge in the field," she adds.
Whatever their purpose, they will definitely leave with new insights and a passion for the field of coloured gemstones as well as a certificate of attendance from Gübelin Academy.
With Gübelin's deep devotion to gemmology it is no surprise that the luxury house has developed a course specific to educating people to this science. After all, not all that glitters is gold — it might be actually gemstones.
---
Gübelin Kuala Lumpur is located at UG31 Adorn Floor, Starhill Gallery, 181 Jalan Bukit Bintang, KL.
This article first appeared in The Edge Financial Daily, on April 28, 2015.