This article first appeared in Personal Wealth, The Edge Malaysia Weekly, on February 11, 2019 - February 17, 2019.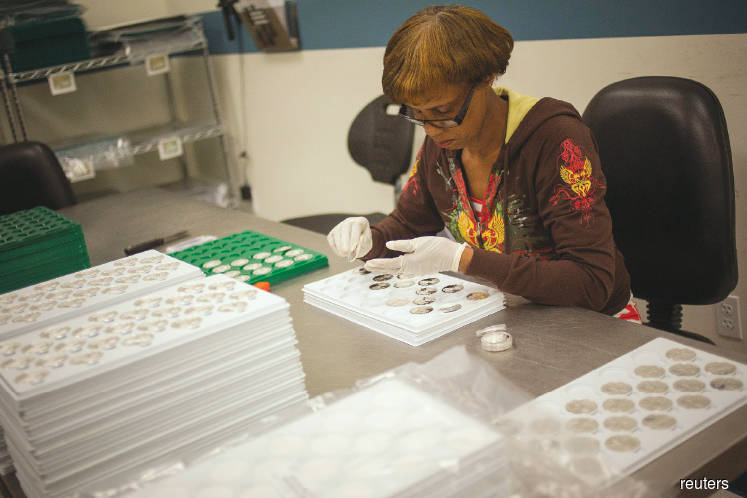 A quality control agent examining 2013 American Silver Eagle silver coins at a facility in West Point, New York. Photo by Reuters
The price of silver, which had a lacklustre 2018, could see a recovery this year. However, several headwinds and tailwinds threaten to impact its performance.
Silver had been relatively stable over the last few years. From early 2017 to the middle of last year, it hovered between US$16.79 and US$17.09 per oz.
But from June 2018, the price started to fall. It finally found support at the US$14.06 mark in September. Prices have recovered only slightly since. The metal was trading at US$15.77 per oz on Jan 29.
A slew of internal and external factors, including a multi-year drop in supply and investor sentiment turning against the metal, could impact silver prices this year. Taken as a whole, these factors could see prices trend upwards, but rising prices may result in more volatility for the precious metal.
Mike McGlone, senior commodity strategist at Bloomberg Intelligence, tells Personal Wealth that although silver is set for another potentially significant bottom, the commodity could recover and hold above its 50-week mean for the first time in six years. "Silver has been uniquely, historically, stable the past few years, which is unlikely to last. I expect volatility to increase with higher prices. Volatility is always mean-reverting. It has limited downside in silver, as do prices," he says.
McGlone says silver prices have found support since the low of about US$14 between September and the middle of December last year — a "last gasp" from the bear market — and expects the recovery to continue.
According to a separate note he authored early last month, silver looks poised to move above a key resistance level that has held the market in check for three years. "A primary companion of higher silver prices — a weakening US dollar — is likely to join the recovery of gold and industrial-metal prices," said McGlone.
"Since silver's nadir in December 2015, rallies have been checked by the 50-month average. This level, about US$16.35 per oz, is the initial resistance versus a Jan 8 price of US$15.65. Silver was poised to breach the 50-month average last year, until the trade-weighted US dollar [index] rallied to a 16-year high."
To this end, he cautioned against a recovery in the US dollar, which he said would thwart silver's recovery. "A continued rally in the US dollar is [silver's] primary headwind. That said, we expect the trade-weighted broad dollar measure to have peaked. So, expect this to be a tailwind," McGlone said in the note.
Another headwind would be the price of gold, he tells Personal Wealth. "We expect gold to break out of the recent, very narrow, caged range higher. This, along with increased US stock market volatility and a peaking of the US dollar [will negatively affect silver prices]."
A severe global economic slowdown would be a primary headwind, although McGlone thinks this is unlikely for 2019.
Other analysts told Bloomberg last month that silver was getting hit on two fronts, as investors were put off by its status as both a safe-haven and an industrial commodity. Additionally, optimism over ongoing US-China trade talks have boosted equities somewhat. This curbed the demand for safe-haven assets. Also, caution over the broader economic outlook has put downward pressure on silver prices.
A multi-year supply shortage could play a decisive role in boosting silver prices in 2019. According to a recent Bloomberg survey of 11 traders and analysts, with miners avoiding new projects amid the global uncertainty, prices could go as high as US$17.50 per oz, up from US$15.36 as at Jan 29.
Robin Bhar, a London-based analyst at Societe Generale SA, told Bloomberg that 26,000 tons of silver is expected to be produced this year — the lowest supply since 2013. This means the global demand for the metal will top supply for a seventh consecutive year.
Singapore Precious Metals Exchange senior vice-president of investments Chris Gan advises investors to look elsewhere for gains this year. "If an investor really wanted to use precious metals as a hedge against inflation or any kind of market uncertainty, his first port of call would be gold, and only then silver, which tends to get attention only during the highs of the bull market," he says.
"Gold is obviously far more expensive to buy than silver. In that sense, the price of gold protects it against speculation, whereas silver tends to be much cheaper and far more volatile. These traits tend to attract speculators.
"But even so, if you look at the way the stock markets are performing, why would an investor buy silver when there are opportunities to buy certain equities at huge discounts right now?"