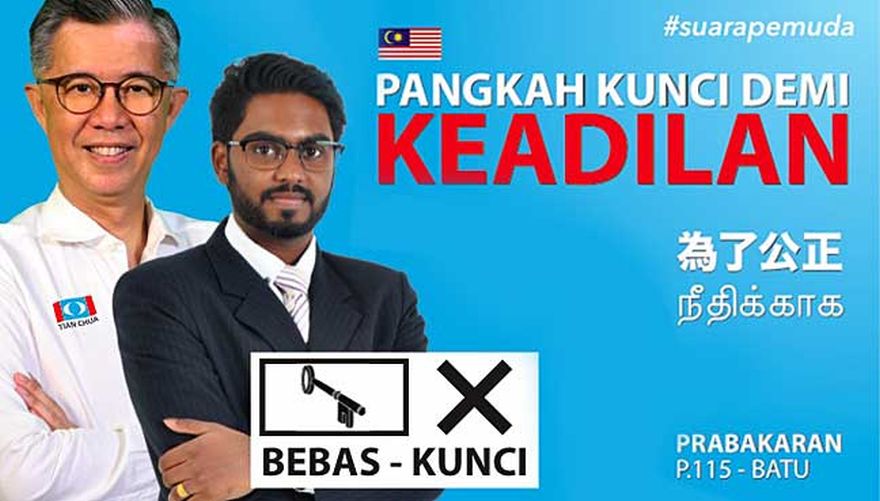 KUALA LUMPUR: P Prabakaran, a 22-year-old law student, will be the one of the youngest Members of Parliament ever if he wins the Batu Parliamentary seat on May 9.
The current record holder is none other than the Prime Minister Datuk Seri Najib Razak himself who won the Pekan Parliamentary by-election unopposed on Feb 21, 1976, five months shy of his 23rd birthday.
Prabakaran, who had signed up as an Independent candidate for Batu on nomination day last Saturday, will be using the key symbol.
In an interview with FMT, he said he had always respected and looked up to the incumbent Batu MP Tian Chua as his mentor.
"My family has been living in the Batu constituency since my birth, and they have been PKR supporters from the start," he told FMT.
Soon after this morning's High Court decision to dismiss Tian Chua's suit to determine if he was qualified to contest in the general election, a photo of the veteran Opposition politician with Prabakaran started circulating in social media.
Tian Chua told reporters that PKR will support Prabakaran to prevent the Batu Parliamentary seat from being won by Barisan Nasional.
"I will now accompany him to introduce him to voters in the constituency," he said, FMT reported.
Tian Chua, who is PKR vice-president, said the PKR leadership had endorsed the move and Prabakaran had agreed to subscribe to the Opposition manifesto.
Tian Chua also said PKR would provide election campaign materials to ensure that voters cast their ballots for Prabakaran.
"A mammoth gathering involving national leaders from Pakatan Harapan will be held within the next five days," he added.
On nomination day, Tian Chua was disqualified by the returning officer on the grounds that he had been fined RM2,000 by the High Court in March for insulting the modesty of a police officer.