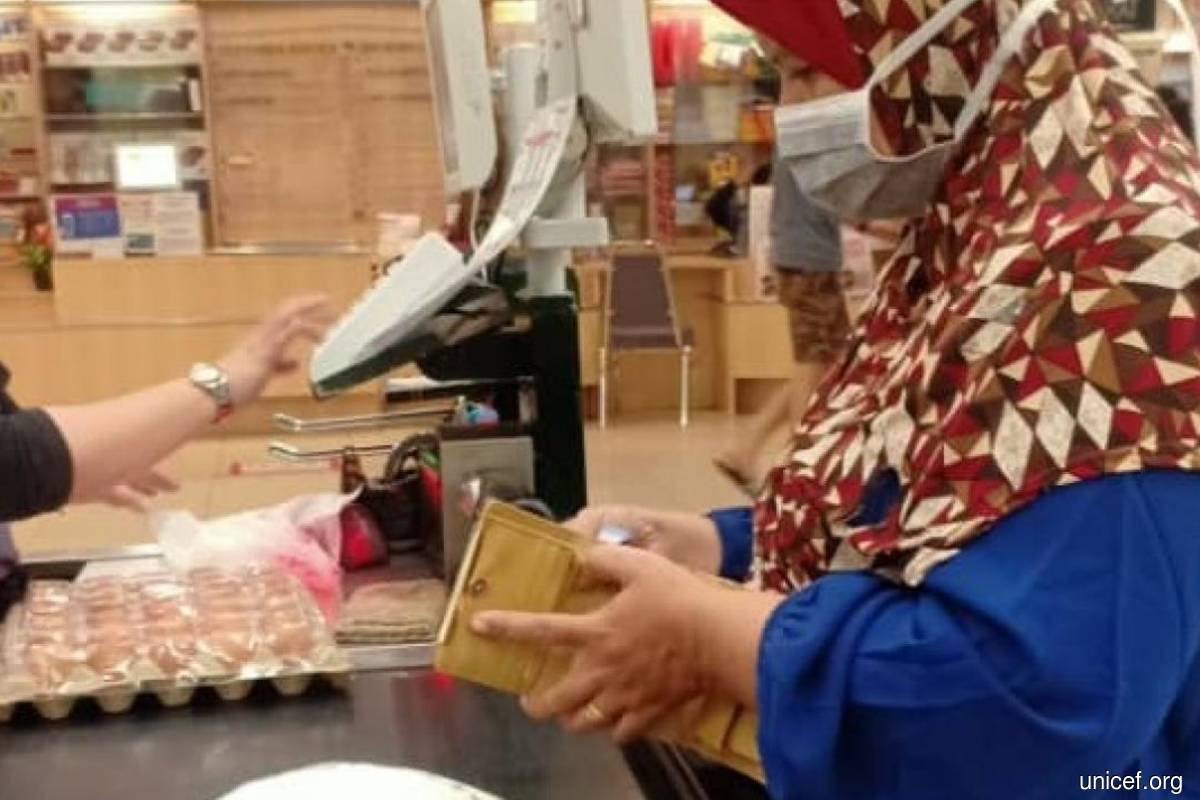 KUALA LUMPUR (Oct 31): Cash transfers from the government are still deemed the most helpful form of aid for low-income households in Kuala Lumpur, more than four months after Malaysia reopened most economic sectors following the end of the movement control order (MCO), the second instalment of a study commissioned by two United Nations (UN) agencies showed.
Some 58% of respondents still deem the Bantuan Sara Hidup (BSH) or Bantuan Prihatin Nasional (BPN) as the most useful aid in September — before the implementation of the conditional MCO (CMCO) in the Klang Valley from Oct 14 — although votes were down from 65% in May. More people now want rental exemptions, cash assistance to informal workers as well as help from the Social Welfare Department, compared to the first survey.
Yet, like in May, many representatives of households living in Kuala Lumpur City Hall Projek Perumahan Rakyat (PPR) low-cost flats surveyed in September also want opportunities to generate better income for themselves and their families, according to the "Families on the edge" report (Part 2) by the United Nations Children's Fund (UNICEF) and United Nations Population Fund (UNFPA) that was conducted in partnership with Malaysia-based public policy research outfit DM Analytics.
"Even before the second CMCO, many were struggling. Therefore, coverage needs to improve. Many Makcik Kiah's don't know there is assistance. Aid should be regular and not in small amounts … they need cash, rental assistance and jobs. They want income-generating opportunities, supplemented by high-quality and affordable childcare support and education," said DM Analytics managing director Muhammed Abdul Khalid.
Among the PPR folks, the need for rental exemption may not be due to the ending of the six-month blanket loan moratorium (which ended on Sept 30, 2020) as it was only deemed useful to 6% of the PPR folks surveyed in September, down from 8% in May.
There is urgency for the government to lend a helping hand — even for simple things like providing their children with face masks. About 40% of all heads of households and 50% of female-headed households found it hard to provide face masks for their children, researchers found.
Seven in 10 of the heads of households told researchers they face difficulties in meeting their essential expenses. About 37% could not buy enough food, while 35% could not pay their bills on time. It is worse for female heads of households, where 40% say they could not buy enough food and 41% could not pay their bills on time, the study showed. Many of the respondents are still reducing their food intake, defaulting on rental payment and pawning their valuables to cope with reduced income.
Many low-income households may be under greater financial pressure now than during the MCO itself, especially among those whose income did not recover after the MCO, who have depleted their savings and no longer have any valuables to pawn.
"These are hardworking people — many do two to three jobs," he said, relating how one lady still turned up for work even though her husband just suffered a stroke. "[For] many of [them] their income is still down from pre-Covid-19 [levels] because the economy has not fully recovered, therefore cash assistance is still needed. There is no evidence of them misusing the cash … they want money to better provide for their family. They care about their children's education," Muhammed said.
"Despite various colossal challenges, the resilience of these families is truly inspiring. Don't forget that they only received one-off assistance from the government in the past six months. The maximum cash assistance was RM1,600 per family, and that average out to about RM260 per month — or about 10% of their monthly income pre-crisis. This is too small. We can afford to spend more," he told The Edge.
The PPR folks' desire for access to better income-generating opportunities, including cash to start their own business, can also help bring down their high unemployment level. "What we find rather unexpected is the level of unemployment in the community. Among the adults, about one in three are not working, especially among young adults. This is a serious issue which can lead to social unrest if not addressed urgently," Muhammad said.
Stephen Barrett, UNICEF Malaysia's chief of social policy, said the findings in the second instalment of the study continued to point to the need for "a robust policy to support families", one that also "reflects the dignity and aspirations that they have". Aid should not be just handouts but programmes that allow social mobility to happen, he added.
Muhammed, who does not like the word 'handout', asks that financial assistance be seen as an investment in human capital and the economy. "It is an investment. Most of them spend it on their children and the spending goes into the local economy, and that is good for the economy."
A total of 500 heads of households in 16 of the 56 PPR flats in Kuala Lumpur were interviewed between Sept 1 and Oct 7 for the socio-economic portion, while 50 households were interviewed between Sept 1 and 22 for the general well-being portion. 
The 500 households had 5.7 members each on average, and 2,832 members in total — 41% or 1,155 of which were children (2.3 children per household on average). About 60% of the households have at least one person with disabilities or chronic illness (46% diabetes and 35% high blood pressure), while 28% of the households have three generations and 11.2% have grandparents as heads of households.
Due to the difficulties in retaining all previous respondents, only "about 60%" of the households are the same as the 500 heads of households interviewed between May 27 and June 8 for the socio-economic portion in the first instalment of the study (released on Aug 24, 2020).
Designed to reflect 61,713 households in low-cost flats in Kuala Lumpur (with a 4.36% margin of error at a 95% confidence level), the second report continued to weigh the relevance, adequacy and accessibility of key Covid-19 mitigation policies and other critical social services for the vulnerable groups by analysing key changes in the people's lives after the MCO, with a focus on circumstances that affect children, single mothers and persons with disabilities.
The third survey, which will commence in the third week of December, will cover the reimplementation of the CMCO in the Klang Valley. "In the next survey, we want to focus more on informal workers," Muhammed said.
Read also:
Aid needed urgently for urban poor's recovery from COVID-19
Budget 2021, 12MP need to lift children of the urban poor out of poverty
Many low-income PPR folk don't know what aid is available — UN study 
It just takes RM900 a month to lift urban poor out of absolute poverty
PPR folks not rich, though 11% earned over RM5,000 pre-Covid-19 — UN study
Some PPR folks paying higher rents than DBKL rate — UN study