This article first appeared in The Edge Malaysia Weekly, on July 6, 2020 - July 12, 2020.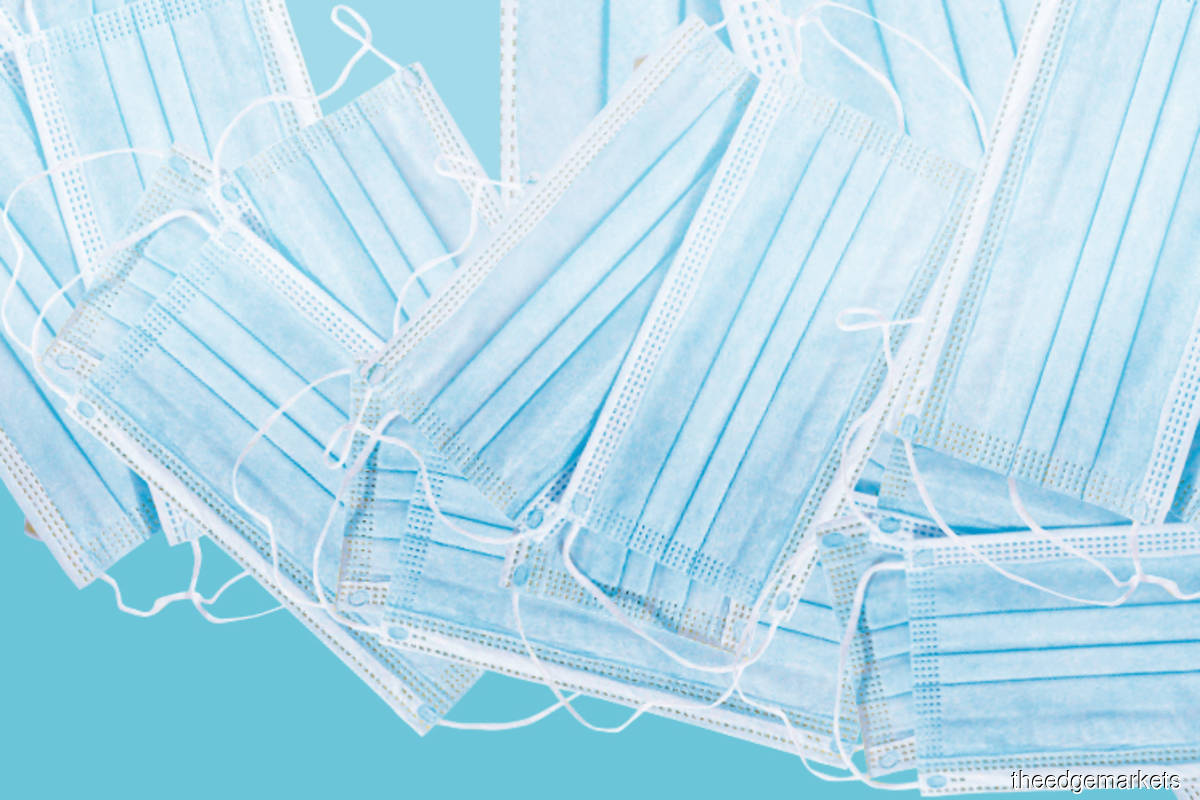 SINCE the Covid-19 outbreak in Wuhan, China, early this year, local companies from various industries have been jumping on the personal protective equipment (PPE) bandwagon in a bid to grab a slice of the market.
The manufacturing of face masks has attracted greater interest given that daily usage is high.
Margins are attractive; with gross profit margins running into double digits, according to new players. Notion VTec Bhd puts it at more than 30%.
Another plus point is the relatively low barriers to entry. However, it can cut both ways in that other players can also jump in, heightening the competition.
Companies that have entered the segment are varied. They include manufacturers of precision-machined components, and those in the plastics extrusion, packaging machinery, self-adhesive label making and even property development industries.
How are they faring?
Early last month, Notion VTec commenced face mask production with four lines. Executive chairman Thoo Chow Fah says four more lines will be added early this month, which will boost output to 20,000 pieces a month.
"We are a precision-machined components company, so we understand things," he tells The Edge, adding that Notion VTec handles most of the machines itself but enlists consultants "for some chemical things".
Thoo points out that as the company also produces the melt blown fabric used for the masks, its manufacturing cost is lower given that the fabric accounts for 80% of the total cost. He puts the gross profit margin for face masks at over 30% — a more than decent margin by any measure.
Currently, Notion VTec supplies face masks to the local market but has received enquiries from North Asia, Europe and the US. The company has spent RM10 million on its new venture but has dropped plans to diversify into medical ventilators because of the relatively smaller market. "The ventilators are only [used] in hospital ICU units and (are) very expensive with small volume. A ventilator costs around US$50,000."
Property developer and tourism player Iconic Worldwide Bhd is undertaking production trials and targets to begin operations this month with an output capacity of two million to three million 3-ply face masks a month, gradually increasing to five million pieces. It aims to produce one million N95 disposable surgical masks a month.
Iconic made an initial investment of about RM2.8 million — funded internally — in the business, covering renovation of manufacturing facilities, as well as the purchase of machinery and raw materials.
"We are currently hiring staff with experience, technical skills and the requisite expertise to manufacture the face masks. As the manufacturing process is highly automated, we will initially engage the services of professionals to guide and train local employees on the entire manufacturing process and provide the necessary technical support in the handling of the machinery. We will also be utilising our existing staff in this new business venture," says managing director Datuk Tan Kean Tet, who is looking to achieve a double-digit profit margin.
SCGM Bhd managing director Datuk Seri Lee Hock Chai is also targeting double-digit gross profit margins for both face shields and face masks.
"The PPE venture complements the company's F&B packaging-driven financial performance. In the past year, we have been reducing our concentration on high-volume non-customised general products (lunchbox and plates), but focusing on higher-margin customised products for local and export markets," he explains.
SCGM had earlier fully transferred its operations from its old plant to new and larger premises in Kulai, Johor, in preparation for capturing a larger share of the regional market.
"With over 600,000 sq ft of built-up area in the new premises (from 264,000 sq ft previously), the group has more than sufficient space to not only produce PPE but also increase production capacity, if it is deemed necessary.
"To produce PPE, the group has repurposed an existing production line for face shields and added new ultrasonic welding machines for face mask production," says Lee.
SCGM produces up to 21,000 face shields a day and one million face masks per month. It has allocated RM1.0 million in capex through internally-generated funds for the purchase of new machinery.
Lee sees the company's venture into making face shields as a natural extension of its plastic extrusion expertise. "Furthermore, our versatile plastic manufacturing expertise enables us to improve the quality of PPE. For example, we are able to include (an) anti-fog layer in our face shields."
Packaging machinery and self-adhesive label maker Komarkcorp Bhd has yet to get its face mask manufacturing segment off the ground as it is still in the preparatory stages, identifying raw material suppliers and obtaining certification.
Chief operating officer Koh Chie Jooi maintains that the company is not aiming for short-term gains but more of long-term sustainability with good brand recognition.
"We have to admit that we have already passed the peak [of the PPE boom]. Those people who rush for the market right now [are doing it] for short term [gains], but we're working more with the certification. We might lose the battle right now, but we want to win the war," he tells The Edge in an interview.
"The goal is not to produce face masks immediately; we want to make sure our masks are up to certain standards … to give assurance to consumers that they are of good quality."
Competition is expected to get more intense as a number of locally listed entities have also announced plans to enter the PPE fray. They include Xidelang Holdings Bhd, Ni Hsin Resources Bhd, Caely Holdings Bhd and Pecca Group Bhd.
Komarkcorp has yet to get off the starting block but it expects its operations to only kick off in the second half of this year or first half of next year.
The initial stage will involve six production lines that can produce about 104.4 million 3-ply surgical face masks and 24 million KN95 face masks per annum. They will be targeted at both the local and international markets.
Over the next two years, it plans to establish up to 30 production lines, with an annual production capacity of up to 522 million 3-ply surgical face masks and 120 million KN95 face masks.
The new business, which will be funded by a proposed RM15.54 million private placement exercise, is projected to contribute 25% or more to its net profit.
Chie Jooi believes there is great synergy between Komarkcorp's label printing and face mask manufacturing businesses in the areas of manufacture and supply in particular and, as such, the same team will handle the new venture as well.
"Some of the innovation in printing can apply and add value to face masks," he observes.
Komarkcorp has been in the label printing industry for 40 years with plants in Thailand, Indonesia, Singapore and Malaysia, and counts multinational companies Coca-Cola, Shell, BP Castrol and Johnson & Johnson as its clients.
Chie Jooi is comfortable with the raw material prices at present. "Raw material prices went up in March, but right now, it's quite stable. We source raw materials from various countries, including Malaysia, China and Taiwan. Because of the MCO (Movement Control Order), our choices are quite limited at the moment, but our plan is to also source from South Korea and Japan for good-quality raw materials."
Although Chie Jooi would not reveal the "ideal profit margin" for the new products, he says calculations on raw material prices and margins have convinced the company that the segment is feasible.
"I would say it is reasonable for us to continue with our R&D," he says of the new business, which is forecast to contribute 5% to 10% to group revenue this year, before increasing to 50% in the long term.
Komarkcorp founder's major share sell-off raises eyebrows
As such, the market was caught off-guard by news that Komarkcorp founder and executive chairman Koh Hong Muan @ Koh Gak Siong and Chie Jooi had ceased to be substantial shareholders of the firm. Hong Muan is Chie Jooi's father.
A total of 40.88 million shares, or a 19.88% stake, were disposed of at 40 sen each to Fintech Global Bhd on June 30.
When contacted by The Edge, Chie Jooi assures that he would remain on the board.
"My father has been thinking about that [the exit] for some time. He is 72 years old and he kept telling us about his retirement plan," he explains.
Chie Jooi adds that the company will be managed professionally going forward with new board members.
Filings with Bursa Malaysia show that independent directors Tan Lay Ching and Low Tuck Meng resigned on the same day "to pursue other interests".
Key Alliance Group Bhd managing director Roy Ho Yew Kee has been appointed as an independent director. He also sits on XOX Bhd's board as executive director.
Unfazed by face mask glut
NOT only are there concerns about an oversupply of face masks as companies all over the world jump on the manufacturing bandwagon, a large number of Chinese mask manufacturers have already filed for bankruptcy, underscoring the cut-throat nature of the competition.
Komarkcorp Bhd chief operating officer Koh Chie Jooi acknowledges that there has been a supply glut in the face mask segment in general but maintains that there is no oversupply of quality face masks.
"If you see online purchases, you definitely see an oversupply in face masks. Nobody knows what kind of masks they are buying. But I don't think there is an oversupply in quality face masks."
Koh says China can produce a huge volume of masks but the quality and certification of its products have come under scrutiny.
"So, it's where we come in. We want to produce masks where people feel that when they see our brand, they can be assured that these come from the right source."
Komarkcorp aspires to be one of the biggest face mask manufacturers in the world.
"Right now, Malaysia is the best in gloves and condoms. I don't see why we can't be the biggest player in the face mask segment. There are not many competitors in the making of good quality masks," Koh asserts.
Notion VTec executive chairman Thoo Chow Fah concurs, saying that people are quite reluctant to accept China-made masks.
AFP reported that China had confiscated over 89 million poor-quality face masks in April following complaints.
To eliminate poor-quality products, China came out with new rules stating that even non-medical masks must meet both national and international quality standards. Exporters are required to file a written declaration that their medical products meet the safety requirements of the destination country.
Iconic Worldwide Bhd managing director Datuk Tan Kean Tet does not foresee a face mask glut as wearing a mask has become the norm. "We target to market our disposable face masks domestically at (an) early stage, to businesses or companies involved in the construction, manufacturing and hospitality services sectors and those who are involved in managing and handling food products."
The second stage will be obtaining necessary ISO certification for its manufacturing facilities, CE endorsement and EN14683 medical-grade face mask certification to enable it to export to Asian and European markets.
SCGM Bhd managing director Datuk Seri Lee Hock Chai anticipates continued demand for both face masks and face shields before a vaccine is found. "As such, we believe there is a big enough pie for everyone to participate in as the war against Covid-19 is not over yet. In any case, the total capex to produce face shields and face masks is minimal."
Are share prices running ahead of fundamentals?
SHARE prices of companies venturing into the PPE segment have soared, but are better earnings forthcoming?
Should earnings from the new business come in slower than expected, will current valuations be justified?
It is worth noting that some companies were in the red when they announced the new venture.
Currently, SCGM Bhd is trading at a relatively higher price-to-earnings ratio (PER) of 22 times, Pecca Group Bhd, 14 times, Notion VTec Bhd, around 13 times, and Xidelang Holdings Ltd, 5.7 times.
Kenanga Research head Koh Huat Soon says the valuations of these companies are very much dependent on how they carry out their plans. "It boils down to how much they can get from the venture and how long it will take them to realise that, as any business venture takes time to generate returns," he tells The Edge, adding that it is important that the companies can "comfortably fund" the new venture in terms of finances and resources.
He observes that some retail investors only react to news flow rather than seriously consider a company's investment and business plans. "Because this market has been dominated by retail investors, sometimes these are momentum players who [tend to] look at short-term [gains]."
"If you are convinced that this venture could generate meaningful growth for this company, then the PER you put to value the company will be high," he says, adding that as barriers to entry are low for face mask manufacturing, an oversupply situation cannot be discounted.
Areca Capital CEO Danny Wong says it is difficult to analyse the valuations of these companies as it depends on how much the new venture contributes. "You cannot just look at PER to value a company because there are too many variables at this moment, especially this year when you have to ignore one or two quarters' earnings."
He highlights the importance of having synergy between a company's core business and face mask manufacturing.
"If it aligns with the existing business synergistically, then I am pretty okay. If the new operation requires more cost and capital requirements, then (you) have to be careful," he adds.
Komarkcorp chief operating officer Koh Chie Jooi concedes that he is banking on the new business to reverse the company's losses. Even though it has been in the red in the past four years, with a wider net loss of RM10.8 million for the financial year ended April 30, its share price has jumped 68.6% year to date.
"We certainly hope so [to turn around with the new venture]. We trust that the business could bring the company back to the black. If you see the results, our printing side is quite competitive. It's time to use our know-how and experience in the face mask segment," says Chie Jooi. He believes "there is still a big market for medical devices and bigger opportunity than the printing industry".
Notion VTec executive chairman Thoo Chow Fah hopes the healthcare segment can more than offset the drop in its automotive segment, which has been hit by the weak economy and pandemic fears.
"The July-September quarter should be okay; we should be able to see results from the healthcare segment. Orders are encouraging. I won't invest if I don't have the orders."
For the six-month period ended March 31, 2020, Notion VTec swung to the black, registering a net profit of RM10.41 million against a net loss of RM6.36 million in the previous corresponding period.
YTD, the stock has declined 35.4% due to the adjustment for a one-for-two bonus exercise. But it has gained noticeably from a low of 42.5 sen in mid-March.
YTD, shares of Ni Hsin Resources Bhd, another company that recently began manufacturing PPE, and SCGM have gained 63.3% and 27.3% respectively.