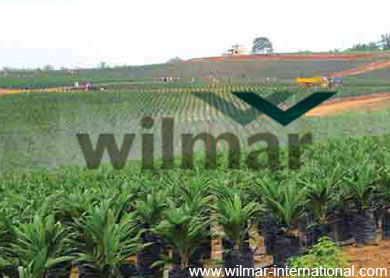 SINGAPORE (Oct 17): Wilmar International Ltd , the world's largest palm oil processor, could take longer than expected to convince small suppliers to comply with its push to be greener, its chief sustainability officer said.
Wilmar's "No Deforestation, No Peat, No Exploitation" policy was lauded when announced in December as a step toward a more sustainable industry. But small oil palm plantations in Malaysia and Indonesia fear the policy prevents them expanding into land Wilmar deems environmentally unsuitable.
"It is extremely difficult to first of all convince smallholders to come onboard," Jeremy Goon said at the Reuters Global Climate Change Summit. "The first time we went to meet them, no one showed up."
The Singaporean company processes nearly half of the world's palm oil for use in products ranging from biofuel to cooking oil to cosmetics. But practices at plantations such as clearing land through burning have depleted forests and caused smoke haze across Southeast Asia.
Wilmar has since met all of its suppliers in Malaysia and the majority in Indonesia who have until the end of 2015 to agree to the company's new policy or risk losing its custom.
"The actual implementation when it comes to the smallholder element could take longer, but we have every intention to try to keep to our time lines," Goon said at the summit.
Incentives
Wilmar estimates smallholders, or farmers of plantations less than 50 hectares (123.55 acres), account for about 40 percent of global palm oil production. Of all palm oil, 85 percent comes from Indonesia and Malaysia, according to industry body Roundtable on Sustainable Palm Oil.
Myriad laws and regulations as well as complex political and social environment of various regions of the two countries only complicate the challenge of engaging with farmers, Goon said.
The company has turned to offering incentives to adhere to sustainability requirements such as clearing new land through means other than burning, and not developing on woodland of high conservation value. That effort is gaining momentum, Goon said, declining to detail the incentives.
Bad Name
Indonesia is the world's biggest palm oil producer. But according to a study in the journal Nature Climate Change overtook Brazil in 2012 to become the country with the highest rate of deforestation.
Palm oil companies have often been criticised in the past for not doing enough to stop rampant deforestation, the destruction of carbon-rich peat land, and an annual haze problem caused by slash-and-burn land clearance.
"For the industry to thrive and consolidate and become better, and certainly have a better name, this needs to be done," Goon said, referring to Wilmar's green push.
The debate about the environmental impact of palm oil production is the most intense in Europe, and some companies there have opted for other oils just to avoid controversy, he said.
Goon said momentum towards greener palm oil policies is increasing, and has been given a boost by a United Nations summit last month on climate change.
At the summit, Wilmar and peers Golden Agri-Resources Ltd , Cargill Inc and Asian Agri, together with the Indonesian Chamber of Commerce and Industry, signed an Indonesian Palm Oil Pledge highlighting commitment to sustainability and calling for regulatory reform.
"It is so critical that that needs to be done," Goon said referring to regulatory reform. "Without that, it's going to be very, very difficult to implement a lot of these (sustainability initiatives)."