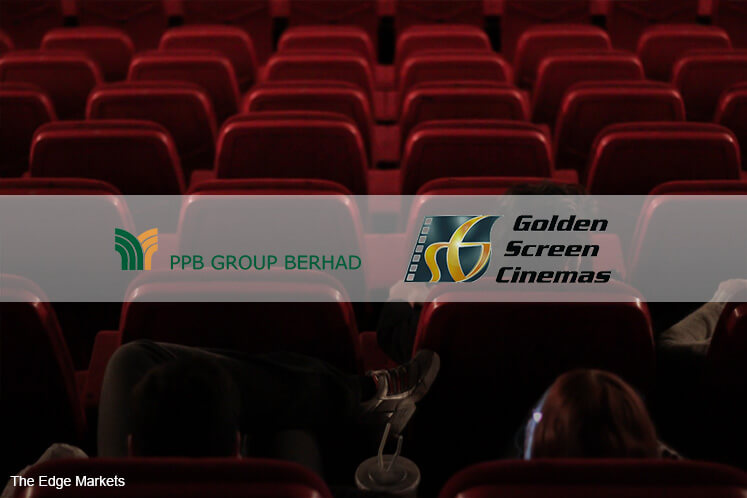 KUALA LUMPUR (March 3): PPB Group Bhd today dispelled speculation that it was going to sell off its Golden Screen Cinemas Sdn Bhd (GSC), stressing that it has plans to expand the cinema business instead.
And of its planned capital spending of RM401 million this year, over half or RM215 million of that will be used to expand its film exhibition and distribution arm, it said. The segment contributed 11% or RM468 million to the group's revenue in the financial year 2016 (FY16).
PPB managing director Lim Soon Huat told reporters today that the group is not seeking bids for GSC. "An initial public offering is also not in our current plan.
"There were a lot of merger and acquisitions in terms of cinema and entertainment [last year]. After the media coverage [seen], we were not surprised that GSC was a target of acquisition," Lim said.
"But we are not selling GSC. We are the No. 1 cinema operator in Malaysia. GSC is one of the core businesses in PPB group. We have nine cinemas in our pipeline," he added.
With the capital commitment, PPB is set to open three new GSC branches comprising 39 screens this year, with six new cinemas in Vietnam totalling 38 screens via its 40%-owned Galaxy Studio JSC.
The group will also add three more screens to its existing GSC Summit in Petaling Jaya.
To date, GSC has 306 screens in 33 locations, while Galaxy Studio has 43 screens in seven locations.
The proposed expansion will bring the GSC's total to 348 screens in 36 locations, with Galaxy Studio having 81 screens in 13 locations.
The expansion in Vietnam will utilise cash flow from Galaxy Studio's operations, said PPB head of corporate affairs Koh Mei Lee. "There will be no more capital injection from PPB," she said.
For FY16, PPB's film exhibition and distribution unit recorded a 10% decline in profit to RM59 million from RM66 million in FY15 — despite an 8% year-on-year growth in revenue — due to lower contribution from film distribution and loss on US dollar-denominated loans.
Going forward, GSC plans to open its first branch outside Malaysia in Cambodia, with a nine-screen cineplex, pending the completion of its talks with the landlord, Koh added.
"Our mission with GSC will continue to be driven by new locations. We have stronger movie titles this year compared to 2016," she said.
PPB's other capital commitments include RM138 million for its flour business, mainly to develop two 50 metric tonnes/day flour mills in Johor and Vietnam.
"The funding for grains and agribusiness will mostly come from loans drawn up by our Indonesian and Vietnam subsidiaries," Lim said, adding that the facilities will be commissioned in July this year.
PPB's upcoming plans include a RM500 million mixed-development project on its land in Taman Megah, Petaling Jaya, beginning in the second half of this year.
"We have received more enquiries… we are more optimistic compared to six months ago. Buyers will come back, because they were just at the sidelines," Lim said, when asked about PPB's outlook on its property business. PPB has unbilled sales worth RM190 million from its developments in Johor and Penang, he said.
Meanwhile, its environmental engineering and utilities unit's order book stood at RM160 million. "We are pursuing five, six water and sewage treatment projects worth RM600 million," added Lim, saying the group is confident of securing over half that value of jobs.
PPB shares closed 1.55% or 26 sen lower at RM16.54 today, for a market capitalisation of RM19.63 billion.