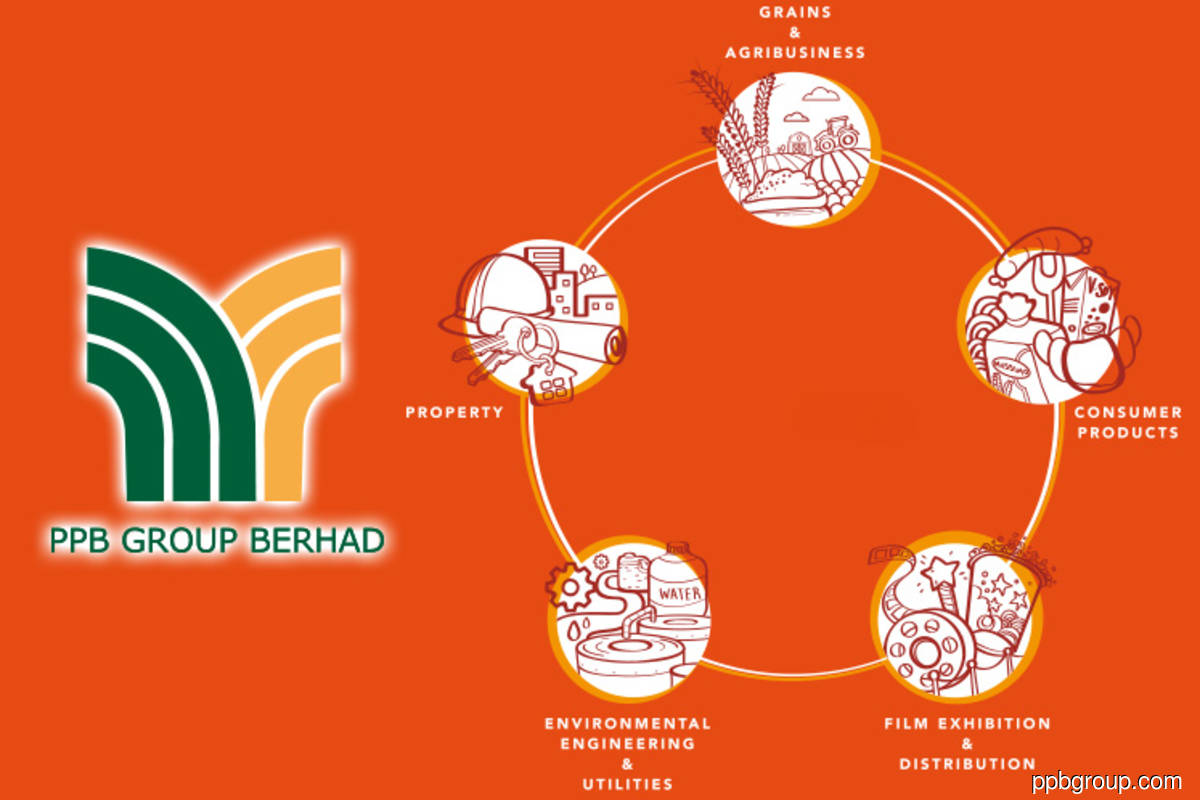 KUALA LUMPUR (Sept 4): PPB Group Bhd, whose net profit for the first half of financial year 2020 (1HFY20) grew 27% year-on-year, expects its financial performance to remain resilient in 2HFY20, supported by its grains and agribusiness, as well as its consumer products segment.
PPB group managing director Lim Soon Huat said the grains and agribusiness segment, which had to contend with volatility in grain prices and foreign exchange rates in 1HFY20, was not significantly impacted by the Covid-19 pandemic, as it is in the production and distribution of essential food products.
This segment, which is the largest revenue contributor to PPB, is expected to continue to perform satisfactorily in 2HFY20, he told a press and analyst briefing here today.
Second in line in terms of revenue contribution is consumer products, followed by film exhibition and distribution, environmental engineering and utilities, and property.
The consumer products business is expected to maintain sales growth momentum by focusing on food services and other channels via the e-commerce marketplace, Lim said.
PPB's net profit for the second quarter ended June 30, 2020 (2QFY20) more than doubled to RM332.73 million from RM159.98 million a year earlier, boosted by the performance of its 18%-owned associate, Wilmar International Ltd, and its agribusiness segment.
The stronger 2QFY20 performance pushed up the group's net profit for 1HFY20 to RM520 million from RM408.42 million a year earlier.
PPB is now in the midst of constructing a new wheat flour mill at its factory in Northern Vietnam, said Lim, which can churn out 500 metric tonnes per day. Costing an estimated US$19.7 million, the new mill is expected to be completed in the third quarter of next year.
The group is also setting up a new RM22 million production facility in Pulau Indah to be dedicated to halal-certified frozen food, which will be marketed both locally and around the region. The facility is expected to be ready by the first quarter of next year.
On the other hand, the group's film exhibition and distribution business — which owns and operates the Golden Screen Cinemas (GSC) and posted a loss for 1HFY20 due to the Movement Control Order — is expected to continue to be affected by the Covid-19 pandemic, while most movie title releases have been deferred to 2021.
The cinemas are currently operating at just half their capacity, said GSC group chief executive officer Koh Mei Lee, who was also at the briefing. However, the group is working to obtain approval from the government to return the cinemas to full capacity as the Covid-19 condition improves, said Koh.
"We have observed that most of the major markets worldwide had reopened their cinemas by July and August. So, with more markets reopening, I'm confident we will be able to resume [normal operations soon].
"We launched Tenet last week, which had a good response, and Mulan is being released today. Furthermore, we're expecting a few more big movies to be released in [4QFY20], such as Wonder Woman and Black Widow," said Koh, adding this should be able to kick-start the industry's return to normalcy.
Meanwhile, GSC plans to continue to develop revenue diversification initiatives for the remainder of this year to optimise the use of its existing assets, as well as launch a loyalty programme that lets moviegoers convert points accumulated from their purchases into rewards.
In terms of expansion plans, Koh said these have been deferred to 2021 due to the pandemic. GSC is allocating RM60 million to set up new outlets in 2021, as well as to upgrade existing cinemas. "These will be at very strategic locations. One will be in Bukit Bintang City Centre, another in Sunway Iskandar and IOI City Mall," she said.
At the time of writing, PPB shares were trading 18 sen or 0.96% lower at RM18.58, giving it a market capitalisation of RM26.37 billion. Year to date, the stock is down a marginal 1.27% from RM18.84.