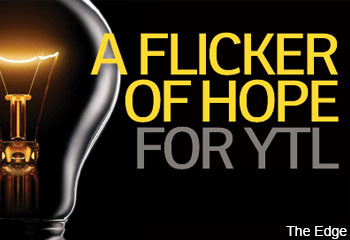 KUALA LUMPUR: YTL Power International Bhd may stand to benefit from a potential power crunch in the country as the Energy Commission (EC) considers renewing power purchase agreements (PPAs) to avoid any power shortage due to delays in the completion of Malakoff Corp Bhd's 1,000mw coal-fired plant in Tanjung Bin, Johor.
EC chief executive officer Datuk Ahmad Fauzi Hasan told reporters after the Asean Power Week's opening ceremony yesterday that the regulator has contingency plans in place for unforeseen circumstances that reduce the country's power supply.
"We have to look at short-term [extensions] of some of these plants that are due for retirement. We may extend (the PPAs) for one plant for one or two years," he said, adding that the government has already done so for plants owned by Tenaga Nasional Bhd (TNB).
Ahmad Fauzi acknowledged that Malakoff's upcoming coal-fired plant has been delayed, but stressed that the country would not face any electricity shortage due to the contingency plans that are in place.
"We [also] have a long-term generation plant-up plan until 2030 and according to this plan, we will have about 20% to 25% of reserve margin. So we won't be facing shortage of electricity," he said.
At this juncture, Ahmad Fauzi said the reserve margin, or the difference in output capacity and demand, is about 25%, which he described as "optimum capacity".
In The Edge weekly report dated from Sept 8 to 14, TNB's vice-president of regulatory economics and planning division Datin Roslina Zainal said Malakoff has notified the EC that it faces a delay of six months to a year in the construction of its 1,000mw coal-fired plant. The Tan Sri Syed Mokhtar-owned power player's plant was initially due to operate in March 2016.
Another plant, the 2,000mw coal-fired Jimah East awarded to 1Malaysia Development Bhd (1MDB), may also have problems meeting its operation dates — Phase 1 is set to start in October 2018 and Phase 2 in April 2019.
Should the regulator decide to go through with the plan to extend the PPAs, Tan Sri Francis Yeoh's (pic) YTL Power seems the most likely choice as the PPAs for its gas plants (a 1,000mw plant in Tanjung Bin and another 400mw plant in Pasir Gudang) are set to expire next September.
Another option would be Powertek Sdn Bhd's 440mw Teluk Gong Power Station 1, which is due in January 2016.
However, the Ananda Krishnan-controlled Powertek's plant is an open-cycle type and less efficient than combined cycle types like YTL Power's. Moreover, Powertek's capacity is also much less than Malakoff's.
If the extension materialises, it would be a reprieve for Yeoh, whose previous comment about Malaysia breeding a culture of crony capitalism seems to have cost YTL Power a slice of the new power plant projects being dished out.
YTL Power was previously part of a consortium with SIPP Sdn Bhd and TNB that was directly awarded the right to develop the Track 4A plant. The project was expected to give YTL Power a chance to stay in Malaysia's IPP business.
But after the backlash Yeoh received from urging the country to purge itself of its crony capitalism culture, with former premier Tun Dr Mahathir Mohamed himself hinting that Yeoh was one of them, YTL Power backed out from the consortium.
Meanwhile, Deputy Minister of Energy, Green Technology, and Water Datuk Seri Mahdzir Khalid, who officiated at the event, said studies on the feasibility of nuclear energy for the country are ongoing, and may take another year or two to complete.
This article first appeared in The Edge Financial Daily, on September 11, 2014.