This article first appeared in The Edge Malaysia Weekly, on March 29, 2021 - April 04, 2021.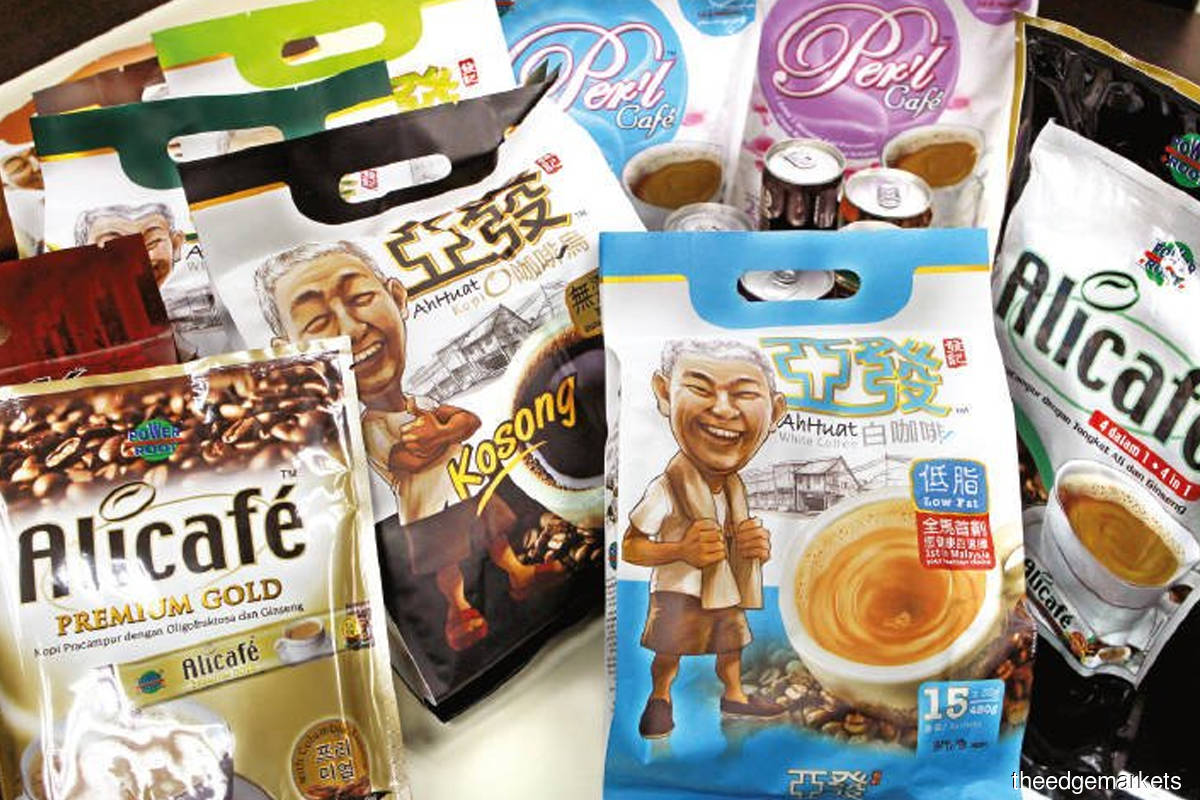 DESPITE recording a decline in earnings for the third quarter of its financial year ending March 31, 2021 (3QFY2021), Power Root Bhd still commands a "buy" call.
A check on Bloomberg shows that three out of four brokerages covering Power Root have a "buy" call on the stock, with an average target price of RM2.15, or an upside of 21% to its closing price of RM1.77 last Tuesday.
The group is involved in the fast-moving consumer goods sector, with brands such as Alicafé, Per'l Café and Ah Huat White Coffee in its product range. It reported a 46% year-on-year decline in net profit to RM7.05 million in 3QFY2021, on the back of a 20% decline in revenue to RM80.6 million.
For the cumulative nine-month period (9MFY2021), Power Root saw a 32% y-o-y decline in its net profit to RM26.23 million; revenue declined 17% y-o-y to RM244.2 million. Power Root attributed its decline in revenue and profitability to an overall decrease in both local and export market revenue.
This is in contrast to the group's performance in FY2020, when it achieved its highest-ever net profit in its corporate history — RM51.7 million. The group's market capitalisation also surged past RM1 billion for the first time ever, in May last year. Its market cap has since dwindled to RM748 million last Tuesday.
What the analysts say
RHB Research, in a Feb 26 note on Power Root, says the company's local and export markets were disrupted by the Covid-19 pandemic and ensuing lockdowns.
RHB expects sales recovery to continue, however, in the quarters ahead, following better containment of the pandemic and mass vaccination plans in place.
It says: "That said, earnings growth is likely to stay muted in the next one or two quarters, as recovery would be gradual. Essentially, we view Power Root as a good proxy to capitalise on a post-pandemic global demand recovery.
"This is considering its established brand names in the domestic and export markets, aside from its quality product offerings. On top of that, the company's fundamentals remain solid with a sturdy balance sheet, paving the way for a generous dividend payout, with the stock offering yields of 6% to 7% over the next two years."
RHB has a "buy" call on Power Root, with a target price of RM2.38, an upside of 34% to its closing price of RM1.77 last Tuesday. At RM1.77, its indicated dividend yield is 4.5%.
Meanwhile, CGS-CIMB Research says Power Root's weaker 9MFY2021 results were due to higher raw material prices and a spike in marketing expenses.
Nevertheless, the brokerage expects Power Root to record stronger results from 4QFY2021, backed by a recovery in demand for its products in tandem with the pickup in business activity globally, ongoing cost optimisation efforts and lower marketing expenses.
"In addition, we believe Power Root's ongoing efforts to launch new products (packaging, variants and flavours) and penetrate new markets such as China and Egypt will boost its sales," the brokerage says.
CGS-CIMB has an "add" call on Power Root, with a target price of RM2.36, an upside of 33% to last Tuesday's closing price.
AmInvestment Bank in a Feb 26 note on Power Root upgraded its call on the stock from a "hold" to a "buy", with a fair value of RM2.06.
"We believe the 33% fall in Power Root's share price from its high of RM2.63 in June 2020 has already reflected the group's logistics woes in the non-GCC (Gulf Cooperation Council) markets. At an FY2022 forward price earnings of 15.4 times, we reckon that Power Root is attractive," the brokerage says.
However, Kenanga Research in its Feb 26 note on Power Root says it remains cautious about the company's near-term outlook, as the resurgence of Covid-19 cases locally and higher taxes in the Middle East are likely to exert further pressure on the group's profitability.
That said, the brokerage adds that any weakness in profitability should be partially cushioned by relatively inelastic coffee demand and controlled margins from the group's continuous business transformation plan to achieve greater cost efficiency by driving rationalisation exercises for its distributorships, sales force and factory operations.
"We also gathered that the group has been strengthening its online presence by setting up flagship stores at high-traffic e-commerce sites, aiming to cater for changing consumer shopping patterns," Kenanga says.
The brokerage maintained its "market perform" call on Power Root, with a target price of RM1.80. While it is concerned about near-term uncertainties that may impede the group's profitability, it still likes Power Root for its solid balance sheet and inspiring dividend yield of 6%.
A quick look at the company's balance sheet as at Dec 31, 2020 shows it is in a net cash position, with total cash and bank balances of RM88.95 million and negligible total borrowings of RM792,000.
What Power Root says
The imposition of a 50% excise tax on sugar-sweetened beverages in the UAE from January last year, along with the hike in value-added tax in Saudi Arabia from 5% to 15% effective last July, has affected sales to the Middle East, a Power Root spokesperson tells The Edge.
The spokesperson explains that sales to Saudi Arabia and the UAE have declined 30% to 35% y-o-y so far this financial year.
Locally, the group announced in January that there would be a voluntary one-week halt to its instant powder production facility in Masai, Johor, from Jan 25 to Feb 1 to facilitate the commencement of sanitisation works, after an employee was tested positive for Covid-19 on Jan 24.
The halt, coupled with the Movement Control Order implemented in a few states, including Johor, from Jan 13 is not expected to have material impact on the group's operations this year — not, at least, on local sales, which contributed RM118.48 million, or 49%, of group revenue in 9MFY2021.
"While the halt is expected to result in the deferment of shipment to export customers, the group foresees no major disruption in supply to the market by utilising outstanding stocks to fulfil sales orders for its domestic market," the spokesperson says.
The spokesperson adds that Power Root expects a better set of financial results in FY2022 than in FY2021, driven by the opening of borders; the return to normalcy, depending on how effective the vaccination programmes are; the ability of its operations to run efficiently without restrictions; and the continuous improvement in its operations, from the factory floor to its supply chain and sales and marketing divisions.
Last Monday, the group announced the passing of its executive deputy chairman and co-founder Datuk Low Chee Yen, at 46. With more than 20 years' experience in the food and beverage industry, Low had been instrumental in the group's functional instant beverage segment and the setting-up of Power Root (M) Sdn Bhd and Power Root Marketing Sdn Bhd. He was one of the group's largest shareholders, with an 11.4% stake.
So far this year, Power Root shares have fallen 11% to RM1.75 last Wednesday, giving it a market capitalisation of RM739.5 million.