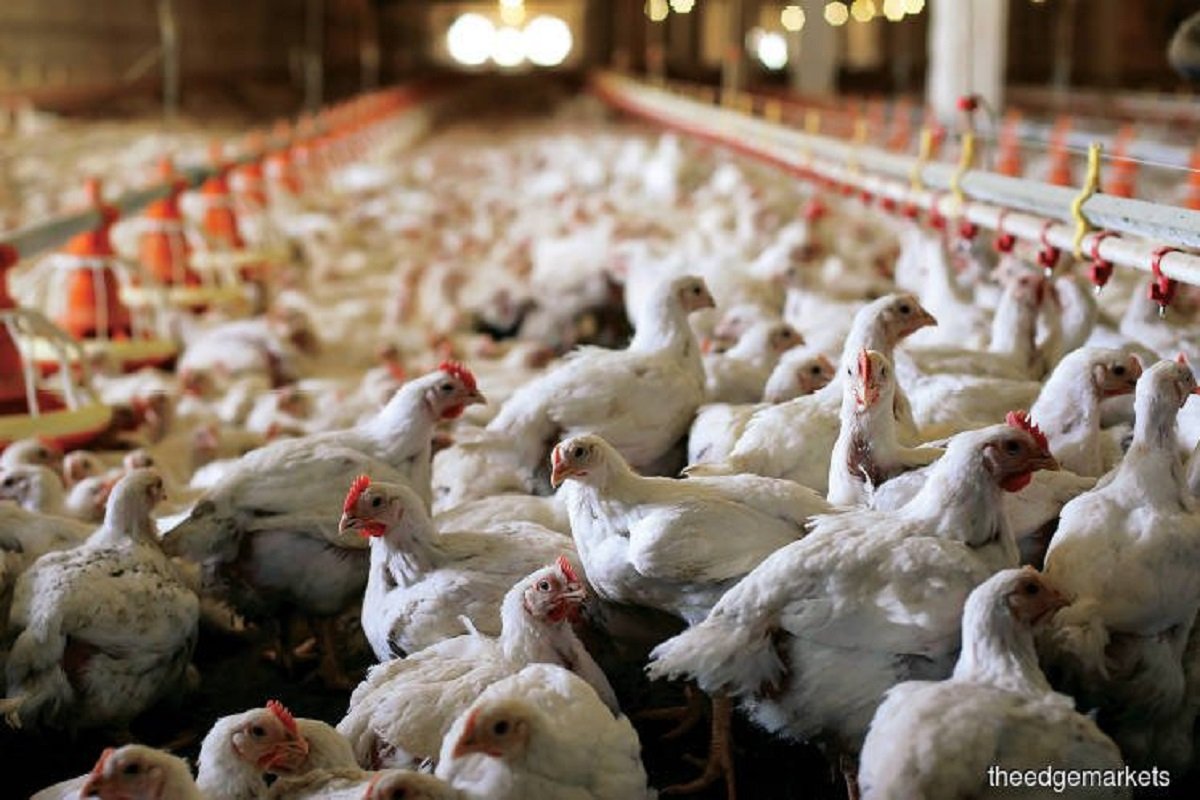 KUALA LUMPUR (June 22): Shares in Malaysia's poultry firms gained as the government prepares to end price controls on chicken and chicken eggs from July 1 to ensure price stability in the long term.
At the close of Bursa Malaysia, LTKM Bhd hiked six sen or 5.22% to RM1.21, Teo Seng Capital Bhd was four sen or 5.19% higher at 81 sen, while CCK Consolidated Holdings Bhd increased three sen or 5.36% to 59 sen.
Leong Hup International Bhd advanced two sen or 3.88% to 53.5 sen, TPC Plus Bhd added two sen or 10% to 22 sen, and Sinmah Capital Bhd boosted two sen or 20% to 12 sen.
Lay Hong Bhd rose 1.5 sen or 5.56% to 28.5 sen, Malayan Flour Mills Bhd was up 1.5 sen or 2.44% to 63 sen, while PWF Corporation Bhd grew 1.5 sen or 2.8% to 55 sen. CAB Cakaran Corporation Bhd gained half a sen or 0.97% to 52 sen.
Lastly, QL Resources Bhd was unchanged at RM5.10.
At the time of writing, CAB Cakaran had not responded to enquiries on how Malaysia's planned removal of ceiling prices for chicken and chicken eggs will impact the company. Meanwhile, Lay Hong declined to comment.
On Tuesday (June 21), the Domestic Trade and Consumers Affairs Ministry announced the removal of the ceiling price for chicken and chicken eggs, as well as subsidies for cooking oil in bottles of 2kg, 3kg and 5kg, from July 1.
The government will also remove its subsidies to chicken breeders by then, Prime Minister Datuk Seri Ismail Sabri announced previously.
Presently, the ceiling price for standard chicken is set at RM8.90 per kg in Peninsular Malaysia.
Domestic Trade and Consumers Affairs Minister Datuk Seri Alexander Nanta Linggi hinted that livestock farmer groups plan to increase the price of chicken to be between RM10 and RM12 per kg.
In a note on Wednesday, MIDF Research said the removal of subsidies at the height of elevated global commodity prices would cause food inflation to rise further.
MIDF highlighted that food prices increased by 3.9% year-on-year (y-o-y) in the first four months this year (4MCY22), compared to the average increase of food inflation by 2.9% per annum from 2011 till 2019.
The research house earlier said that in the event of worsening domestic food supply, headline inflation may touch a new peak of 5.8% y-o-y if food inflation surged by 7.0% this year and 10.0% in 2023. 
Read also:
Govt removes ceiling price for chicken and eggs, subsidies for bottled cooking oil from July