This article first appeared in The Edge Financial Daily, on October 10, 2019.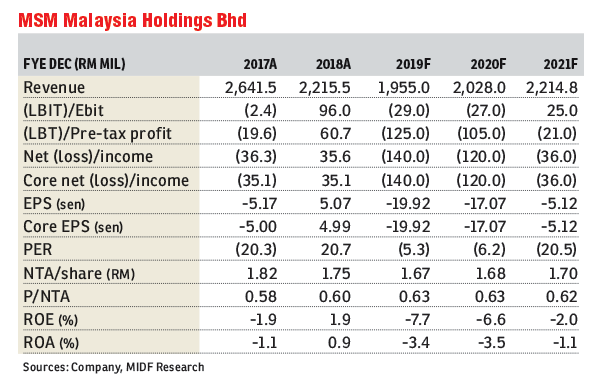 MSM Malaysia Holdings Bhd
(Oct 9, RM1.04)
Maintain sell with an unchanged target price (TP) of 88 sen: MSM Malaysia Holdings Bhd is disposing of nine parcels of leasehold agricultural land to Fraser & Neave Holdings Bhd ("neutral"; TP: RM33.78) for a total cash consideration of RM156 million. The lands, with a combined size of 4,453.9ha, are located in Chuping, Perlis, and are principally used for the cultivation of rubber, oil palm and mangoes. It is worth noting that the lands are owned by MSM Perlis Sdn Bhd, a wholly-owned subsidiary of MSM, and constitute six of MSM's top 10 properties. The proposed disposal is expected to be completed by the second quarter of 2020.
The purchase price of RM156 million represents a discount of -18% and -1.1% to the market value of RM190 million and net book value (NBV) of RM157.7 million, respectively. MSM has invested about RM171 million in the lands. If computed based on NBV, the expected loss would be about RM1.7 million, excluding expenses related to the disposal. The lower price is mainly premised on the short leasehold term of the lands and high operating costs in running the plantation areas.
We do not view this news as a surprise given that both MSM and its parent company, FGV Holdings Bhd ("neutral"; TP: 96 sen), have mentioned that it would embark on its non-core asset monetisation plan and focus on its core businesses in view of the tough operating environment in the sugar refinery and palm oil industry. The proceeds are expected to be used for partially paring the group's high debt level and working capital purposes. Nonetheless, we opine the disposal is insufficient to lift MSM from its precarious position in the domestic sugar refinery business landscape.
Assuming all the proceeds are used to reduce the borrowing of RM1.2 billion as at the second quarter of financial year 2019 (2QFY19), MSM's gearing ratio would improve to 55.6% from 66.7% as at 2QFY19. Thus, we view the disposal would have minimal positive impact on the borrowings and, consequently, the finance cost, which grew by +287% to -RM48.4 million as of the first half of FY19. Moreover, subsequent to this disposal, we view that the group would not have much non-core assets to dispose of.
Based on its FY18 annual report, we observed that the group's remaining non-core assets will consist only of four vacant parcels of land with a combined net book value of RM9.8 million as at Dec 31, 2018. In addition, should the group decide to reduce its production operations, we opine that the Johor refinery will likely be the first to be divested as we view that the utilisation rate remains low at below 30%.
We are maintaining our TP that is premised on forecasted FY20 book value per share of RM1.76 to its two-year historical price-to-book ratio of 0.5 times.
We are of the view that the group will remain in a loss-making position given the current sustained unfavourable lower average selling price of its refined sugar and higher operating costs. While the proceeds could improve the cash position slightly, it is still far from partially offsetting the higher borrowing cost resulting in higher finance cost to be incurred to the group. In addition, we postulate that the group is now left with not much of high-value non-core assets to be monetised further. This is premised on that the land disposal has already made up six of MSM's top 10 properties, and the rest are mainly being used by its core businesses. All factors considered, we are maintaining our "sell" recommendation on MSM with an unchanged TP of 88 sen. Nonetheless, a key rerating catalyst would be the potential onboarding of strategic equity partner for MSM to improve its key business areas such as utilisation rate of its sugar refineries, export and domestic demand of its refined sugar as well as the potential sale of its Johor refinery. — MIDF Research, Oct 9