This article first appeared in The Edge Malaysia Weekly, on March 11, 2019 - March 17, 2019.
The erosion of trust is not something new to the world but in Malaysia, it has come under the spotlight since the 14th general election in May last year that saw a historic change in federal government.
As the new government set to work on restoring public trust in the governance institutions, leadership changes followed at many big companies in Corporate Malaysia, especially among the government-linked companies (GLCs).
The question is, can the eroded reservoir of trust be replenished or is it too late, particularly for corporations that have seen abrupt leadership changes?
PwC Malaysia managing partner Sridharan Nair, or Sri as he is popularly known, notes that earning back lost trust is an increasingly challenging task for corporations but worth their while nonetheless.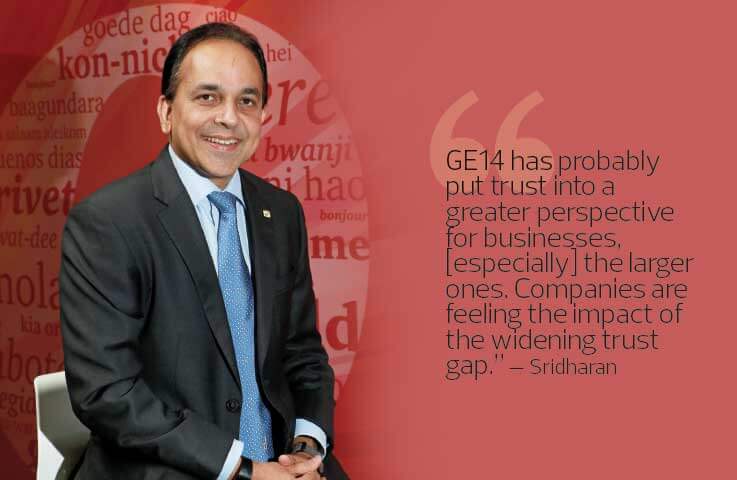 "I would say that GE14 has probably put trust into a greater perspective for businesses, [especially] the larger ones. Companies are feeling the impact of the widening trust gap," he says.
With the historic change in federal government, the general public expects the bar to be set higher amid intensified scrutiny of institutions and corporations, he adds.
This means corporations not only need to work harder at regaining trust but they also have to contend with higher expectations in doing so.
The evolving landscape of trust is not unique to Malaysia, Sri points out. It has been observed worldwide in the last decade or so.
International discourse floats many potential root causes of the phenomenon, from a growing interest in social equality to greater awareness of the social and environmental impact of various economic activities.
The broadening perspective of how the public, including investors, view corporations means assessments are no longer just about profits and dividends.
"At the end of the day, I think the public is looking at how corporations do business and how they serve their stakeholders, how the organisation is managed and how they earn their revenue," Sri remarks.
Recognising high trust culture
The changing trust landscape comes when PwC is organising the latest edition of its Building Trust Awards, which recognises companies that are making strides in growing trust by communicating to and interacting with stakeholders.
In the early stage, a total of 50 companies will be evaluated based on their annual reports and benchmarked against the Integrated Reporting (IR) framework. The top 20 finalists will then be shortlisted via a combination of employee survey, independent third-party research and a public poll.
However, it is worth noting that should past finalists not be shortlisted this time around, it does not mean that they have gained or lost trust but that others have improved their trust-building initiatives.
This year, PwC also engaged the startup community to explore their perspective on trust, although the engagement is not part of the Building Trust Awards (see infographic).
PwC also widened the conversation on trust to include university students via the PwC Trust Builders Challenge. In a nutshell, the challenge requires the students to debate and submit an online video on how they would deal with a situation where trust is eroded.
"We feel it's important to start the conversation much younger because the students in universities are the future corporate leaders," says Pauline Ho, PwC Malaysia's assurance partner and lead for the Building Trust programme.
"It's very encouraging because [based on the post-competition survey], there's a marked increase in their understanding of what it means to have trust, how you build it and how important it is to businesses," she adds.
As for the trust level among the general public, the federal government's efforts to restore it post-GE14, including major leadership changes in Corporate Malaysia, seem to have helped so far.
According to the 2019 Edelman's Trust Barometer Global Report released in January, Malaysia's average score on how much the general public trusts non-governmental organisations, businesses, the government and media improved to 59, up six points from last year.
The report's findings were based on an online survey conducted across 27 countries, involving over 33,000 respondents overall. Edelman says all fieldwork was done between Oct 19 and Nov 16 last year.
The improvement in Malaysia's score can be attributed to the ongoing initiatives by Putrajaya to combat corruption and rebuild public trust in institutions.
One such initiative is the introduction of the five-year National Anti-Corruption Plan (NACP) in late January, which contains 115 steps designed to rid the country of corruption.
Sri opines that the NACP adds fresh impetus to the country's fight against corruption. "What's important is the tone right at the top itself. The recent introduction of the five-year NACP demonstrates the government's efforts to improve integrity and weed out corruption."
'It's a journey'
But much work remains to be done vis-à-vis restoring trust, particularly in corporations, according to Ho.
"Building trust is a journey and it takes time," she tells The Edge. The key is to be transparent with stakeholders even in negative situations as the built-up trust will eventually yield returns.
It is the task of the highest management to set the tone for trust and they need buy-in from the rest of the organisation, she adds.
"You need the entire team behind you to walk the talk as well so if anyone touches or interacts with the organisation, you get a consistent approach to things as opposed to just saying, 'we are very transparent' yet the processes and the people who operate the processes are not as transparent [as claimed].
"So, it's important to get the buy-in internally by communicating what the leadership wants to do and getting the support [of employees] and then engaging with stakeholders outside the company."
Having a reservoir of trust to tap into during testing times is becoming more and more important in the digital age where trust is increasingly affected by perceptions that are not necessarily grounded on facts.
The advent of social media and instant communication, which means rapid dissemination of information as well as potential misinformation, has also contributed to the sense that corporations are walking a tightrope in managing stakeholder trust.
Ho stresses that in the digital age, where trust and perception are shaped by social media in real time, it is crucial for companies to deal with crises instantly.
This means it is "absolutely key" to have a clear policy on dealing with social media communication, says Ho, adding that many large corporations are able to deal with such issues reasonably well by virtue of being responsive, transparent in what they are saying as well as humble enough to apologise if necessary.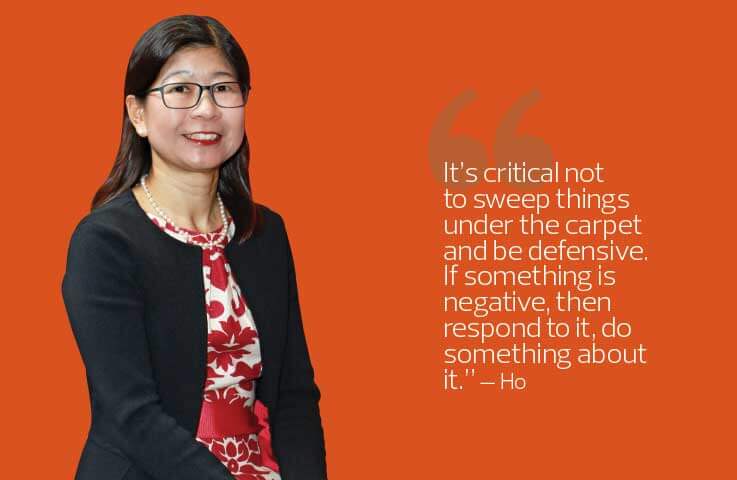 "I think it's critical not to sweep things under the carpet and be defensive. If something is negative, then respond to it, do something about it," says Ho.
"And for companies that have built a reservoir of trust over time, your customers can be forgiving [if the company makes mistakes in the future]. They will forgive if you admit the mistake and take action."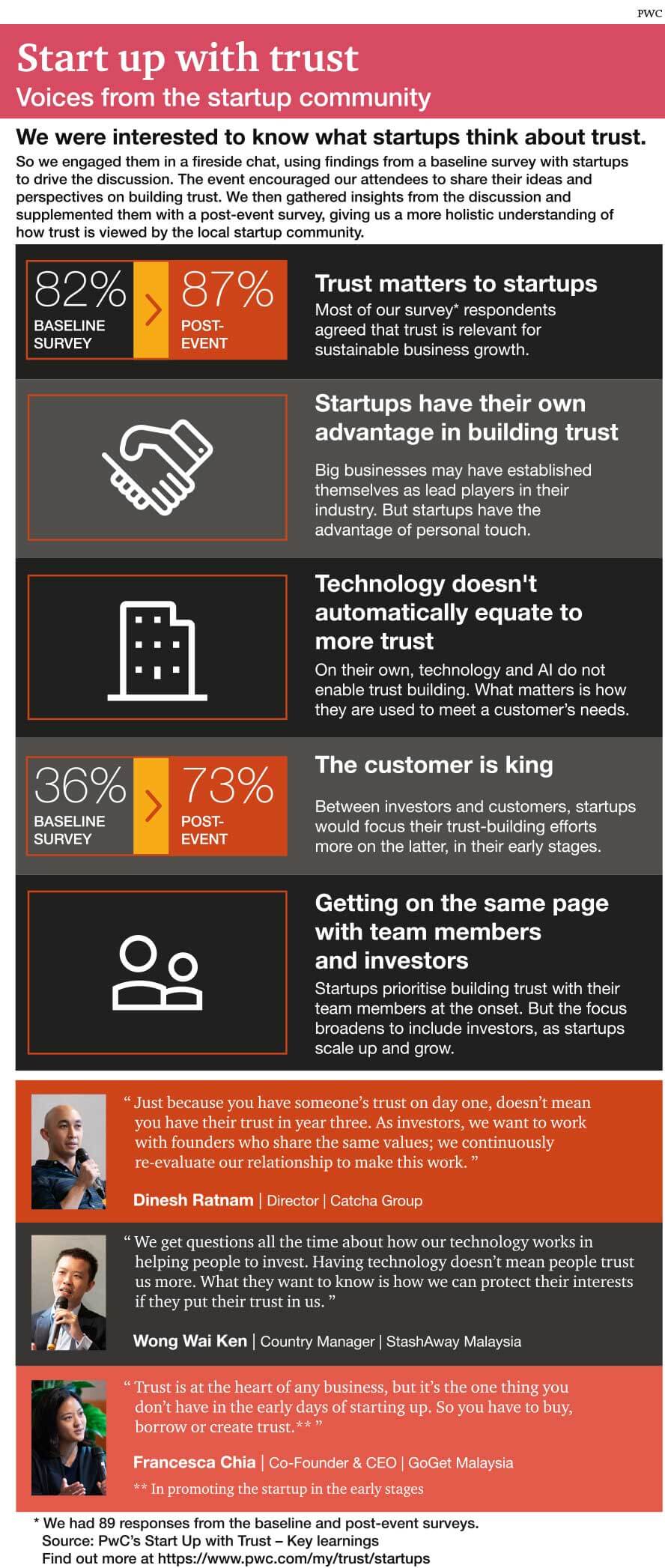 Click / Tap image to enlarge
---
The Edge is the media partner for the PwC Building Trust Awards 2019
Save by subscribing to us for your print and/or digital copy.
P/S: The Edge is also available on Apple's AppStore and Androids' Google Play.