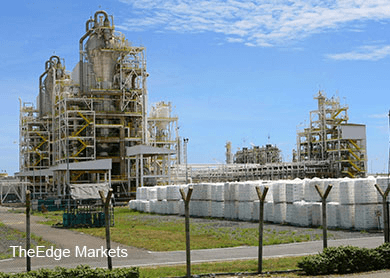 Oil and gas sector
Downgrade to "underweight": We believe the current oil price rally may soon fizzle out as supply-demand fundamentals are still negative: Global production, especially from the Organization of the Petroleum Exporting Countries, is still growing and the oil inventory of the United States is at near record highs.  
Some short-term kickers may have run their course, while others (the weakening US dollar, slower US production growth and lower inventory) may soon reverse.
In view of a possible near-term correction in oil prices, unfavourable valuation and possible weak earnings, we downgrade heavyweights SapuraKencana Petroleum Bhd (SAKP) and Petronas Chemicals Group Bhd (PChem) to "sell" from "hold", and the sector to "underweight".
Year to date, the Brent and West Texas Intermediate (WTI) crude oil prices have risen 17% and 12%, respectively. 
Notably, oil prices staged a strong rally of 37% (WTI) and 25% (Brent) from their recent lows in March, driven by a confluence of positive factors, including geopolitical tensions in the Middle East and an upgrade in the US Energy Information Administration's (EIA) global oil demand forecast, besides the factors mentioned above. 
Malaysia-listed oil and gas (O&G) stock prices have seen a strong correlation to crude oil prices since the start of the oil price downturn in the fourth quarter of 2014 (4Q14) (0.8 to 0.9 times excluding PChem and Dialog Group Bhd). 
As a result, the oil-price correction, if it materialises, could spill over to the domestic oil O&G stocks. 
After the recent share-price rally, the O&G sector now trades at 16 times forward price-to-earnings ratio (PER), above its historical mean of 15 times. 
Taking into consideration the unfavourable risk reward trade-off at 16 times forward PER, a possible short-term correction in oil prices and likely earnings disappointment in the upcoming results announcements, we recommend a tactical downgrade on the sector to "underweight" (from "neutral"). 
We maintain the earnings forecasts and target prices of all O&G stocks under our coverage but downgrade SAKP and PChem to "sell" (from "hold") following strong price gains. 
Key risks to our sector downgrade would be a sharp, sustained recovery in oil prices, stronger-than-expected new contract awards, and better-than-expected quarterly earnings. — Affin Hwang Investment Bank Bhd, May 19.
This article first appeared in The Edge Financial Daily, on May 20, 2015.