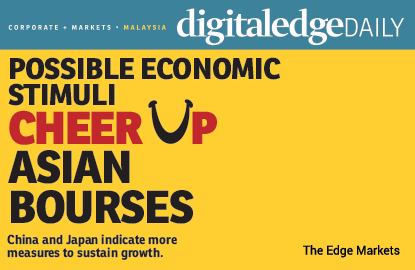 KUALA LUMPUR: Policymakers in China and Japan, the world's second- and third-largest economies respectively, have raised a ray of hope for the global equity markets which staged a strong rebound yesterday.
Both China and Japan indicated that more stimulus measures would be taken to sustain economic growth in the two economies. In the absence of positive news for a long while, such news brought some cheer to gloomy investors who have been concerned about the prospects for the world economy.
Nonetheless, some analysts remain cautious about the possibility that the present rally may mark the return of the bull market.
Tokyo's market led the march yesterday with its benchmark Nikkei 225 leaping 7.7% to 18,770.51 points, following Japanese Prime Minister Shinzo Abe's remarks to continue implementing his stimulus measures, including corporate tax cuts to boost investment.
In a message read out at a Bank of America Merrill Lynch event in Tokyo, Abe said that he would lower the effective corporate tax rate by at least 3.3 percentage points "next year", and would "aim to go beyond that if possible", according to Bloomberg.
In China, the Ministry of Finance said that the country would allocate more funds to support infrastructure projects, and that it would implement tax cuts for small businesses. The Chinese government also revealed that it would accelerate the approval process for duty-free stores to boost construction.
Hong Kong, which has the most number of China-based entities listed there, saw its barometer Hang Seng Index gaining 4.1%. Seoul's Kospi was up nearly 3% to 1,934.2 points, while the Shanghai Composite Index climbed 2.29% to 3,243.09.
The improved sentiment spilled over to Bursa Malaysia, with the FBM KLCI closing higher for two consecutive days. The benchmark index rose 1.02%, or 16.24 points, to 1,603.36.
In line with the positive sentiment on Bursa, the ringgit saw a slight improvement against the greenback, closing at 4.3130 against the US dollar yesterday, compared with its previous close of 4.3393, according to Bloomberg data.
Among Asean bourses, Singapore's Straits Times Index was up 1.49% at 2,928.18; the Jakarta Composite Index rose 0.66% to 4,347.28; and Thailand's SET closed 1.23% higher at 1,396.29.
Some quarters believe that China's consideration to put in place a circuit breaker, tied to the shares in its biggest companies in a bid to mitigate volatility in its stock markets, also aided sentiment amid expectations the mechanism will help to minimise wild swings in the Chinese equity market.
With the system in place, trading would be halted for 30 minutes in the event that share prices rise or fall by 5%.
Inter-Pacific Securities Sdn Bhd head of research Pong Teng Siew said the gains in regional equities yesterday were irrational, as it was mostly due to China's move to introduce the circuit breaker mechanism.
"This will give rise to an artificial market with limited movement. This can be seen as an attempt to manipulate the market," Pong told the digitaledge DAILY.
"Even Japan is up by more than 7%. I don't think we will ever see another big jump like this in the future. Although China's move could be seen as positive news, as losses will be limited for one of Asia's bigger economies, but this development marks the end of 'real' markets," he said.
Asked if the gains in Asian markets are sustainable, Pong said this is unlikely as he expects the current regional rally to be short-lived.
Pong noted that the KLCI's gains were mostly supported by local funds, as foreign funds continued to be net sellers.
"The local funds are stepping in and attempting to hold the index's gains, after the recent plunge in August. Over the past two months, there had hardly been any selling by local funds," said Pong.
He added that the KLCI could see a general uptrend for a while, as domestic fund managers, who have been high on cash, are expected to continue nibbling at stocks.
This article first appeared in digitaledge Daily, on September 10, 2015.