This article first appeared in The Edge Financial Daily, on November 19, 2019.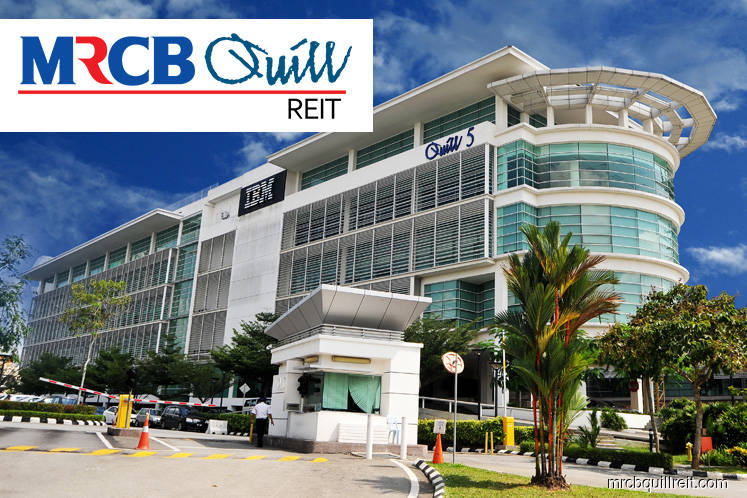 MRCB-Quill REIT
(Nov 18, RM1.04)
Maintain buy with an unchanged target price (TP) of RM1.18: After our recent meeting with the management, we reiterate our positive long-term outlook for MRCB-Quill REIT. Its rental income setbacks at Platinum Sentral for financial year 2019 (FY19) should be short-lived. Meanwhile, half of MQREIT's FY19 to FY21 estimated revenue is still supported by long-term tenants. Our earnings forecasts and dividend discount model-based TP of RM1.18 are intact. Our "buy" call is maintained with an attractive FY20E net dividend per unit yield of 6.4% versus the sector's average of 5.3%.
 
Spaces, a co-working space provider owned by IWG plc (IWG LN; not rated), began operations at Platinum Sentral since July 2019, occupying about 15% of net lettable area (NLA). Consequently, we expect a gradual improvement in rental income from the second half of 2019 after the fit-out period of Spaces and other new tenants. The committed occupancy at Platinum Sentral has been stable since the second quarter of 2019 (2Q19) at 88%. We understand that IWG plans to aggressively expand Spaces in Malaysia. Hence, we do not rule out the possibility of Spaces taking on additional space at Platinum Sentral in future, particularly in the event of non-renewal or existing tenants' expiring leases.
The management is still actively seeking a replacement tenant at QB5, following the vacancy of its sole tenant since end-1Q19. However, we see limited earnings risks from QB5 as it only contributed about 2% to MQREIT's FY19 to FY21E revenue (or 4% of portfolio NLA), based on our estimates. We also do not discount the possibility of MQREIT disposing of the asset if opportunities arise.
We maintained our positive outlook for MQREIT's assets and rental income, with long-term tenants — Menara Shell nearing full office occupancy, QB1, QB4, QB2 and the Tesco Building — estimated to contribute 51% to 52% of our FY19 to FY21E revenue. We have not factored in new assets in our forecasts.
There are several risks to our earnings estimates, TP and MQREIT rating. Changes in rental, occupancy and interest rates, and operating expenses may lead to lower earnings for MQREIT. Nineteen per cent of MQREIT's total NLA is due for lease renewal in 2019, while 24% of MQREIT's total debt is based on floating rates. — Maybank IB Research, Nov 18