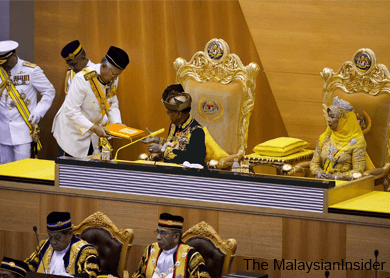 KUALA LUMPUR (Mar 9): The position of Islam as the federal religion should not be questioned, said Yang di-Pertuan Agong Tuanku Abdul Halim Mu'azam Shah.
In opening the third session of Parliament, the Agong also said everyone should understand that separation of powers between the three branches of government was in accordance with existing legislations.
"We would like to reiterate the position of Islam as the religion of the federation which must be upheld and not to be questioned, while other religions may be practised freely.
"Differences of opinion on religious issues should be referred to the authorities and not polemicised," he said in his royal address this morning.
Tuanku Halim said Malaysia was premised on parliamentary democracy and constitutional monarchy where the supremacy of the Federal Constitution and sovereignty of the law were upheld.
"All parties should understand that the separation of powers between the executive, the legislative and the judiciary practised in the country is in accordance with exiting laws.
"There is nowhere a better place than this blessed land of ours. Thus, respect and accept one another for the sake of peace and stability."
He said a multiracial country like Malaysia thrived on peace and harmony among its citizens of various races, religions and culture and expressed his unhappiness that there were isolated parties that did not subscribe to such values.
"Therefore, we advise these groups to stop their irresponsible actions, and we hope the authorities continue to take appropriate measures," he said, adding that freedom of speech should be practised  responsibly to avoid creating tension among the people. — The Malaysian Insider